Two updates rolled out over the last day, one for the Preview channel and a big one for Stable. Here's a run over what's changed. The Preview update is quite small but I saw a lot of people having issues with Vampire Survivors, so nice to know they're on it but the Stable update includes quite a lot (and not to be confused with SteamOS 3.4 that's still only in Preview).
A video with some highlights: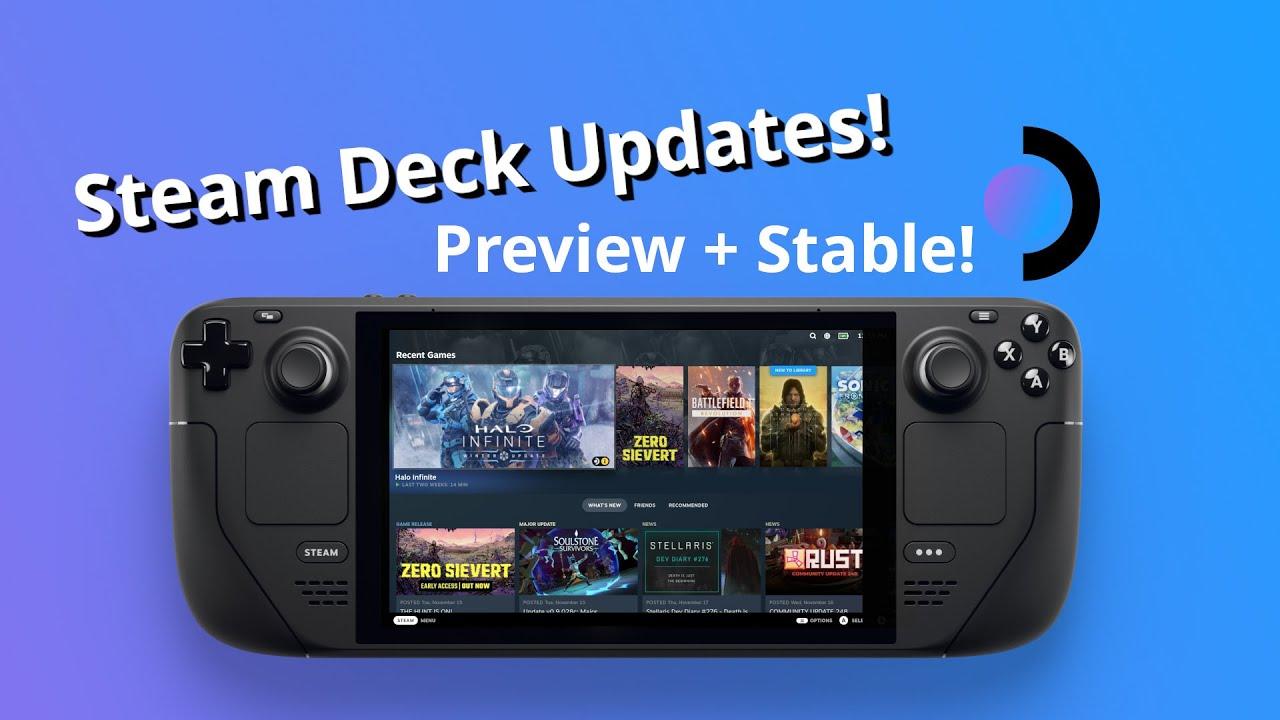 Preview Changes:
Fixed Chinese Pinyin and Zhuyin input for the on-screen keyboard not functioning correctly
Added a workaround for an underlying Steam/Proton issue causing some games -- notably Vampire Survivors -- to fail to launch
Stable Client Changes:
General

Reduced client startup times for users with large game libraries
Fixed issue where launching a game would take longer to start if there was no network connection.
Fixed VR flags not showing up in app details for some games
Fixed downloads page crashing when starting in offline mode
Downloads page now properly responds to online/offline status
Collections view can now show more than two rows of collections and allow scrolling
Reduced size of Steam client download
Fixed bluetooth failing to turn on in gaming mode if it was disabled in desktop mode
When installing a game always show the install location picker if there is more than one library folder, and automatically focus the default library folder when the dialog shows up
Added error dialog for when the user clicks on a mailto link
Fixed the 'Cancel' button in the wifi password dialogue for a new connection causing the current network to disconnect
Re-worked "Gifts Pending" page to be gamepad navigable

Docked Mode

Fixed incorrect size of Main Menu in docked mode with 4k displays
Virtual Keyboard now has a maximum width, so that it doesn't stretch to an unusable size on large screens
Set scale for startup movies so that the top and bottom of the movie are cropped for 16:9 aspect ratio

Desktop Mode

Fixed issue preventing the Virtual Keyboard from accessing the clipboard and being unable to perform paste operations
Center the popup controller configurator window when viewing controller layout
Fixed circular download progress indicator being broken in game entry list

Sign In

Added login flow that supports new QR code functionality
Fix a case where if the sign-in UI had cached credentials which had become invalid, it could get stuck and not accept valid credentials thereafter
Fixed an edge case in handling of invalid cached credentials affecting reauthentication

Steam Input

Gyro Enabling: The "Touch" option is now available to controllers which do not have capacitive touch sensors - Moving joysticks out of their deadzone now counts as a "Touch".
All controller types can each now optionally choose to use a Nintendo-style layout. This flips the A and B button and X and Y button universally in Steam and in games.
The Xbox extended features driver has been updated for Windows 11
Fixed hang when the Amazon Luna controller rumbles on macOS
Fixed issue with the touch binding in As Mouse mode releasing before the end of a swipe
Fixed doubled input for Nintendo Joy-Cons controllers
Gyro Yaw & Roll Combined now allows negative contribution values from both sources.
FlickStick output can now be Inverted, and can be sent to X or Y Mouse axis.
Fix for FlickStick turning when exiting an overlay layer with the stick still thrown.
Desktop Controller Layout Now defaults to a desktop friendly set of controls. Long-Pressing Menu Button will toggle back and forth to a Gamepad friendly layout.
Updated Steam Controller LB and RB button images

Remote Play

Fixed glyphs for third party Nintendo controllers while streaming

New Big Picture Mode

Updated Big Picture is now available for testing. You can read more about it in this blog post. Modify your Steam client shortcut and add -gamepadui on the command-line to automatically start Steam in the new Big Picture Mode. Alternatively, pass -newbigpicture to start in Desktop mode and have access to the new Big Picture Mode at any time.
Some you may have missed, popular articles from the last month: