Paradox Interactive confirmed today the Crusader Kings III: Tours and Tournaments DLC will release on May 11th along with a major free update for all players.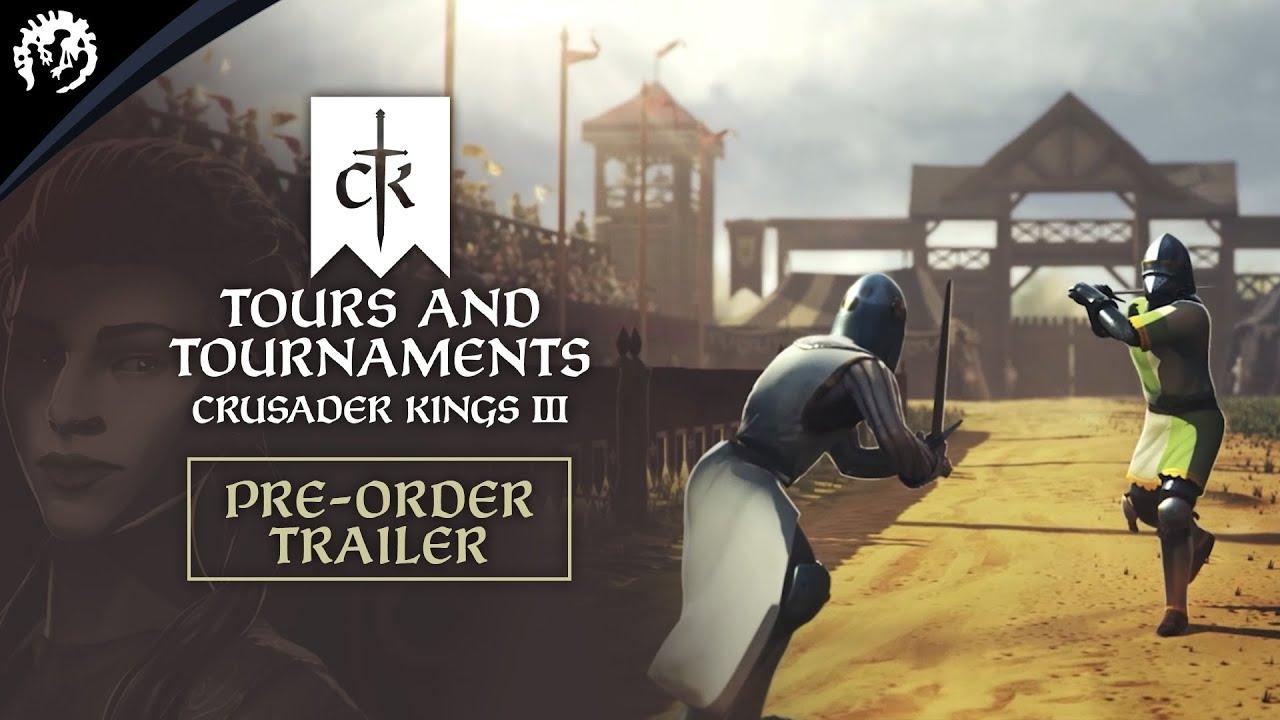 Main highlights of the DLC include:
Grand Tournaments: Host a grand demonstration of feats of arms, attracting nearby nobles and wandering knights. Choose the events, set the destination and use the tournament to improve your social standing or military prowess.
Grand Tours: Take a trip through your realm to take stock of your vassals, gifting them with your benevolence or extorting them for higher taxes.
Grand Weddings: Save your gold for an elaborate ceremony that centers the real meaning of marriage - politics. Honor your in-laws, cater to your vassals and demonstrate your power.
Travel System: Plan your route to these great activities, choosing safety through civilized lands or risking everything for a more direct route through dark forests or dangerous mountains. Ease your way with a large entourage that marks your importance or travel light so you can get down to business.
Knightly Accolades: Honor your best knights with special titles and accolades that will give bonuses to them and the armies they lead.
New Armor Designs: New historical armor designs from across the centuries, integrated with the new Tournament and Accolade systems.
New Western Clothing: New art for clothing designs will show how fashions changed and evolved in Western Europe from the time of the Carolignians to the closing of the medieval era.
Paradox have also given out some info about "Chapter II", a planned series of extra content coming which you can purchase that will include all of these:
Crusader Kings III: Tours and Tournaments: Join great adventures and activities. Take a tour of your realm to check in on your vassals face-to-face. Host grand tournaments to demonstrate your wealth or military prowess. Impress your friends and rivals with great royal weddings. But, no matter the activity, keep an eye out for schemes, as nothing is better than a party to cloak ill-intentions.
Wards and Wardens: In this pack, new events add greater depth and interaction to the challenges of raising and educating children. Whether parent, tutor or warden, the personalities of the child and the adult may clash as headstrong or determined children resist the knowledge of their betters. Strong guidance, however, can lead to a lifelong bond across the generations.
Legacy of Persia: This forthcoming addition for Crusader Kings III lets you relive the dramatic struggle for survival and empire in the lands between the Euphrates and the Indus. With special attention to the culture and history of medieval Persia, Legacy of Persia introduces new systems for Clan government rulers, and expands on the Islamic and Zoroastrian religions dominant in the region at the time.
Elegance of the Empire: You can dress your Central European characters in the finest of finery with this clothing pack exclusive to owners of Chapter II for Crusader Kings III. Inspired by the historic regalia of the 11th century rulers Emperor Henry II and Empress Cunigunde of the Holy Roman Empire, this pack includes not only new robes and dresses, but historically appropriate crowns and other regalia.
By itself Crusader Kings III: Tours and Tournaments costs $29.99 / £24.99 / €29.99 or you can buy Chapter II for $34.99 / £29.50 / €34.99 to get all of it.
You can buy Crusader Kings III from Humble Store and Steam.
Some you may have missed, popular articles from the last month: