Capcom has now released Exoprimal, an online team-based shooter and thanks to Fanatical, I was able to take a look. Plus I have an extra discount on it for you.
To be clear, I am a Fanatical partner, but this is not sponsored in any way. Fanatical just randomly emailed me the key and a discount code. Being quite interested anyway, I decided to take a look. If you want you can pick it up on Fanatical and enter in the "GOL2OFF" code for some more monies off.
Now the good news - Exoprimal works out of the box with Proton 8 on Steam Deck and desktop Linux — it's click and play. It does use Easy Anti-Cheat from Epic Online Services though but clearly Capcom have enabled the Linux and Steam Deck support as there's been no issues with online play.
Valve have given Exoprimal a Steam Deck Playable rating, so it's not fully Verified, as their notes mentioned it sometimes shows keyboard icons and some text can be a little small. In my own testing i can agree with the rating, as some of the text is a bit blurry and small. Once again we need games to have more text and interface scaling options. We're not all playing directly in front of huge monitors or TVs. It also has black bars above and below as no 16:10 screen support.
Additionally, if you're going to play it docked, you may need you to manually swap an external controller in the Steam Deck menu. Valve said it won't pick it up as number 1 by default but it worked fine for me.
For the recommended graphics settings on Steam Deck, I would suggest going with Medium and just tweaking it a little to turn off things like Motion Blur and turn on Variable Rate Shading (in-game setting). However, this is mostly a 30-40FPS game, so I would suggest keeping your Steam Deck on a 40HZ and 40FPS lock in the Performance Menu because you're not really often going to get above 40 and this just helps keep it a little bit smoother. Although, there absolutely will be drops just below 30FPS at the seriously intense times so it may just be better to lock it to 30. Even on lowest settings, those drops still happen, so you may as well keep some bits on Medium and enjoy the style more. A power-hungry sucker too, you'll be lucky to get even 2 hours out of it on a single charge so bring your favourite powerbank.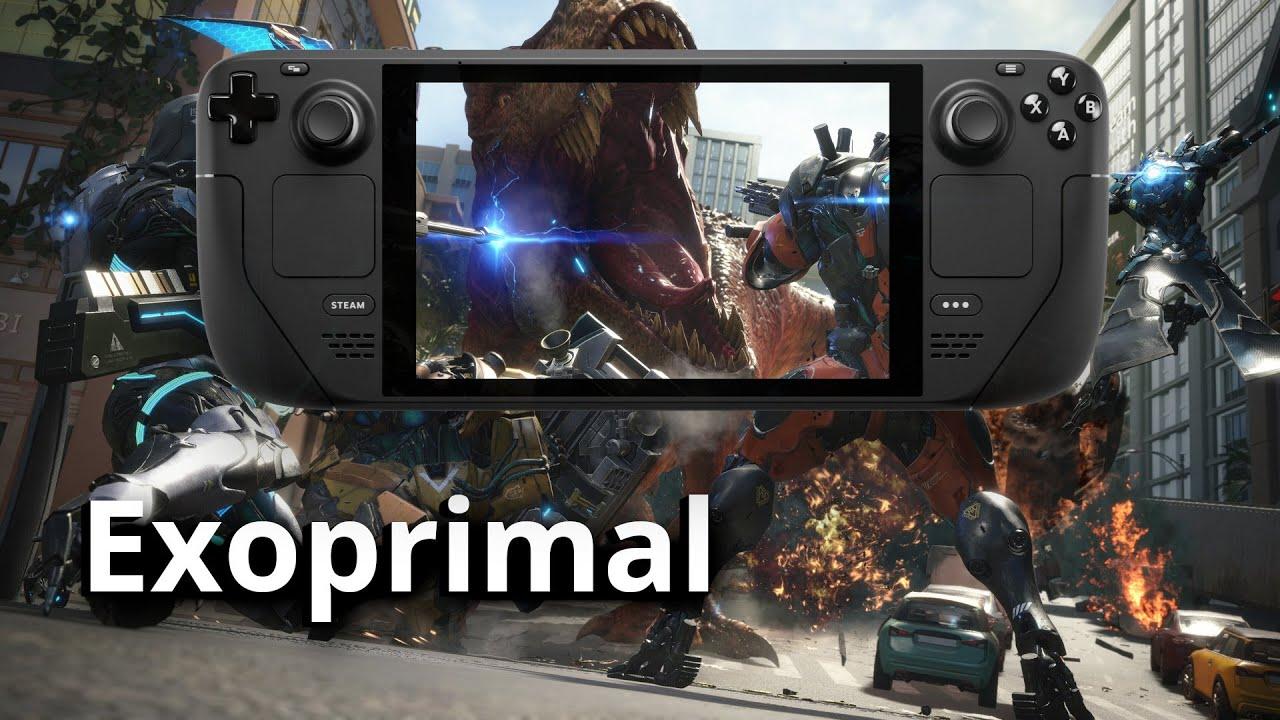 Desktop performance (Fedora KDE 38, NVIDIA 2080 Ti, Ryzen 5800X): on highest settings at 2560x1440, it kept a silky-smooth 60PS almost the entire time except for a few loading stutters that went away. I wasn't able to get it to go above 60FPS, as even turning off the frame lock didn't work for me with Proton. So not sure what's going on there.
What's surprising here is that for a big new CAPCOM game, it doesn't exactly have a lot of players, with it only seeing around 3-4,000 currently at a time. It also only has a Mostly Positive rating on Steam from players.
I had to wonder why but it doesn't take long to figure out as there are some issues with it. For starters it's a full-price £49.99 online game that requires a 3rd party Capcom account which was a real nuisance to set up initially and link to Steam, and there's a whole bunch of DLC available from Day 1 - something that just feels a little icky for a brand new full price game to have. Then there's all the skins too, and a lot of them aren't even particularly interesting and a extra paid battle pass.
It's also crammed full of cutscenes, so it takes quite some time to truly get into the game. There's the tutorial and then the intro mission and those together take a good 40-50 minutes or so before you're then actually properly at the main menu to really get started. Then after you do matches, there's still more cutscenes as you progress through the game.
Aside from that though, it is actually a lot of fun and if you like these team-based action games like I do I think you'll also have a good time with it either on Steam Deck or desktop Linux. I'm always on the lookout for new team games to play with others, and Exoprimal looks like it might fill quite a nice gap for me for a while after burning out on Deep Rock Galactic (which is excellent) but I played a bit too much of it so I'm taking a long break.
The action is pretty great overall though, often really quite intense and the ability to swap out your special powered Exosuit is a nice touch to deal with different situations to help you finish the missions. With each suit having their own specialised role between assault, tank and support with various abilities to help the team.
Here you have two squads that race to complete objectives, either in PvP where you fight at the end with the opposing team or just PvE where it's just against the dinos. You also get to pick specifically between PvP, PvE or leave it on random for extra XP. So it's nice to see they're not forcing either side of the game on players.
Pictured - Exoprimal on Fedora KDE 38
The missions also change and expand based on your main level progression in the game, so the early game feels quite samey but as you do it a couple of times and level up and unlock more story stuff, it will sprinkle in some different mission types. This is one thing I think that will make people bounce off it, because of how limited the first around 2-3 hours feel.
Exoprimal is like a really weird blend of games here as it clearly takes inspiration from other team based games but I quite like what CAPCOM did with this, they're at least trying to do something a little different blending in PvP and PvE together in the team-based action space with class-based characters that you can customize and upgrade.
The story is pretty ridiculous though, let's be real here the setting with timelines is just ludicrous with powered suits versus dinos. Why not though right? We all love dinos and big guns too so why not blend them together in a game like this.
So the good news is that it works out of the box on Steam Deck and desktop Linux, and with only a few tweaks to the graphics settings for Steam Deck it does work quite well. However it definitely could do with some more optimizations for the lower end like the Steam Deck. The problem will be the player-base, with it being an online live service game with seasons. Can it actually keep people playing? Does it have enough to compete with the great many other online games? I actually hope so because it's quite a nice easy game to sink some hours into that isn't overly deep while still having some great action to keep you interested, and another good multiplayer game choice to pick up and play on Steam Deck and desktop Linux is always welcome.
Capcom has a good base here to expand upon and improve so I'm keen to see what they add into it over time. Lots of hours to play through as it is though so you're not going to run out of content, level ups and upgrades any time soon.
I think really, the biggest problem they have is the price. Capcom are a big name, and they do make some great games, but an online shooter like this for full price, with the live service seasons and DLC? That's what's going to make or break it. It's brainless fun but not the kind I would have personally seen myself pay out £49.99 ($60) for and I think that's really why they're not seeing big player counts with it. I personally think they made a bit of a mistake on the pricing and monetization here but that's just my honest personal opinion. And because of that i won't outright recommend it, i have definite mixed feelings about this one.
You can buy it on Fanatical with code "GOL2OFF" (valid until August 14th at 23:59 BST) and Steam.
Some you may have missed, popular articles from the last month: