NOTE: The article is spoiler-free, but be careful if someone leaves a comment, as it might have unintentional spoilers.
"A Date in the Park" is a lightweight point and click adventure that will take you approximately one hour to solve. It was actually released more than five years ago, but thanks to Proton 4.11, it is now possible to enjoy it on Linux -almost- without any problems. As of the moment of writing this article, it has a single but Platinum review ("works flawlessly") on ProtonDB, so it's even possible that it works without issues for you. The first time I launched it took one minute for Proton to setup everything (it installed a tool called Steamworks Common Redistributables) but after that it loads almost immediately (even on my old laptop) and plays completely smooth.
I only experienced one graphical glitch a few times during the game, but that was it: some animated sprites become transparent for a couple of seconds. However, considering the game is stylized as a graphical adventure from the 90's, due to the pixelated images and the limited color palette this ends up being only a minor inconvenience. Also, I originally thought there was a problem with the background animation on the main menu (it appeared to run at 2 FPS) but to be completely sure I checked a "Let's Play" video thoroughly on YouTube to confirm that it was an intended effect.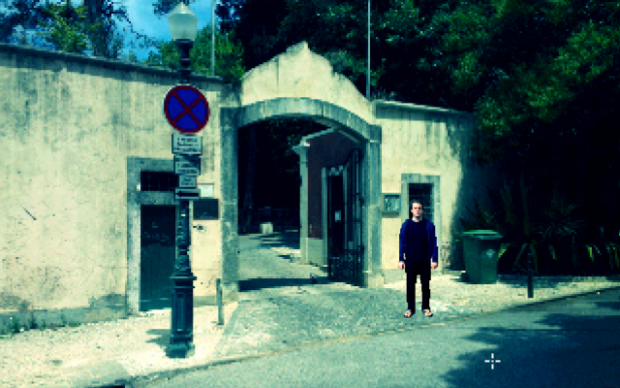 The other -and final- glitch is the ending song not playing during the credits. It's the same song that plays on the game trailer. Honestly, I wouldn't have discovered this compatibility issue if I hadn't checked the aforementioned YouTube video, because the rest of the game doesn't feature any kind of music, only environmental sounds.
So, to summarize, although by ProtonDB standards it's a Silver game in my case ("runs with minor issues, but generally is playable") both problems are far from being immersion breaking. I wouldn't have been that irresponsible to write this review otherwise, because the success of the game absolutely relies on building an atmosphere of mystery. And in this regard, I must tell you it definitely succeeds. The premise is like this: you play as Lou, a man from London who recently moved to Lisbon, Portugal and met a woman at a bar; both agree to see each other again the next day, and at that moment is when the game begins.
This is one of those games where the less you know the better, so I not only advice you not to check the User Reviews ("Very Positive" status: 980 positive reviews out of 1137) or watch the trailer, but also I will go as far as not revealing the actual genre of the game and I'll even try to dissuade you from reading the Store description, so that you can play it with a completely open mind. Obviously, this implies the possibility of finding something that might be violent and/or unsuitable to play at work or in front or children, so please take the necessary precautions. Also I won't disclose if the game features supernatural elements or not; however it does appear to feature a mythological subtext -something that is implied by the developers on the forums-, but still it was left open to interpretation.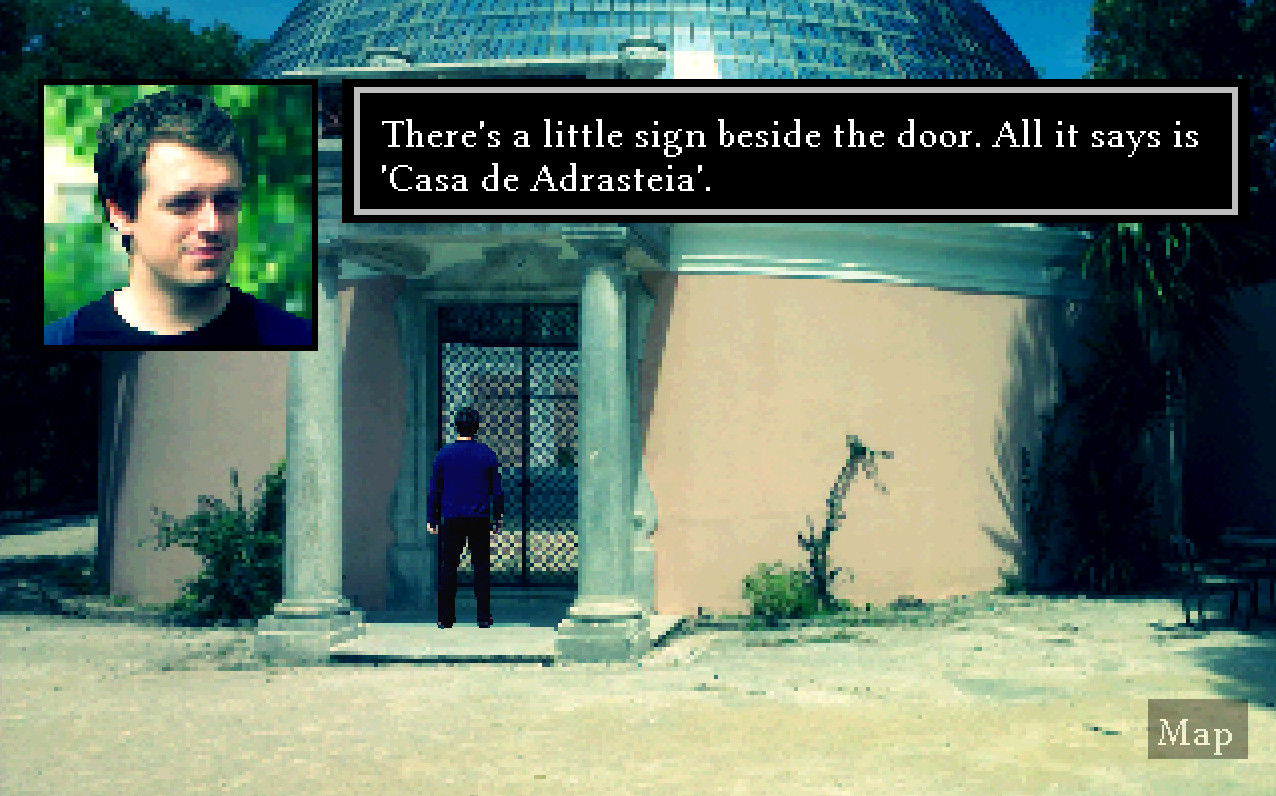 One aspect that I particularly wanted to remark is how the game intelligently takes advantage of the fact that the setting is in a Portuguese speaking city. Your character doesn't understand the language, which leads to some confusions and language barriers, but at the same time you, as a player, will be affected by this: if you speak or at least grasp a bit of the language, you'll get some clues in advance about what is really happening, otherwise you'll know as much as your character does in every part of the game. Still, if you watch a lot of movies you'll start to develop some pretty accurate theories while you solve the puzzles, because there is a lot of foreshadowing if you pay attention and explore the park thoroughly.
There is another aspect that will definitely convince GOL readers from Lisbon or Portugal in general to give this game a try: the park does exist in real life. However, this fact might have some influence on your suspension of disbelief: assuming there are no supernatural elements, the game requires you to believe that the story will take place without external disruptions (that is, that there won't be other potential visitors to interrupt the progression of the events) and that the park layout allows for a certain character to be ahead of you without being seen. Personally, considering the park looks isolated and vast enough I can buy into that, but the definitive answer can only be provided by someone who actually visits the place. As a small additional comment, I can't help but wonder what the park owners and/or staff think about the game, assuming they're aware of the existence of it...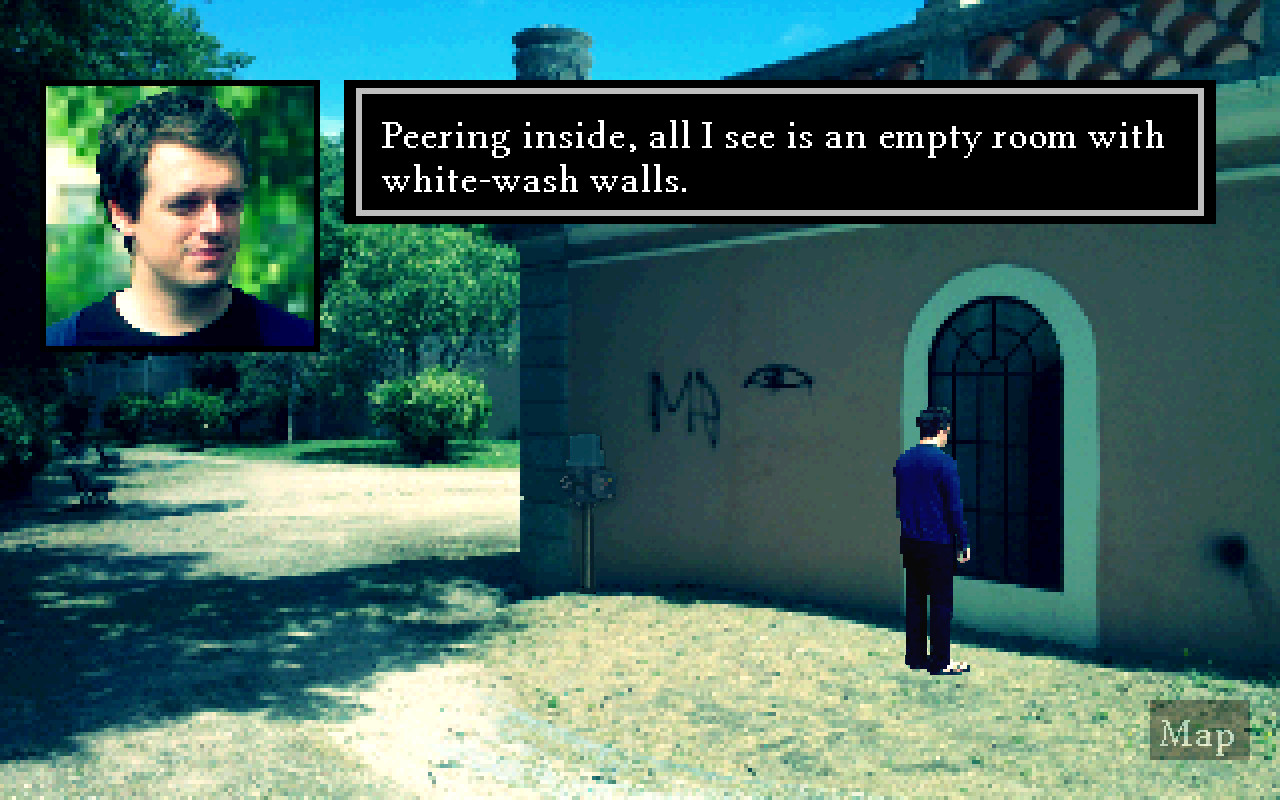 Having detailed all the positive and interesting aspects of the game, now it's time to cover the negative -or at least questionable- ones. Although I definitely consider you should give this game a try -even more considering it's free-, I don't think it's outstanding due to a group of specific reasons. Most of them can be grouped under the fact that since the more time you spend on the title, the most you will be invested on its atmosphere, the game then artificially complicates some situations to extend its duration, so I found those moments slightly annoying; if it wasn't for the game's excellent ambience and the fact that it's short, I would had to make an effort to progress through them:
1) You'll have to solve a combination puzzle. In general, I'm not very fond of these types of puzzles. If you are a methodic and organized person, you'll use a pattern to try every combination until you unlock the correct one; I don't really find a challenge in doing that, only a waste of time. And if you aren't organized, well... you'll get stuck there. Even more, I think this puzzle has a bug, since I tried a certain combination and not only I heard a "click", but also the character acknowledged that something happened when it wasn't the case. It made me wander the place for a couple of minutes until I came back and decided by chance to kept trying until I finally got the actual correct combination.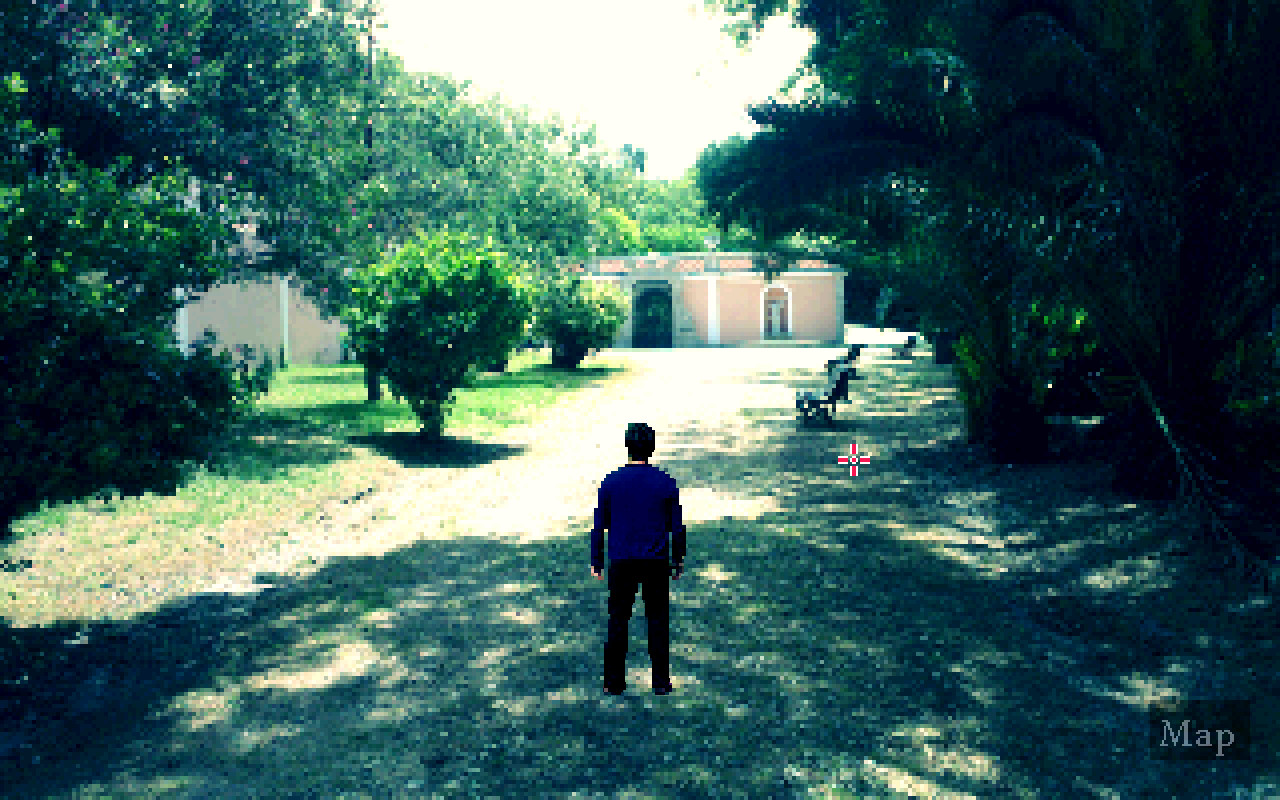 2) Although separated, the following events were concatenated but they still share incredibly similar issues:
a) A highly improbable but at the same time highly convenient bizarre event will happen, that will be decisive on the destiny of your character at the end of the adventure. For the record, I liked the ending, definitely I think it was worth the time invested on this game... despite that variable, for which I was far from being convinced. I know what the developers tried to do with it, because if said variable wasn't present, although the resolution for your character most likely would've been the same, the difference is that it would've been a pretty generic ending. I don't have a problem with it being a strange ending; in fact I associated it with a situation that could happen in a show like Twin Peaks (something intended by the developers, actually), but my problem is how it was executed. I think it should've been handled differently.
It doesn't help the fact that there isn't any way to circumvent this event. Definitely you'll come back to this point when you finish the game, only to find that if you decide to ignore it, you won't be able to progress the game because the next event won't be triggered. I also tried to get back to reception, looking for assistance (which in my opinion would've been the most sensible course of action) but this option wasn't available either. So, not only that event is unavoidable, but the protagonist's capricious decision as well.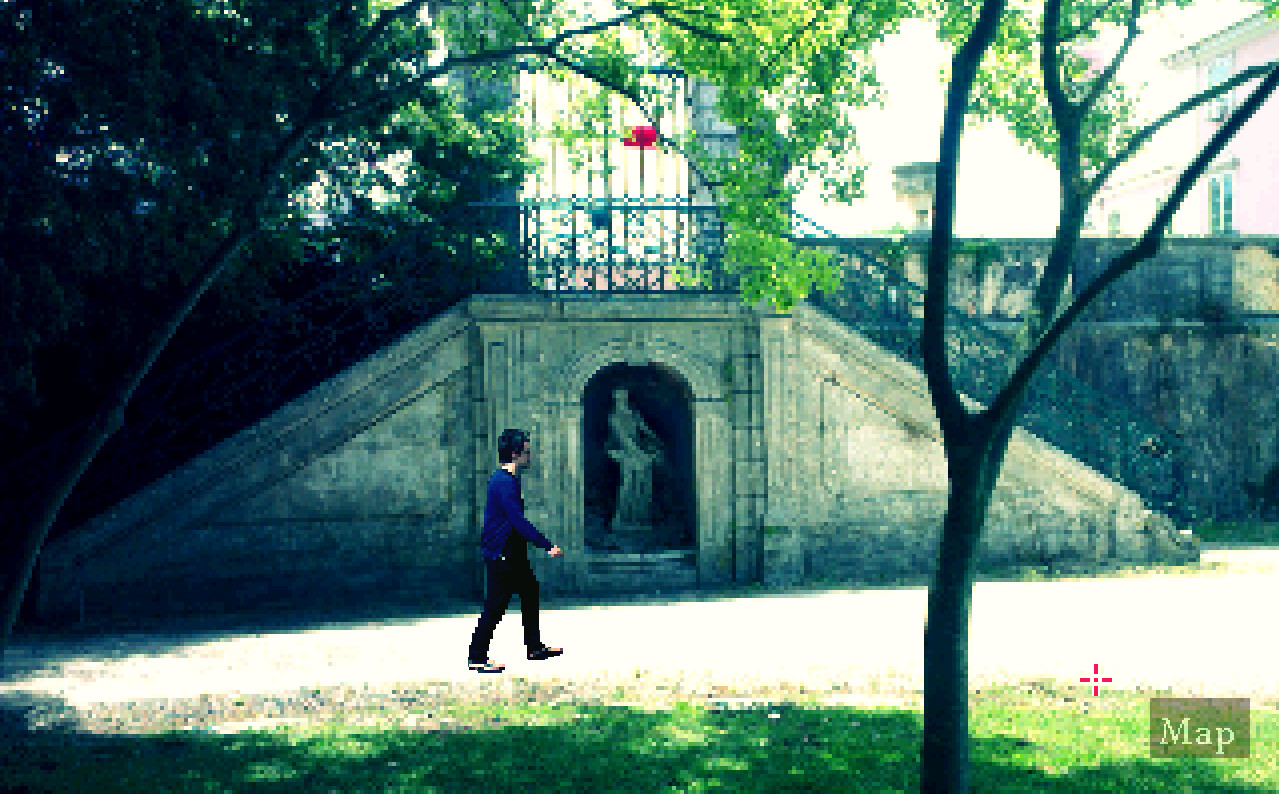 b) Like I said, despite not having any logical concatenation, nevertheless this second event will be triggered by the previous one. This is worse, because besides being highly improbable but highly convenient as well, just like the other one, it will force you to unnecessarily backtrack the whole park until you reach the point where you finally find a lost object. And when you get there, unfortunately you'll be expected to believe that in order to reach that object, you will need another one for which there should be dozens and dozens scattered everywhere in any park, but for some strange reason it's not present here at all. You'll have to leave the scene, which as you might guess involves... more backtracking, and overlook the fact that if this happened in real life, the object no longer would be there once you come back.
And to add even more absurd, the protagonist decides that to avoid potential problems he will do something that objectively would put him in actual legal problems if he gets caught. I must say that if while you play the game you start to get the impression that the guy isn't exactly the brightest man on Earth, you're probably right.
A final but minor problem I found was at certain moment where your character doesn't run, when it should be. This might be a nod to games from that decade (for instance, I remember a segment of "Indiana Jones and the Fate of Atlantis" where it happened the same) but still it broke the immersion a bit. Nothing serious though, like I said.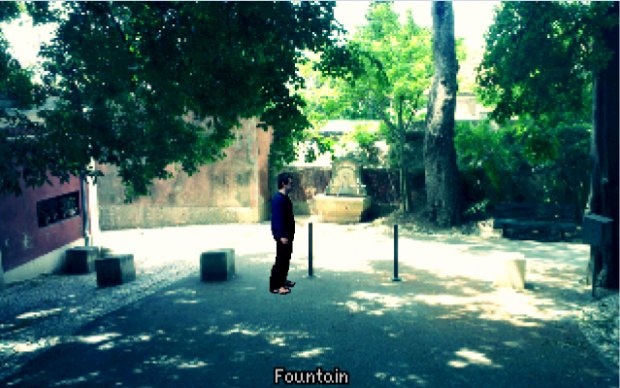 Always remember though, the fact that I spent so many paragraphs detailing negative aspects doesn't mean at all that I didn't like the game. Don't get confused by that, because that is far from being the truth. It's just that given that we're talking about a short game, these issues shouldn't have been present; in fact, you might end up wishing the game was longer once you beat it, and definitely those backtracking sections could've easily been replaced with more interesting content. But still, as it is, if you enjoy titles like "Moirai" (GOL article here) or mysteries in general, you should definitely spend an hour with this game. It also includes achievements, so your exploration efforts will be rewarded and it's full of little details to discover (as a trivia, if you pay attention, at some point you'll hear a sound that is very common in movies that will probably make you smile). It will also stay with you way after you complete it, and it really invites to be analysed and dissected in detail; hence this comprehensive article, after all.
So, to summarize, most likely it won't make you lose your head, but surely it will be a date you'll never forget.
Play 'A Date in the Park' on Steam for free.

This game was played on a laptop with the following specifications*: 
 
- CPU =  Intel(R) Core(TM) i3-4005U CPU @ 1.70GHz / Speed: 1600 Mhz /  
4 logical processors / 2 physical processors

- RAM = 3861 Mb

- Video Card = 
Driver: 
Intel Open Source Technology Center 
Mesa DRI Intel(R) Haswell Mobile x86/MMX/SSE2 
Driver Version: 
3.0 Mesa 19.0.8 / OpenGL Version: 3.0

- Operating System = Linux Mint 19.2 Tina (64 bit)  
Kernel Version: 4.15.0-72-generic 
Steam Runtime Version: steam-runtime_0.20191210.1

- Audio device = Intel Haswell HDMI

(*extracted from Steam System Information)
Some you may have missed, popular articles from the last month: