Ufflegrim is yet another game to add a card-based deck-building element to it and it does so with a traditional roguelike. Very strange and yet I love it. Setting itself apart from other similar types, in Ufflegrim you're not only building up a deck of creatures to summon you're also moving around each level yourself too. You can attack, you have health but it's all about your deck.
It's what now? Ufflegrim is a traditional roguelike with card-based, creature summoning combat. Every enemy is not only a challenge, but also a chance to capture unique allies and abilities for your deck. Take on the pilgrimage and travel to the bottom of the 100 floors.
Starting off with nothing but a deck of 100 little daggers, as you progress through each floor you unlock a new type of creature to summon. To pull a card from your deck, you need to hit an enemy yourself. Once you've got a good hand, you can then begin placing down your creatures. Making it even more odd and thoroughly enjoyable, is how you combine everything. Drop a creature on top of another, and they turn into something else.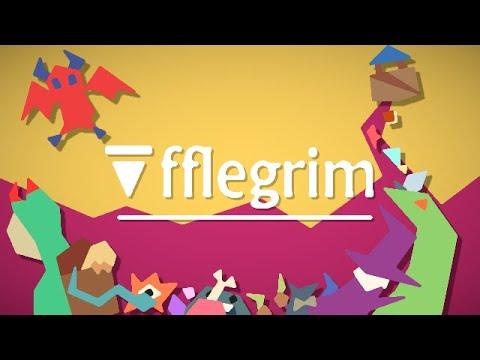 In Ufflegrim there's tons of different enemies to find and collect (over 100), spread across 100 increasingly varied floors with different biomes and there's even boss monsters thrown in to really keep you on your toes. As you play through it becomes quite difficult, and it can also turn into a weird sort-of bullet hell too.
Some of these creatures will just follow you around, however some spam projectiles at you. Since you're a character on the board, it becomes a turn-based bullet-hell dance to get around them all or spawn some creatures in for protection. Heck, you can turn it into a reverse bullet-hell with the right combination, as you drop down one creature and put another on top to make them constantly spawn arrows—there's so many delightful things you can do that it will keep surprising you.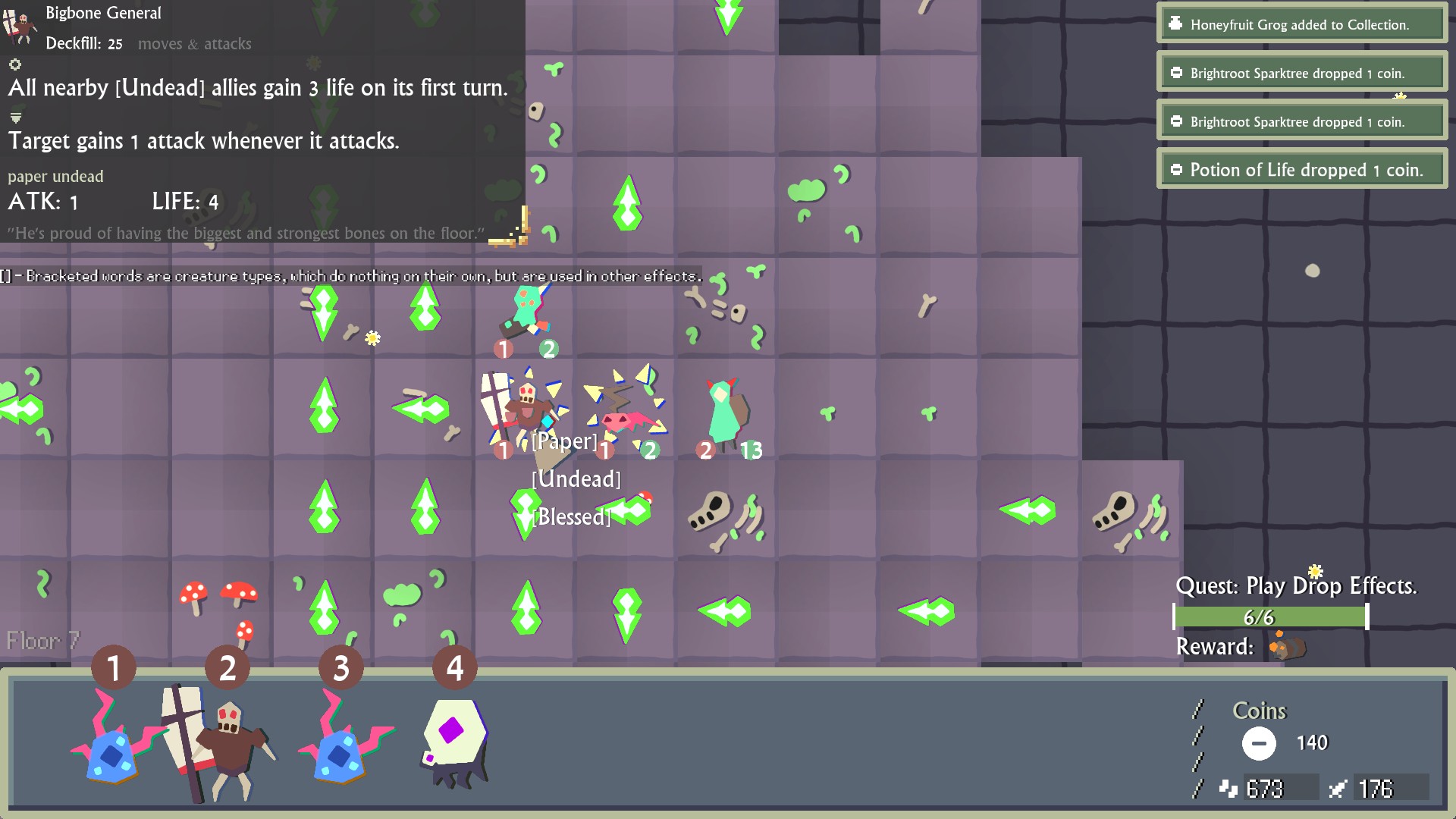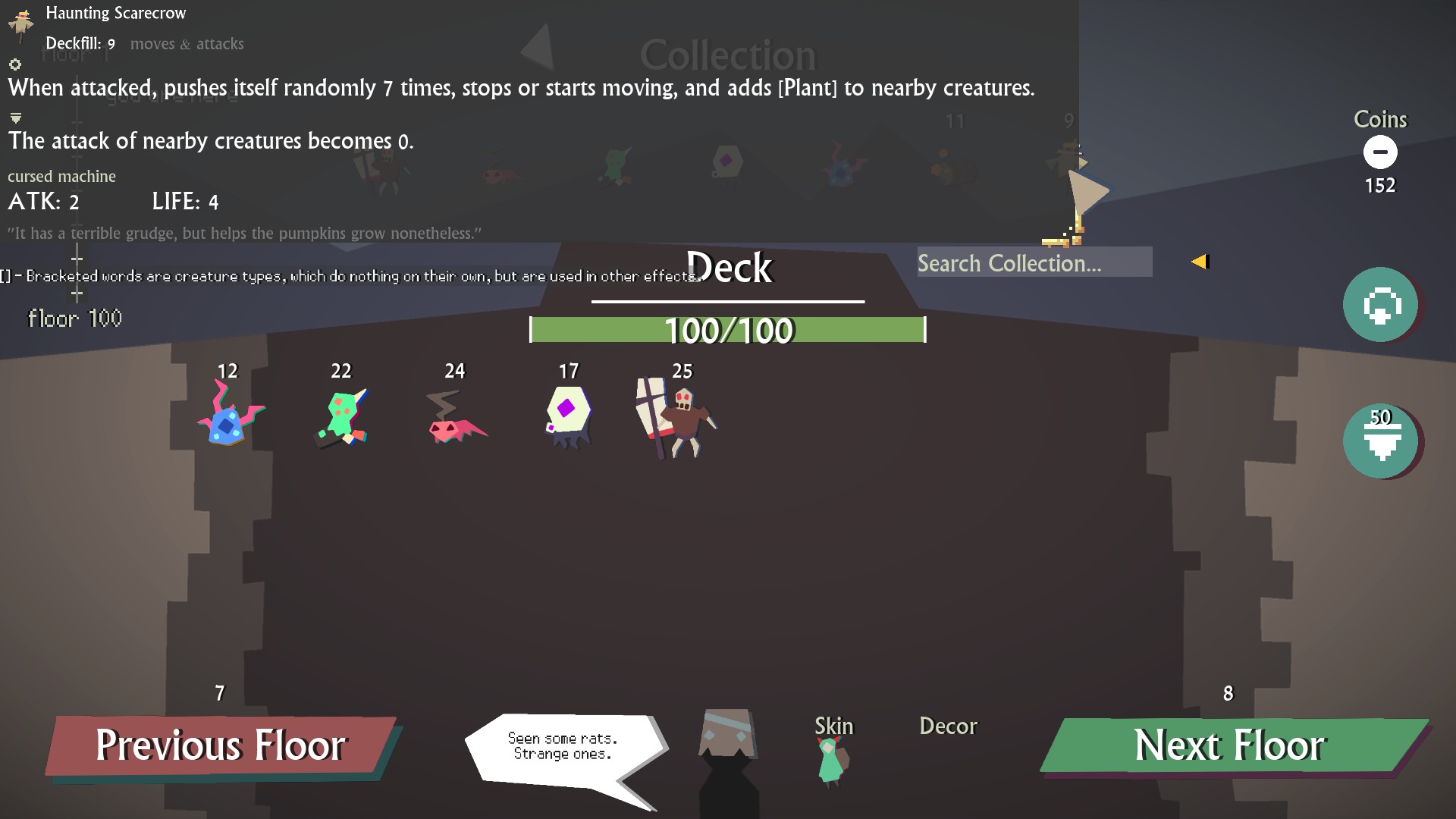 With the amount of summons possible and the crazy amount of combinations that creatures, Ufflegrim is quite unpredictable and ever-changing with each time you play. It can also be confusing. Thankfully though since it's turn-based, you have all the time you need to think and there's plenty of into tool-tips when hovering over all creature types to learn more. Even with the challenge that comes with it, never does it feel unfair. Between every single floor you get to change your deck and build it however you want.
To give you something else to work towards, you also get to build a little home base as you go. Taking down creatures gives you coins to spend on tiles to expand it, and you can place down portals inside to go back to any particular floor. If there's one you find interesting or challenging with the enemies inside, giving you an easy way to go back any time to play some more.
Considering the wealth of content available, I can't see myself getting bored of this any time soon. It's a constant learning experience and a fun one too.
A very unique take on deck-building and a traditional roguelike together, to make something worth playing just for the fun of combining everything and creating some ridiculous combinations. As a personal purchase, I can highly recommend it if the mix sounds good to you. You can pick up Ufflegrim on Steam.
Some you may have missed, popular articles from the last month: