Developer Joe Richardson has just announced Death of the Reprobate, the third and final game in their series (after Four Last Things and The Procession to Calvary) of point and click adventures made with Renaissance paintings. The first two were a really good laugh and so this is hopefully plenty more of the same good stuff.
"Death of the Reprobate is a gentle story about helping people and being a nice lad. Travel around a quiet, rural town - help the locals in their day to day tasks. Wander into the nearby woods - make idle chit-chit with a woman submerged neck-deep in a tiny pond. Climb to an idyllic viewpoint in the mountains, overlooking earth and sea and sky, the natural and the man-made, the eternal mystery held within the infinite depths of the distant horizon - help a man shoot some birds. This is a game full of slow burning simple pleasures...
...Until the Devil gets involved."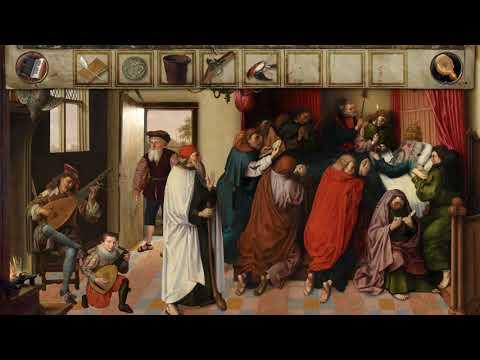 Features:
Pointing and Clicking – A traditional point and click interface, with a 'verb coin' interaction menu and a simple inventory from which you can drag and drop your preciously hoarded items.
Renaissance Artwork – Renaissance, Rococo and even a hint of Romanticism, to be a little more precise. Hundreds of paintings, spanning hundreds of years, are all brought together into one consistent world.
Classical Music – Music by Eduardo Antonello. Period appropriate music that adapts as the story progresses, recorded using real medieval/renaissance instruments.
Standalone Story – Death of the Reprobate is set in the same world as Four Last Things and The Procession to Calvary, and features some recurring characters/themes, but it can be played independently.
Highbrow Buffoonery – Lofty subject matter is treated with gleeful flippancy. Gags about butts are taken very seriously. But rest assured, while some of the jokes may be ridiculous, the puzzles make perfect sense! (or at least adhere to a consistent internal logic)
You can follow it on Steam.
Some you may have missed, popular articles from the last month: