Paradox Interactive and Colossal Order have launched a new mini-expansion with Cities: Skylines - Financial Districts, along with another free update for all players.
There's also a Map Pack 2 content creator pack and African Vibes radio pack, introducing more biomes and expanding the game's music library. Main features of the mini-expansion include:
Investments - Invest your money wisely and improve the lives of your citizens. Many sectors await your support such as deathcare, healthcare, oil, ore, farming, generic industry, and logistics. Keep track of your investments with the new stock trading tab. 
Stock exchange - Level up your investment funds with the stock exchange. This new building also unlocks the tax income bonus for office zone buildings in its area.
Bank buildings - Money, money, money! Banks add a new service to your city and improve its safety thanks to their transport vans that, while collecting cash from commercial zone buildings, decrease the criminality rate in the area. 
Financial District Specialization - Unlock a new district for office zones when you reach the "Big Town" milestone.  Financial Districts features a new visual style, and generate higher taxes than basic office zones but decrease happiness. The tax income bonus increases if a stock exchange is nearby.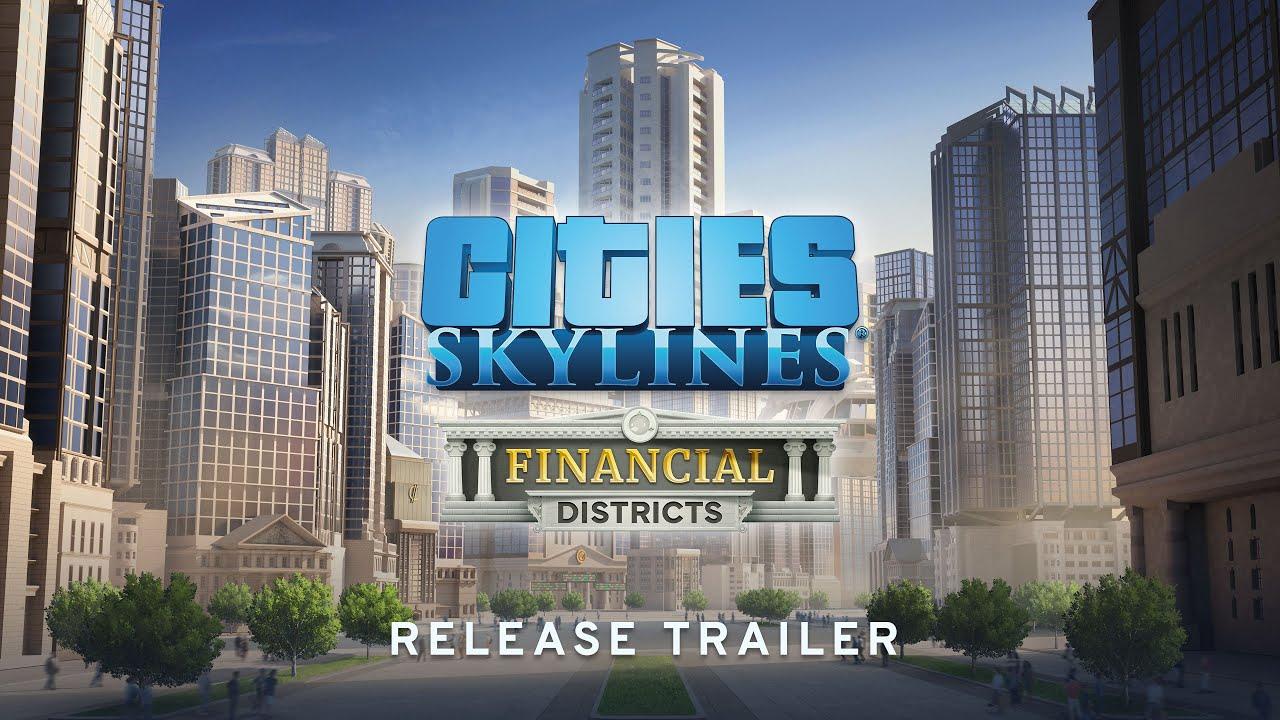 Included in a free update for all players:
6 New Colour Corrections:

Cold.
Dark.
Faded.
Neutral.
Vibrant.
Warm.

Additional Citizen Variations:
Added the ability to select building variation.
Tooltip text regarding mod compatibility improved.
Fixed: Two-Lane Road With Tram Tracks missing connecting tram tracks when elevated.
Fixed: Four-Lane Road With Tram Tracks missing connecting tram tracks when elevated.
Fixed: Visible gaps are present at the connection of roads and bridges built in steep terrain.
Fixed: Text overlapping the numerical value field in "Node properties" in the asset editor.
Fixed: Large Six-Lane Road with Median and Tram Tracks has lower speed than other Large roads.
Fixed: Double-decker bus capacity 60 appears to be mirrored.
Fixed: Pedestrian streets with tram tracks missing stone texture for some nodes.
Fixed: Buses do not always use bus-only lanes on highways.
Fixed: Connector tram tracks are not visible on intersections of tunnel entrances of Two-Lane Roads with Median and Tram Tracks with multiple other roads with Tram Tracks.
Fixed: Service Vehicle Selector unavailable for some services.
Fixed: Problematic intersection on Riverrun map.
Fixed: Newly added nodes have a few issues in the Road editor.
You can buy it on Humble Store and Steam.
Some you may have missed, popular articles from the last month: