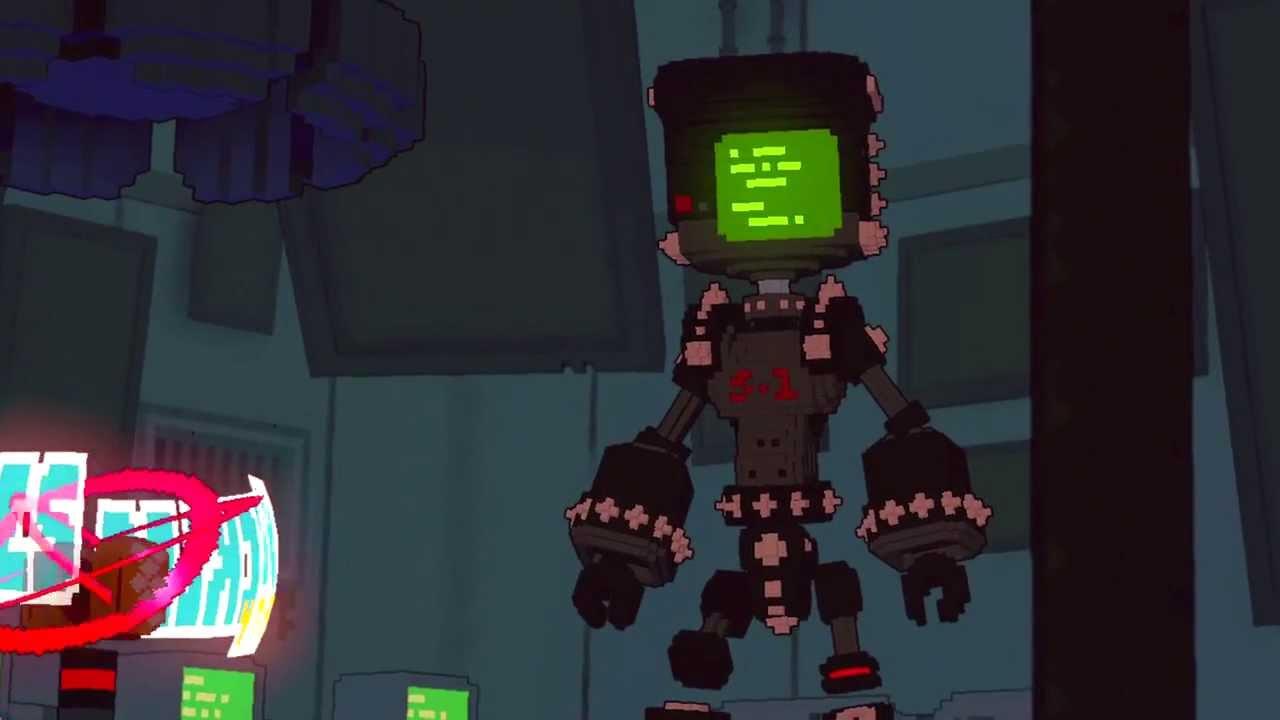 I sadly had to wait on playing Heart&Slash [
Official Site
,
Steam
] for a while as it was broken, but the developers finally fixed it. I took a look at what it's like to play as Heart the robot in this action game with roguelike elements.
I will admit that I ended up skipping the tutorial, as I felt like the dialogue just waffled on with nonsense and all I wanted to do was get a grip of the controls. So I ended up just going on into the main game. Looking over the forum posts, it looks like plenty of people agree with me and want to be able to easily skip cutscenes and text, which you can't really do.
You play as Heart, the goodie robot who has the ability to double-jump and dodge about the place. You have no idea what's going on, but something bad is going down and you need to escape this factory.
On first thoughts, the game is really quite good to look at, I love the art! It's all rather vibrant and has a good coherent style to it. The music goes along with the art style rather well too, as it's all incredibly cheery which I imagine is to help with the frustration of dying and starting over again. They even have loading screen tips, one of which is telling you to take a break if you're getting frustrated–helpful.
The game doesn't allow you to save your progress. It does claim it has a "persistent progression system" which I don't entirely understand. Everything you get is random, so it's not actually storing anything. You can track things you've found in the unlocks menu, but again, they are all found at random and you don't get to pick and choose since again, what you get during a run is random.
The upgrade system is fun, as you combat and destroy the different robots you collect bolts. Gain enough and they turn into a package that can be exchanged for an upgrade. It's nice as it makes combat rewarding to the point of destroying every naughty robot you come across.
On top of the upgrades you also have a lot of different weapons and armour to find, so there's quite a bit of variety for gameplay style and replay value thanks to this. You can recycle equipment for health, so it's always a toss-up between health and equipment which can make things interesting.
The combat is
really
fun, especially as enemies can come from anywhere. They might pop out of a wall, the floor or you might do what I did and walk into this: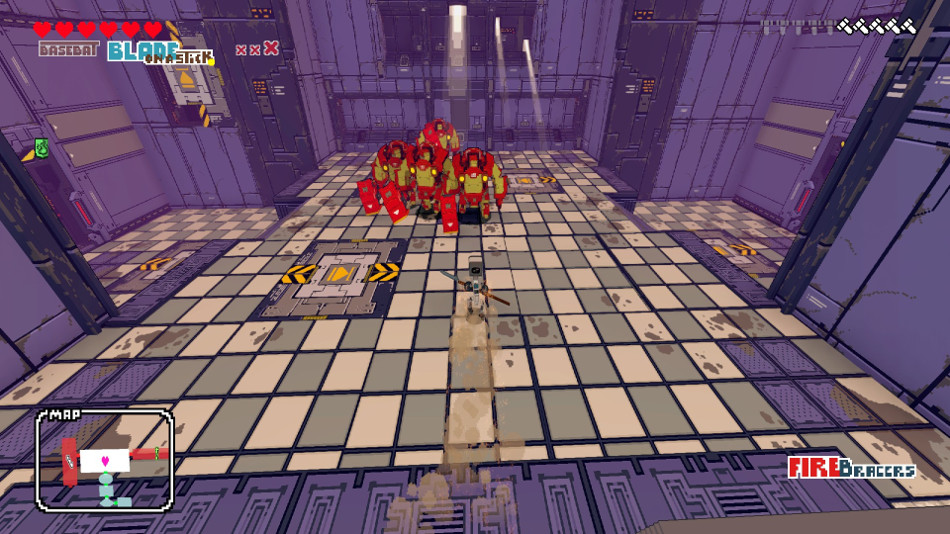 Combat becomes quite manic, but amusing as enemies are able to hit each other which you can use to your advantage.
What's weird is the secondary weapon system. You can equip three items, but only one is your main weapon. The others can only be accessed by holding down their buttons and then attacking with it held down. I would have liked to have been able to just switch between them easily, but I suppose it can create some interesting combinations in your attacks.
It's a very hardcore game due to permadeath and no saving, so it won't be everyone's flavour. I think it's pretty damn cool, but saving is always an issue for me, as always. I like to be able to finish a run of something like this without having to feel like I need to do it in one go.
Issues
The game seems to lock-up if I alt+tab while the game is running. It's fine on the menu, but if you're actually in-game it seems to just freeze it. For me this was a constant annoyance while testing. Going to check a quick message—fuck, frozen again. This makes it a game I cannot livestream due to this.
Even with the above issue, I did enjoy it quite a bit. Would enjoy it a whole lot more if that wasn't an issue though. Since you can't save a run, I often take a break a minimize a game to do something else for a bit.
About the game
Heart&Slash is a 3D brawler that is set in a world where machines are all that remains from the Human civilization.
You play as Heart, an innocent robot fighting to escape the grip of the evil and all seeing machine QuAsSy (Quality Assurance Systems).
But make no mistake Heart&Slash is a hard game. Every death is permanent and means a new randomly generated level for you to start over with a different set of weapons and items you can use, new enemies to fight and secrets to explore.
Heart&Slash is an indie game developed by a small but passionate team. We have a tiny budget but big hearts, and we are giving it all to make this game (our first) the best we can.
Some you may have missed, popular articles from the last month: