All Walls Must Fall - A Tech-Noir Tactics Game [itch.io, Steam] is something I completely missed seeing an Early Access release, so it's time to correct that. They also have a big sale on right now, so a great time to take a look.
The game is made with Unreal Engine 4, from a team who formerly worked for YAGER, the studio behind Spec Ops: The Line. It was funded on Kickstarter back in April of this year, where they managed to completely smash their inital goal.
Disclosure: The developer sent the key to me.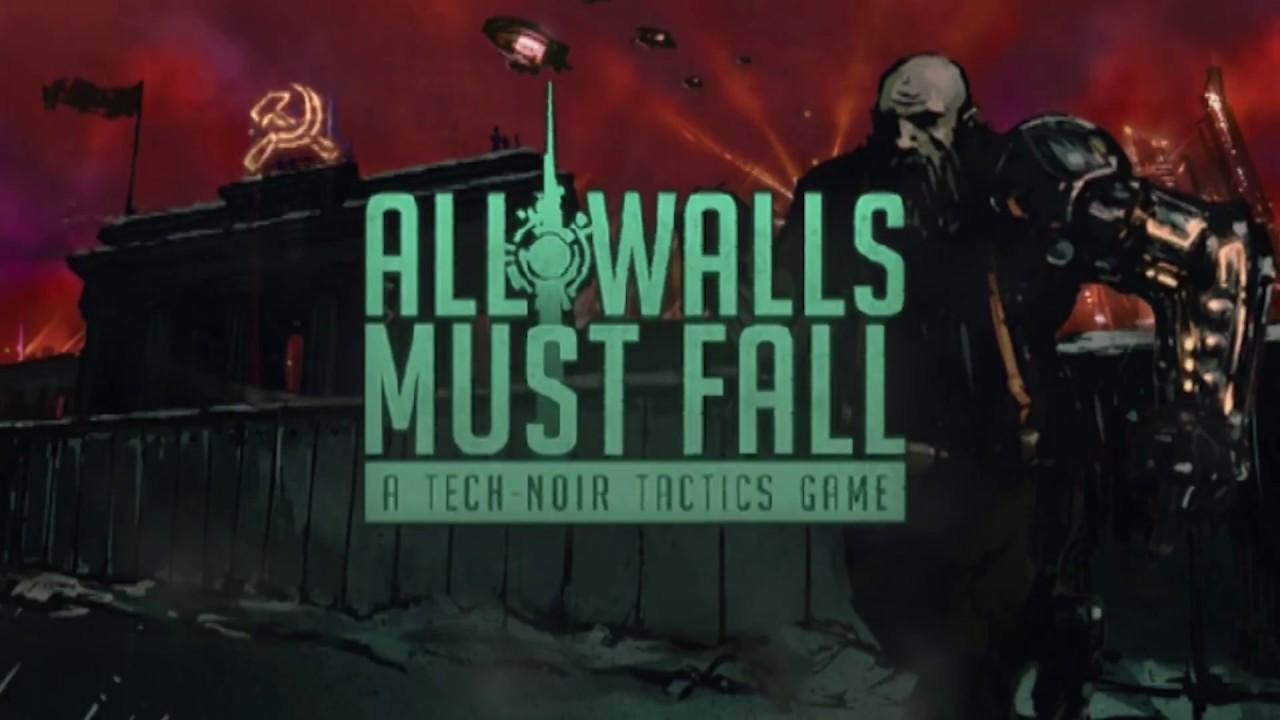 As a huge fan of strategy games, I've been rather engrossed in All Walls Must Fall. It's a very strange and different experience to any other strategy game I've played. It looks a little like Invisible Inc, but with a more open setting, more options and the ability to control time and undo actions. If you enjoy games like XCOM and Invisible Inc then I already consider this something you really need to consider picking up.
As you progress through a level you will earn time credits, which can be used for various actions like rewinding time. The longer you take though, the more the game will take away from you. Exploring new rooms will grant you quite a lot of these credits, so explore away!
The combat is where it can get really interesting. You pick action after action, confirming those actions so that they're locked in. Combat is turn-based, so you get to carefully pick your moves, but waiting around will eat into your time score. Sometimes waiting is essential, like taking cover while an enemy bullet goes overhead so you don't get hit, but if you do get hit you can undo time and retry. There's also drone hacking, although I wasn't really sure what I was doing and accidentally hacked a drone terminal during a battle, now I have a little friend attacking enemies for me—sweet!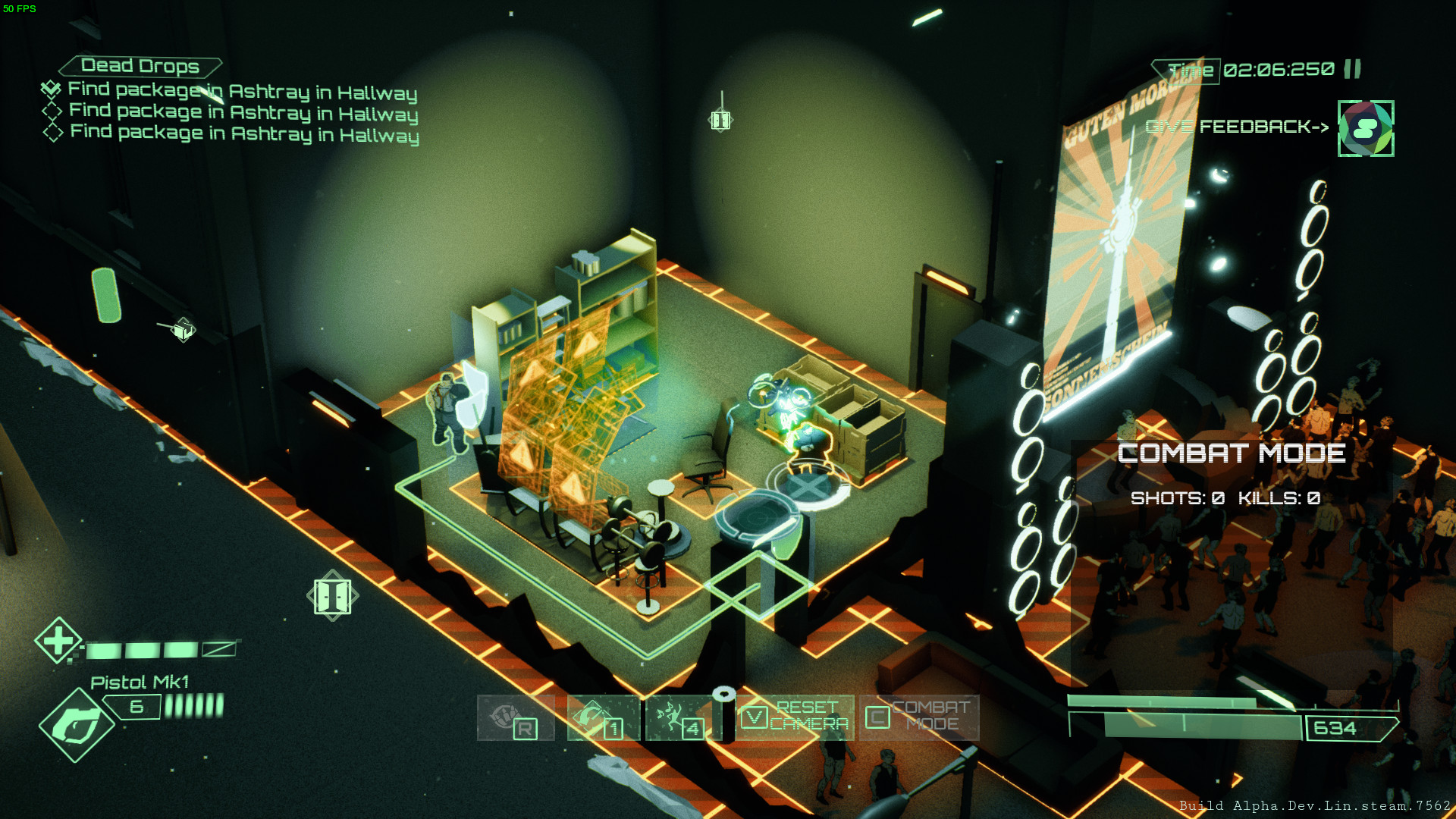 Once combat is complete, you get to lock that battle into the timeline and it gives you an action-camera playback of the event. It's incredibly clever, exciting to re-watch and has kept me wanting more! It does suffer some of the issues that XCOM has with that, in the way that the camera angle is sometimes poor and you don't actually see it, like a wall blocking your view for example. Issues like that will hopefully be ironed out as they develop it further.
Even the dialogue system is quite interesting, with your options changing the emotions of the person you're speaking to. Not entirely sure why this particular bouncer thought I was flirting though, I was trying to threaten them with time travelling antics…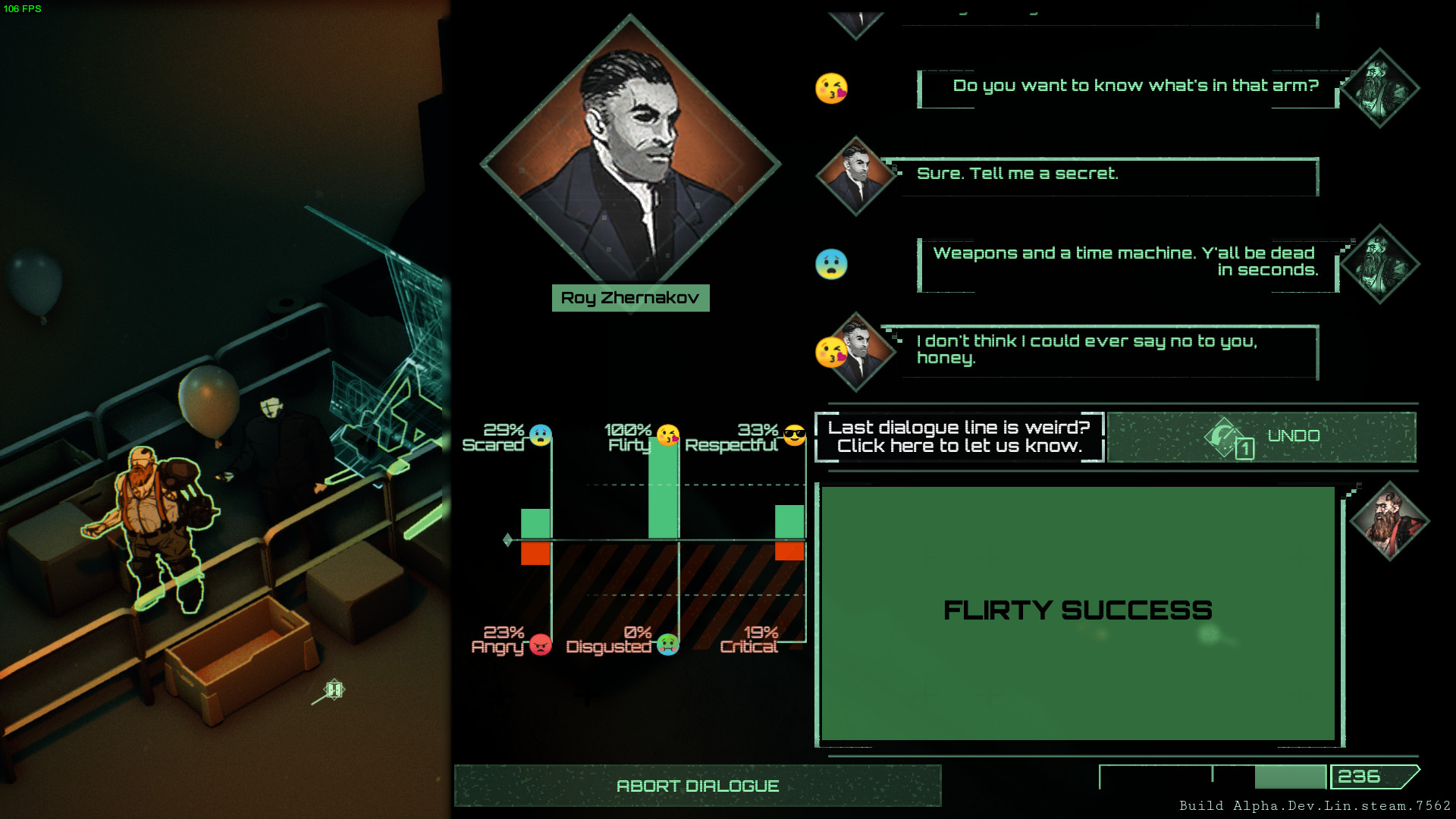 After completing a mission, your score is then converted into credits for you to purchase upgrades, extra slots for weapons, augmentations and so on. Then you proceed to choose your next mission and it keeps going like that for a while.
The developer has been pushing out regular content updates, which have included RPG elements with upgrade systems, different enemy weapon types, 135 Steam achievements, improved AI and so on. They're also planning another content update at the end of this month.
Features:
Hybrid real-time / simultaneous turn-based tactical gameplay
Procedurally generated levels and campaign that plays different every time
Sci-Fi noir Berlin as a divided city in which the Cold War never ended
Mind-bending time manipulation abilities that allow you to experiment with possible futures and rewind to the past.
Synaesthetic nightclub environments and audio
A simulation sandbox featuring crowd simulation and destructible objects
A parable that reflects on free will, moral ambiguity and the meaning of freedom
You can grab it right now on Steam and itch.io with 50% off until November 13th. Really damn impressed! Extremely excited to watch this develop since it's already so good this early on.
Sidenote: I'm quite surprised we didn't have people emailing in about this one. We often rely on people notifying us of news, be sure to email us when you have a tip! We don't always reply, but we appreciate all tips.