The Blackwell series cemented Wadjet Eye Games' position as one of the most beloved modern developers of classic point-and-click adventures. Today the first three games will be available for purchase on Linux, along with Android and Mac. So far only The Shivah and Gemini Rue have been able natively for our OS, but with these games and the upcoming cross-platform A Golden Wake, Wadjet Eye Games seems determined to make a serious foray into Linux publishing.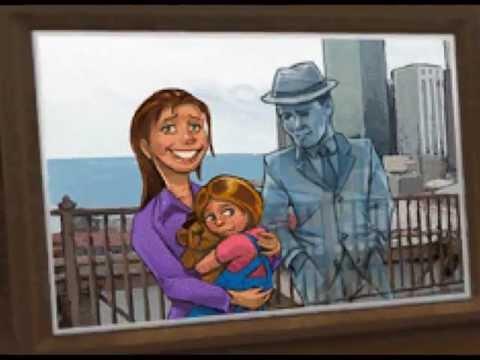 Note: The above video from GOG.com also features footage from Blackwell Deception, which is currently unavailable for Linux.
QuoteThe Mac, Linux and Android versions of the first three Blackwell games have made their debut on 11th PC and Android Humble Bundle! From now until October 7th, you can nab Blackwells Legacy, Unbound and Convergence for whatever you would like to pay – and you get bunches of other games besides!

For anyone familiar with The Shivah, their first commercial game, The Blackwell Legacy will provide instant recognition in interface and structure. Like the other games by the developer it's a classic point-and-click adventure game with emphasis on story and puzzles. It follows freelance writer Rosa Blackwell as she discovers her abilities as a medium and, along with them, her spirit guide Joey Mallone.

The game also introduces a dynamic between medium and ghost that is prominent both in storytelling and puzzle solving. Together they help the victims of several murders move on to the afterlife. By using the aforementioned medium abilities they give them closure by solving their murders. The second game, Blackwell Unbound, is the only one to feature Rosa's aunt Lauren as the protagonist. Blackwell Convergence and the following two games of the pentalogy stars Rosa as we discover more of the overarching narrative of the series.

All games in the series are expertly written and designed by CCO and founder Dave Gilbert, while background and character art is done by a diverse cast of artists. The company has since taken on artist Ben Chandler as their third full time employee in addition to Dave Gilbert and Dave's wife and CTO Janet.

I first became aware that the games had been ported to Linux and were being tested in July. Knowing that Primordia is also in the process of being made available for purchase on Linux, I became curious about the effort made to bring these titles to new platforms. I asked Wadjet Eye Games for an interview to be featured on GOL, and Dave and Janet Gilbert were kind enough to answer:

Gemini Rue and The Shivah have been available for Linux for a while. How have they performed sales wise on Linux compared to Windows and Mac?

Dave: Honestly, the sales on Linux have been quite low. But since it costs us virtually nothing to port to Linux along with Mac, we are happy to do it! The sheer love and enthusiasm we get from Linux users is wonderful. What I love about Linux players is not only will they report a problem if they find one, but they will often diagnose it and often solve it for us at the same time.

You have mentioned on your forums that the first three Blackwell games have been ported and are currently being tested. When can we expect to see native Linux versions appear across digital outlets like GOG, Humble and Steam?

Dave: Real soon! We usually do the Mac/Linux/Android ports after we finish the iOS port. The first three Blackwell games just appeared on iOS, so you will see those on Mac and Linux very soon now.

Can you tell us a bit about the background for choosing a third party to port your back catalog to Mac, Linux and iOS?

Janet: Humble Bundle worked with us to port the AGS engine to Mac and Linux because they require Mac, Linux, and Android compatibility for games on their bundles.

iOS we actually port in-house. The iOS ports require a lot more work than the Mac/Linux ports because the whole game needs a lot of recoding to make sure that it can be played on a small touch-screen. The Android ports are done for us by a third party, based on the iOS ports.

Given that many non-Windows users might already have bought and played the Windows versions of your older games using e.g. Wine or virtualization software, what are your expectations for the upcoming Mac, Linux and iOS versions?

Dave: The reason we don't sell Wine versions on our website is that it is impossible for us to troubleshoot and support any issues that come up. So yes, they can be played with emulators, but all sorts of unpredictable problems come up when you do so. Making a native port of the game makes it much more pleasant to play! Plus, having a native version allows us to sell it on Steam. Sadly, they don't accept Wine wrapped versions of Windows games.

You will be publishing the upcoming games A Golden Wake by Grundislav Games and Technobabylon by Technocrat Games. Both already have their following with the Ben Jordan series and The Perfidious Petrol Station respectively. What has Wadjet Eye Games' role been in bringing these two new games to larger markets?

Dave: Our primary role as a publisher is to deal with all the stuff that comes up after the game is finished. All the marketing, PR, sales, tech support, porting, and all that fun stuff. We also get the voice acting done and handle QA. In terms of actual production, our work varies.

For A Golden Wake, we weren't involved too heavily. Francisco Gonzalez has done all the art, animation, writing and programming for the project and we stayed out of his way. For Technobabylon, we are more heavily involved. All the art was done in-house and we've been involved since almost the beginning. So our direct role varies game by game.

In your opinion what are the advantages of same day releases on Windows, Mac and Linux and is it something you're committed to for your future games?

Janet: We're planning to do this for A Golden Wake, which will be out for PC, Mac, and Linux on October 9. It's easy enough now the AGS engine port is done; we just need to wrap the same build as we use on PC into the Mac and Linux AGS runtime.

You mentioned in a 2010 interview with GnomesLair.com that you have plans to someday make a cRPG in the vein of Fallout. Now that you are done with the Blackwell series is this something you have started thinking about again?

Janet: We changed plans because of family reasons. We decided to go for release 1.0 – Baby instead!

In order to do a CRPG for a reasonable cost, we would need a pre-made isometric RPG engine with the maturity and ease of use of AGS. We were trying to write our own and it was just taking too long. If anyone knows of such an engine, please let us know!


Having a girl roughly the same age as their daughter Eve myself, I can certainly understand that it would leave little time and energy left for such time consuming undertakings. Thanks Janet and Dave Gilbert of Wadjet Eye Games for taking the time to answer my questions.
Some you may have missed, popular articles from the last month: