Tribute Games
' unique Breakout-style JRPG Wizorb has received the flibit-treatment and is now available to us on
Steam
for the first time. The MonoGame port available through a Humble Widget on the
Wizorb website
has also been replaced with the FNA re-port.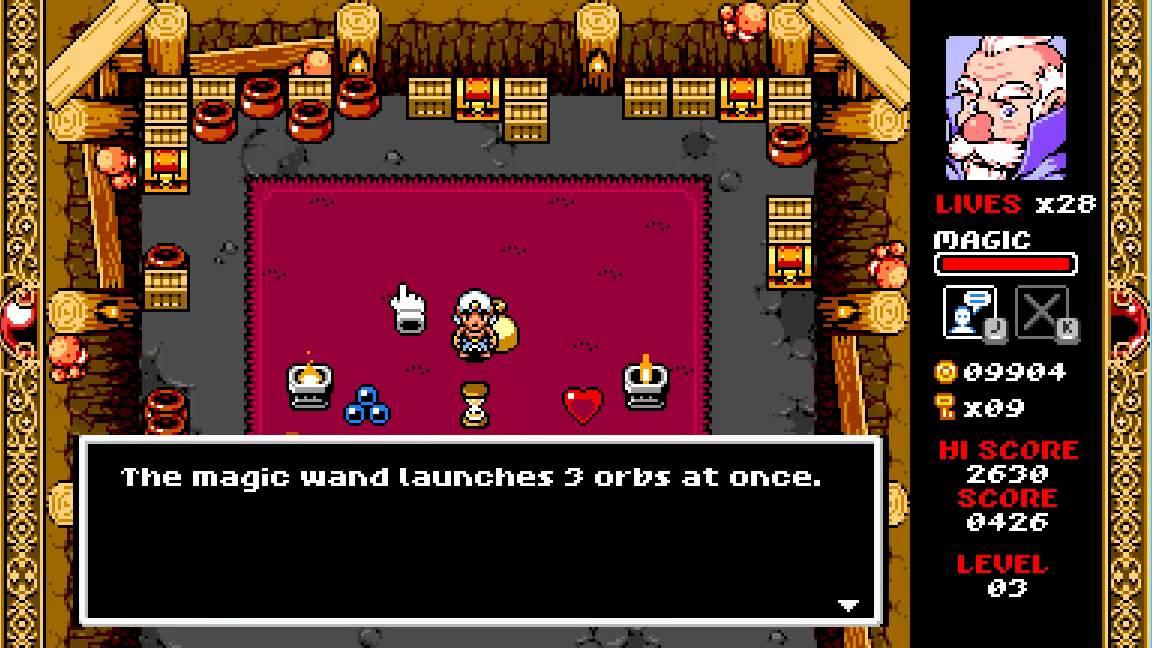 The game starts out in a village presented in a traditional isometric view. When you, the wizard Cyrus, interact with the villagers you learn that they need money to rebuild their town. And so you set out on a journey to defeat the evil presence that's threatening the kingdom. And then the game suddenly transforms into a block-breaker, and you into a huge magic wand to be used to bounce your orb at blocks and various enemies.
I'm terrible at these kinds of games, but the gameplay seems pretty good. When you break blocks, things like gems, coins and some kind of magic potion, which all have different uses, drop to the bottom of the screen. The gems and coins can be used to buy upgrades and continues or be taken back to the village to rebuild it. Potions are needed to fill a magic meter, which lets you use one of two kinds of magic, which changes a bit between levels. These aid you in breaking blocks and handling the orb and should be used with care, since you can easily run out of magic. Most levels also have exits to bonus stages or a store where you can buy upgrades, but getting to them requires a precise aim and their exits must sometimes be unlocked during play.
The game feels good for what it is, and is definitely one to check out if you're into the genre. I do have a few minor quibbles with it though. The game can be controlled with both keyboard and mouse. I prefer keyboard, but what happens is that the cursor pops up and is placed on a default selection in menus. I failed badly at the first world several times, and I wanted to go back and quickly use a continue, but because of the cursor I accidentally managed to restart the whole thing on more than one occasion. By default the magic wand/paddle is also dead slow with keyboard controls. It can be sped up considerably, but it requires you to hold a separate button. This might a good choice to quickly switch between fast and precise movement for an experienced player, but for me it felt awkward and I wish I could have just had it on permanently. Never mind the lack of accuracy. The difficulty also seems to ramp up fast, and after several attempts, I wasn't able to clear the first set of levels even once. I haven't lost interest in the game yet though, and will probably give it a few more shots to see if I can get decent enough to master it.
About the game
(from Steam)
The once peaceful Kingdom of Gorudo is threatened by an evil presence. The only hope for salvation is Cyrus, a wizard versed in a secret magic art called Wizorb! Explore many strange places from the derelict monster infested town of Clover to Gorudo Castle atop Cauldron Peak. Danger lurks around every corner so you'll need to keep your wits about you and have quick reflexes in order to survive.
Key features:
An all-new block-breaking game set in a fantasy world.
Use your magic wand to bounce the orb and cast various magic spells.
Over 60 levels in 5 different Worlds.
Earn gold to buy charms or to help the citizens rebuild their homes.
Epic boss fights.
Multiple endings.
Character animation by Paul Robertson.
Buy the game from
Steam
or DRM-free from the
official website
.