Don't let the cute looks deceive you. Behind its innocent looking facade, Snakebird from developer Noumenon Games hides a fiendishly hard puzzle game that should give even the most seasoned puzzle veteran a proper challenge.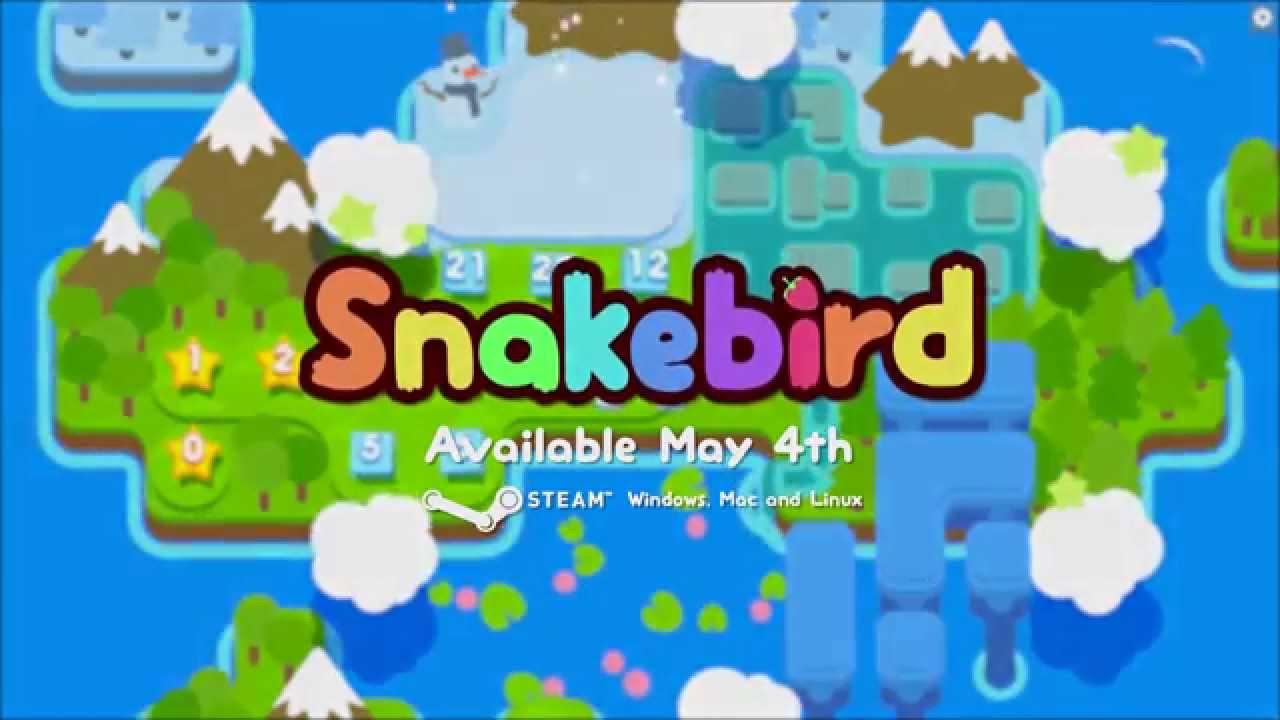 At first glance, Snakebird might look like a fresh take on the classic Snake. But while most levels have fruit that you can pick up to extend the length of a snakebird, this is a pure puzzler. And like most puzzlers, no element is left to chance, and finding the one correct solution in each level will have you squeezing your brain.

The concept is simple. You control one or more snakebirds that together have to collect all the fruit in each level and make it to the exit. No snake must be left behind, and there are plenty of gaps and spikes that will require some skillful maneuvering to get around. Not to mention that you can easily trap yourself if you don't plan your route. Luckily, it's easy to correct your mistakes when you mess up, since you can undo all your moves step by step. So while finding the solution to a level can be frustrating, the controls aren't.

I have played about two hours of the game so far, and I've only managed to complete one full level set. There's a lot of variety between levels, and as you go along you have to adopt several strategies to move your snakebirds through a level. One that took me some figuring out is that you sometimes have to reach out over wide gaps, and to have any chance of getting your snakebird back safely, you must get another snakebird to push it out backwards. There's lots of pushing, lifting and other kinds of co-maneuvering in this game, which makes it hard to brute force levels, and adds a lot to the difficulty. Levels open up non-linearly, so if you get completely stuck on one level, you can let it churn in the back of your head while you tackle another.

The game is as fun as it is difficult, and if you're looking for a unique puzzle experience, this is definitely one to get.

About This Game (from Steam)
What is the longest possible length a bird can be? Obviously a question only all the fruit in the world can answer! But where could all this fruit be hiding? Follow Redbird, Greenbird and Bluebird on a quest for an amount of fruit beyond any birds wildest dreams.

Snakebird is a very simple but deceptively challenging puzzle game about assuming the right shapes for the task at hand, be it pushing, lifting, teleporting or just defying the laws of physics.
Key features:
Over fifty challenging levels
Non-linear world map
Several different zones with their own themed puzzles
Snake-like birds with narcolepsy
Dynamic fruit-powered length gain system
Snakebird is available on Steam.
Some you may have missed, popular articles from the last month: