If you're a fan of the first game, you're going to love this. If you missed the first one, you're still going to love SteamWorld Dig 2 [GOG, Steam].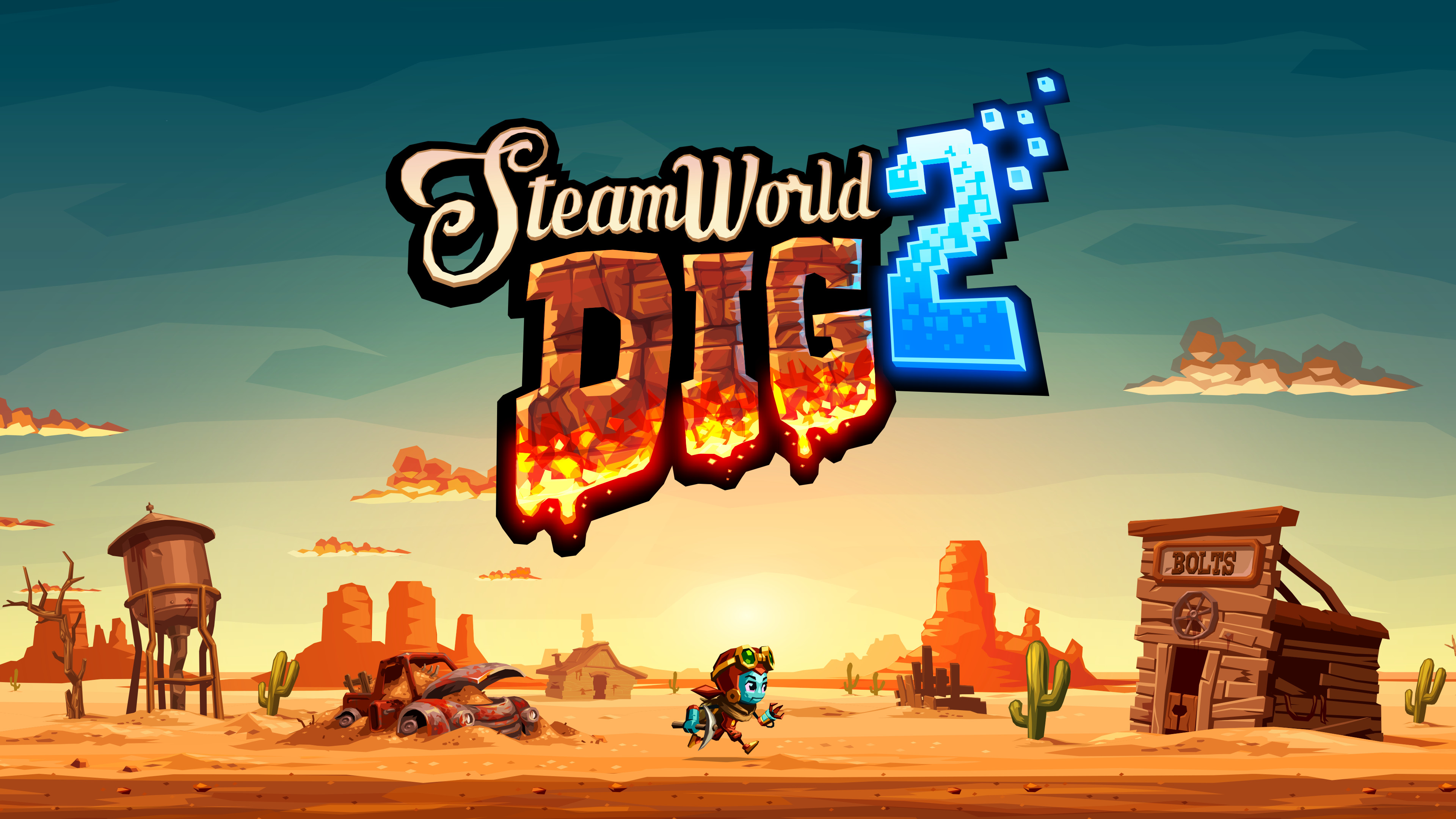 Disclosure: Key provided by the developer.
I'll be honest, the first game didn't hook me at all. Even with it being much higher quality than a lot of games, I generally feel quite burnt out by the amount of puzzling platformers we have already. However, SteamWorld Dig 2 did manage to mostly win me over. There's a lot of things to love about this game, from the presentation to the great gameplay, it's a fantastic game overall.
What really got me with the game, is that it was exciting even from the early stages. A lot of platformers are too slow to build up for me, but within the first few minutes I already hit a minor boss fight. One moment I was dodging fire, the next I was wall jumping and then sprinting off a platform onto the enemies head. A few smacks later and I was done.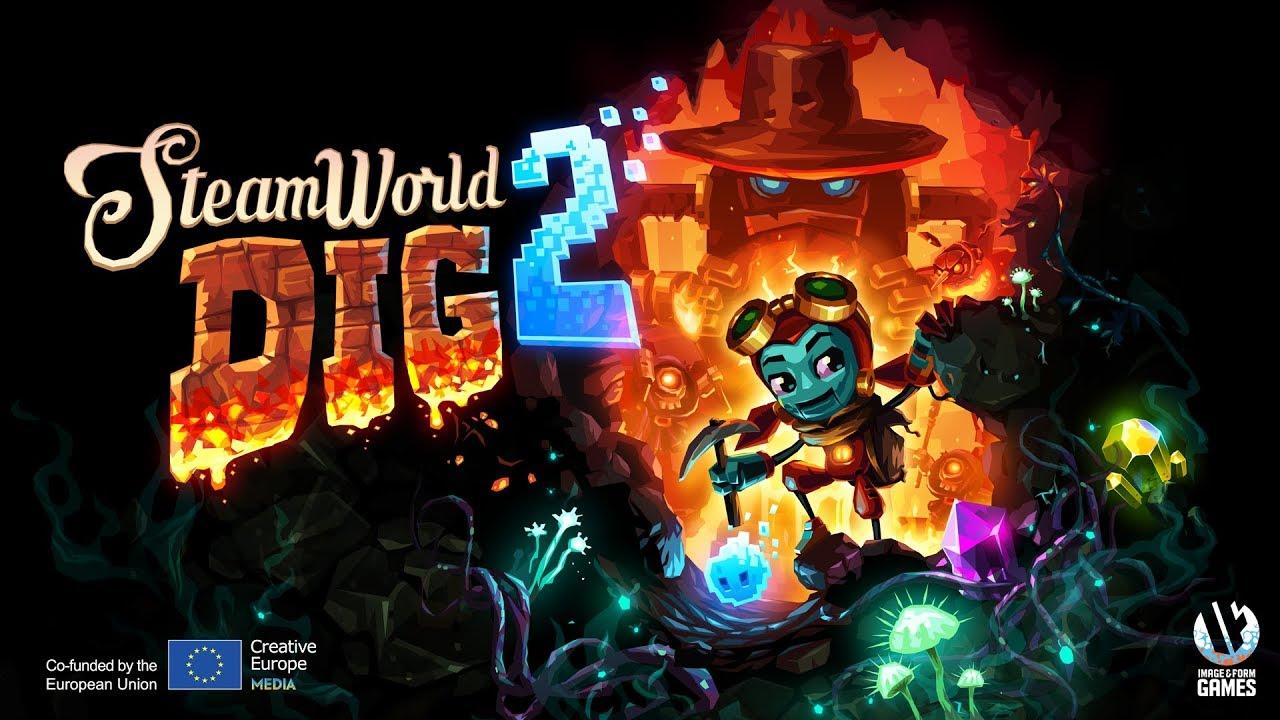 Sadly, once you get past that bit, it does end up becoming quite slow and ends up feeling a little like a re-hash of the first game. Since a lot of it is exploring, mining, selling and repeat. Thankfully, there's plenty that does redeem it.
The graphics, for example, are fabulous. You will see what I mean in the shot I took below. The lighting is fantastic, all the backdrops and the platforms have a great amount of detail to them and it's just so lush. The overall design of the game is practically perfect.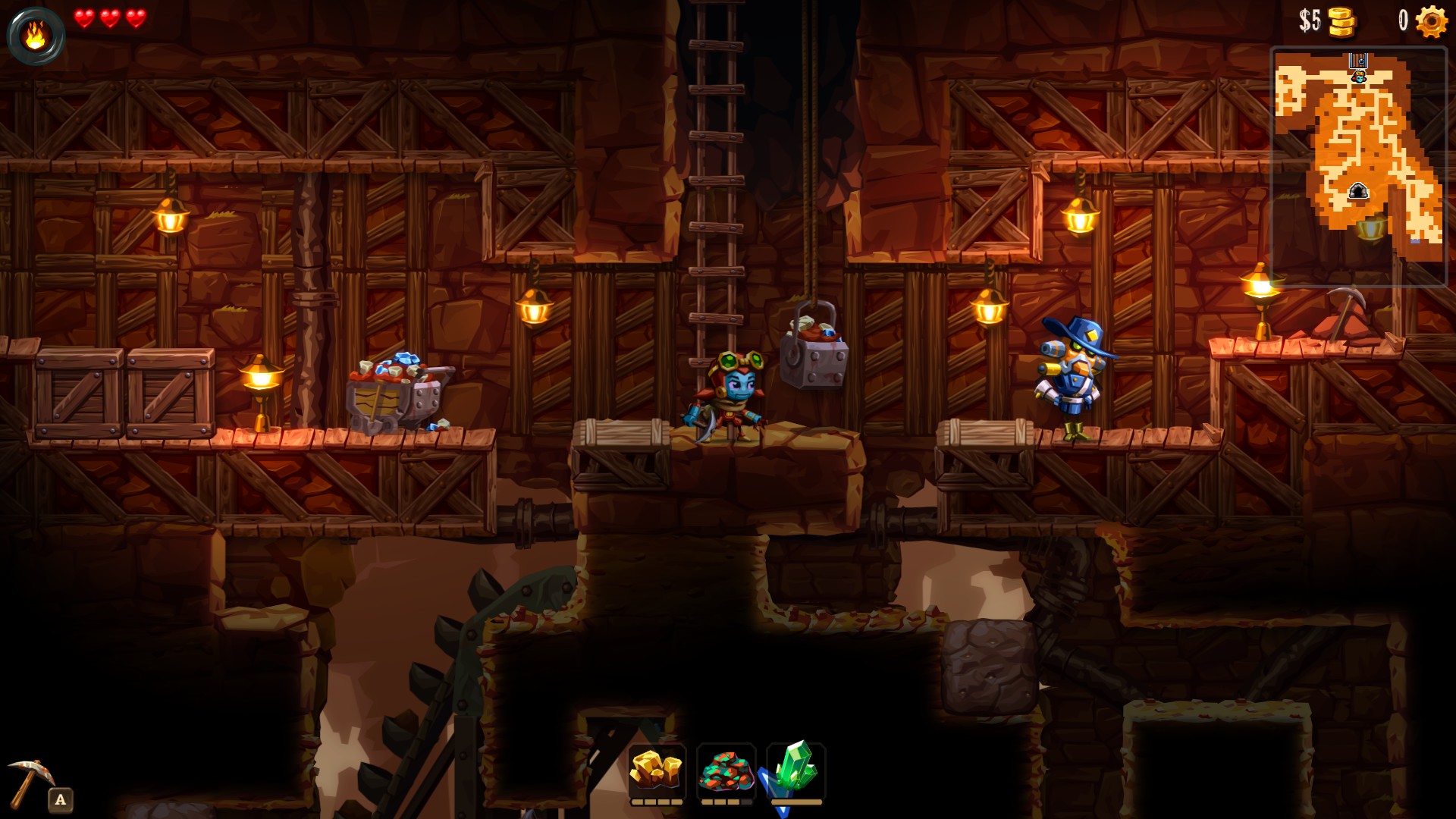 The upgrade system is great too, as it offers many different options for the playstyle you're going for. You could pick to mine faster, carry more, make your light last longer and so on. It does at least allow you a sense of progress that just keeps going, so all that exploration can pay off in a big way. The system is actually in two parts, with the basic upgrade system and additional mods you can pick using cogs you've managed to find.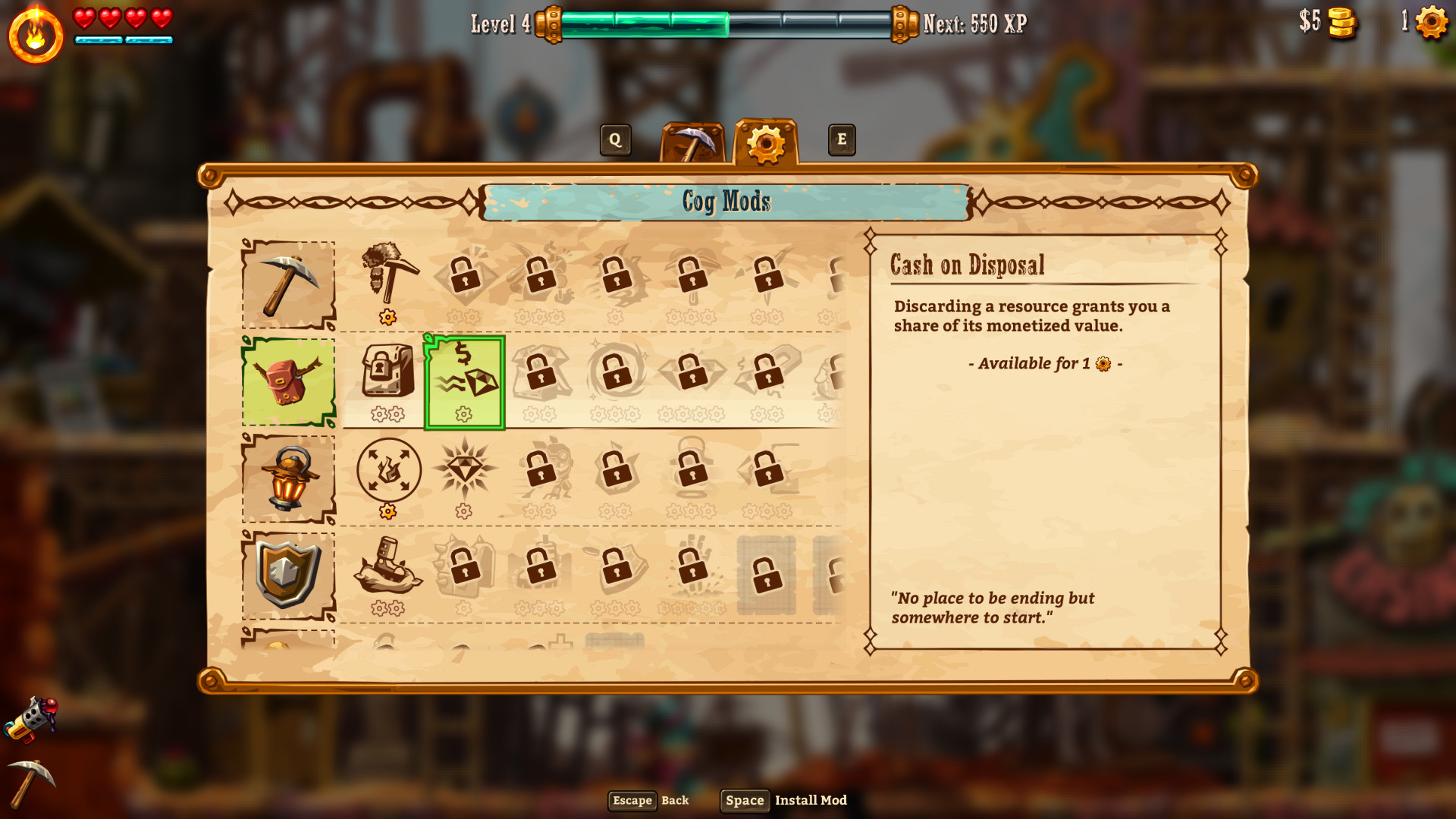 The cog system is great, because you can switch around your cogs at any time. Since there's a limited amount to find and it can be a while before you find them, allowing you to switch them around based on your situation is a fantastic idea. I won't spoil where to find the cogs, but I will say that you might find some in unexpected places.
On top of that, you can also recover artefacts which, when traded-in, will give you blueprints.
The game does offer a good risk/reward system. If you spend long enough exploring, you could recover vast riches to upgrade. However, stick around too long with a full backpack and you might bump a few too many bugs, hit a trap or get squashed and lose all that you've recovered as you're sent back to a checkpoint. Those lost resources do not magically reset either. Once you've mined something, it's either yours to sell or it's gone forever.
There's been more times than I care to admit when I've lost everything. Thankfully, with the amount of content to explore, losing everything a couple times isn't all that fatal. An annoying setback, sure, but a chance to explore and uncover more secrets. Slightly less annoying with the upgrade system though, since it allows you the option of losing less resources too.
Plenty of times I've lost something, has been inside one of the various challenge caves. This was such a great feature that breaks up the usual exploring. They all offer different challenges and rewards and some of them really got my heart racing. One near the start sees you break apart a block, which causes a chain reaction as many more rocks fall down, so it becomes a mad dash backwards across the cave to survive.
Here's another example of just how wonderfully detailed the graphics are: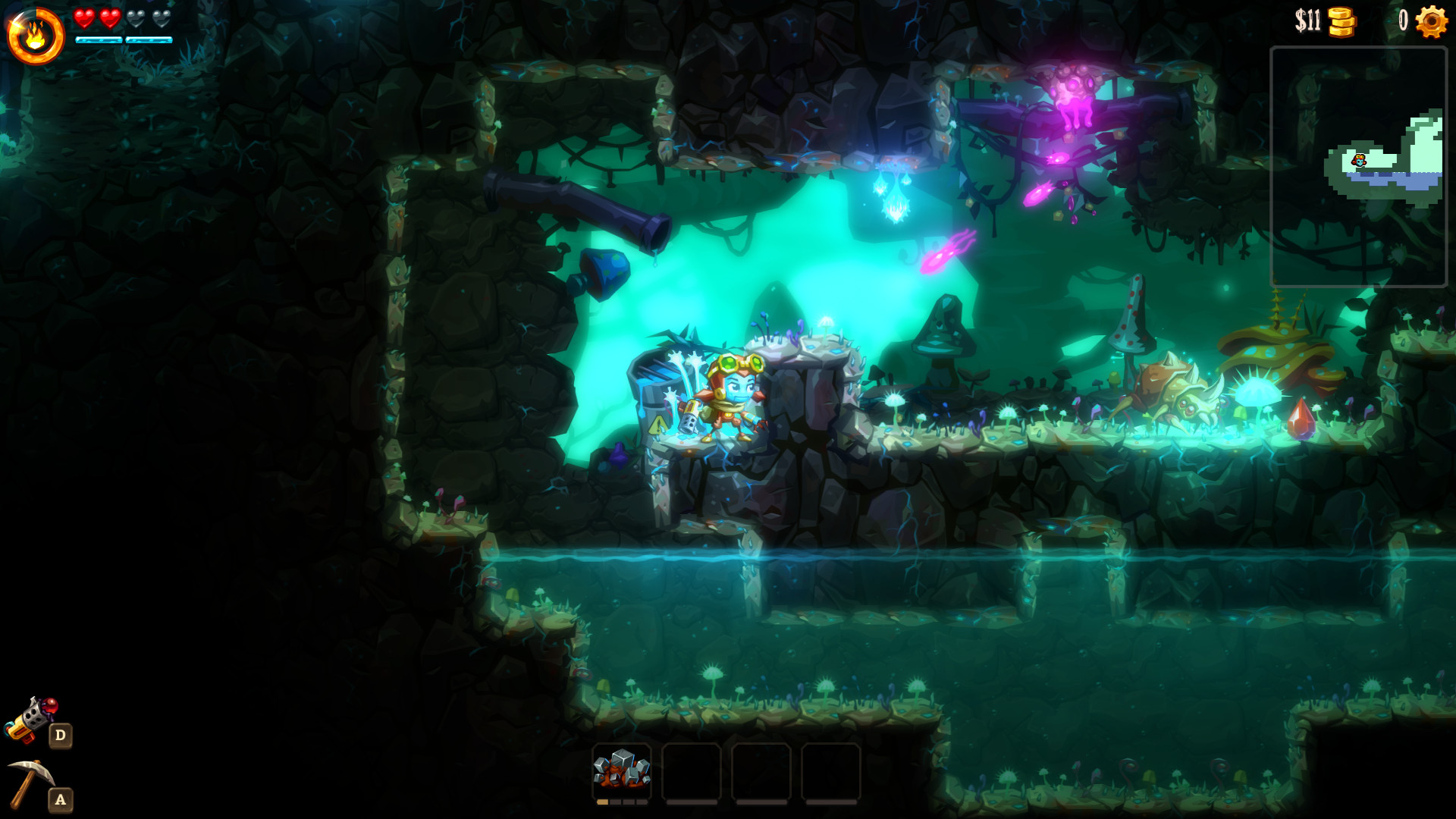 The game by default has a map marker system, showing helpful icons of where you need to go. However, these can be turned off any time if you prefer a more "classic" experience. So they've managed to balance it nicely for those who want a slightly more difficult experience, with those who want to get through it.
The most amazing part of the game has to be the various types of creatures you can find lurking in the deep. Seeing them fight amongst themselves was quite hilarious. The weird rolling snail that shoots spikes caught me with such a shock, I was chuckling for a while after. Seeing them shoot their exploding spikes and then watching them fall is so great!
It also worked perfectly with my Steam Controller, so that's yet another notch in its favour.
Overall
It hooked me in way more than I though it would, I could hardly stop myself playing. Image & Form have created such a fantastic world to explore that's rammed full of imagination and personality throughout. A solid Linux release and a pleasantly surprising game.
Some you may have missed, popular articles from the last month: