There has to be a conspiracy of some sort against us. I believe someone somewhere is deliberately trying to ruin our productivity by unleashing a storm of awesome games that we (at least I) get hooked on. Here's one of them: Borderlands 2!
Borderlands 2 by Gearbox Software is an open world RPG first-person shooter set on a planet called Pandora which has almost a mythical status. After the events of the first game the evil Hyperion Corporation lead by Handsome Jack has effectively taken control of the whole planet with the power of a valuable mineral called "eridium" that became plentiful after the first Vault, a legendary alien structure, was found.
You play as one of these Vault Hunters, people who attempt to find and loot these Vaults for the rumoured treasures that lie inside them. Sadly Handsome Jack doesn't really respect your kind anymore, so a conflict is expectable.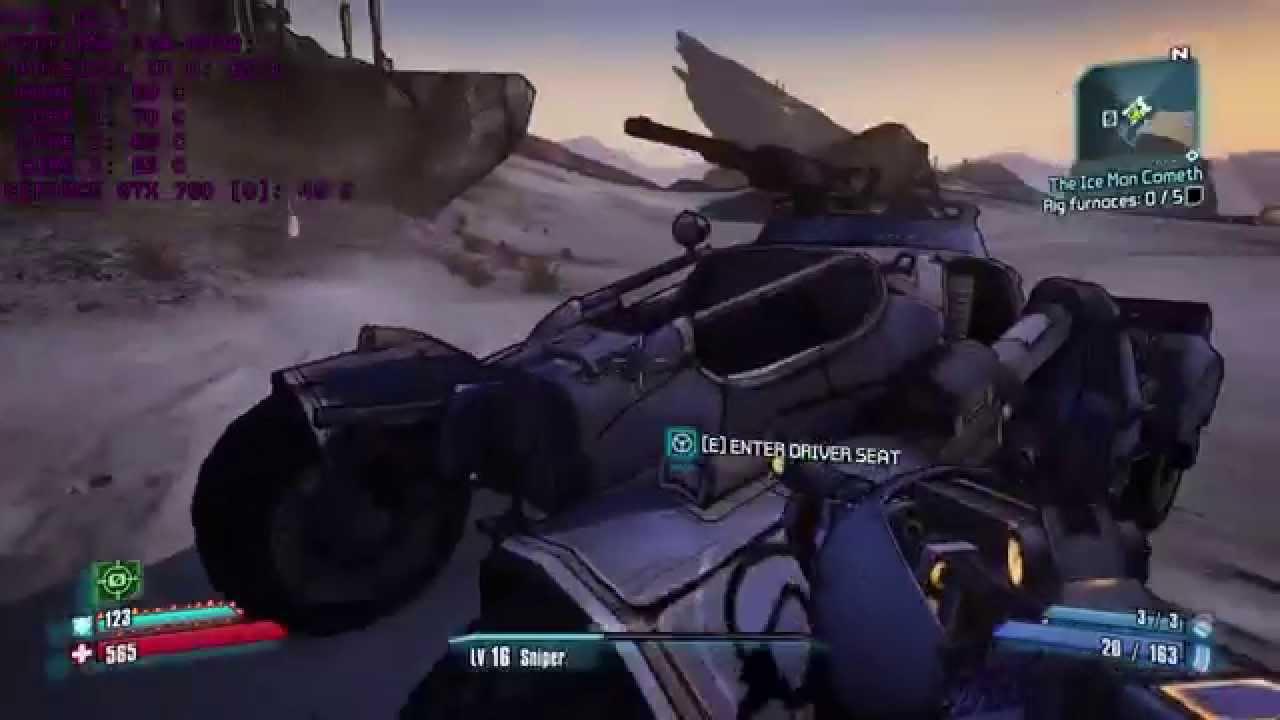 I think Borderlands 2 can be called a quite casual RPG. This doesn't mean that it's a simple or easy game, but what I mean by that is that the roleplaying elements are very simplified. For example, you don't have separate skills for different weapons and the game doesn't impose too many class restrictions on you. Instead you have a main level, which dictates what weapons, shields and grenades are available to you to use and in addition to that there are separate skill trees for different sorts of play styles. The skill trees don't have major impact on the gameplay and instead they change small things in the game. One of the skills my current character has causes my melee attacks to tag the enemies I hit, so that future attacks cause more damage. There are some abilities you unlock through the skill tree, but not too many. Zero's (who I've played as so far) ability is that he makes himself invisible for a limited amount of time and creates a hologram that distracts enemies, which can be useful when trying to flank your enemies.
An even more important thing that leveling in Borderlands 2 is the loot. And oh my, there's a ton of it. You can find all sorts of weapons around Pandora from pistols and SMGs to assault rifles and rocket launchers. There's something for anyone in there, you just need to look hard enough to find the weapon chests in the places you visit. And not all weapons of same type work similarly. The weapons also have sub-categories that determine what sorts of effects the weapon has. Maliwan weapons have elemental effects, so they might cause the enemy to burn or corrode his shields away. Dahl weapons on the other hand fire in bursts when aiming down the sights. The amount of weapons is staggering and it seems impossible to find all of them on the first playthrough. The weapon locations are also randomized to prevent you from knowing where to look for that favourite killing tool of yours.
Story wise there isn't too much to talk about. Borderlands 2 has a story with a real plot and plenty of twists, but I haven't found it too memorable. Especially when you are playing in co-op with your friends, and I suggest you do, you will certainly miss on a piece of dialog every now and then and your focus shifts from the story to having fun with your friends. You can probably get immersed in it if you really try but it won't happen automatically. For me the story just gets blurred by all the action that's happening on the screen. I guess that might suit some people who prefer fun action over story though. And the action won't surely end, you can find side-quests almost everywhere. And there is always more stuff to kill brutally as the game respawns enemies when you revisit old areas. I don't find this too great because I like persistence and seeing my actions cause changes in the world. Oh well, at least I have plenty of moving targets for that new and awesome sniper rifle.
Borderlands 2 is the second Linux port by Aspyr Media who impressed us greatly with their port of the Civilization V. I'm glad to say that Aspyr's high quality shows with this title as well. While there have been crashes every now and then, it seems that those are really the only thing wrong with the port and they don't happen too often. On the video you can see two crashes, but I believe that might have been caused by running GLXOSD with the game. Once I turned it off the game went through that problematic area without a hitch. I also had some performance problems that seem to be caused by the game not threading effectively enough. However, when I set "__GL_THREADED_OPTIMIZATIONS=1 %command%" in the Steam's launch options for Borderlands 2 my framerates increased drastically by 20-30 FPS and most of the time it runs at solid 60 FPS. I'm told that this won't work on non-Nvidia hardware though, but we Nvidia running, binary blob loving gamers can enjoy the potential performance increase this provides.
Want my opinion on whether to get this game or not? GET IT. It's definitely one of the best co-op games that we have on Linux and it's quite enjoyable even when playing it in singleplayer. And thanks to the drop-in, drop-out multiplayer system you can turn one into another with ease. With everyone on Linux playing the game it's quite easy to get into a co-op with someone, provided you have someone on your Steam friends list. When I start the game I can be 80% sure someone is going to join me within 15 minutes. I believe Aspyr deserves your support and buying this game is an excellent way of doing that.
Buy directly from Aspyr: https://www.gameagent.com/linux_games?ClickID=cflsnsz4n4p7n4sx7k77nnxaw7qx4i4alnlz
Some you may have missed, popular articles from the last month: