You might have heard about OpenMW, the open source reimplementation of the Morrowind engine which, naturally, allows you to play Morrowind on Linux. Let's test it!
The Elder Scrolls III: Morrowind is an RPG from 2002. You are released from prison and sent to the province of Morrowind by the emperor of Tamriel to complete a task that will take you on a great journey throughout Morrowind.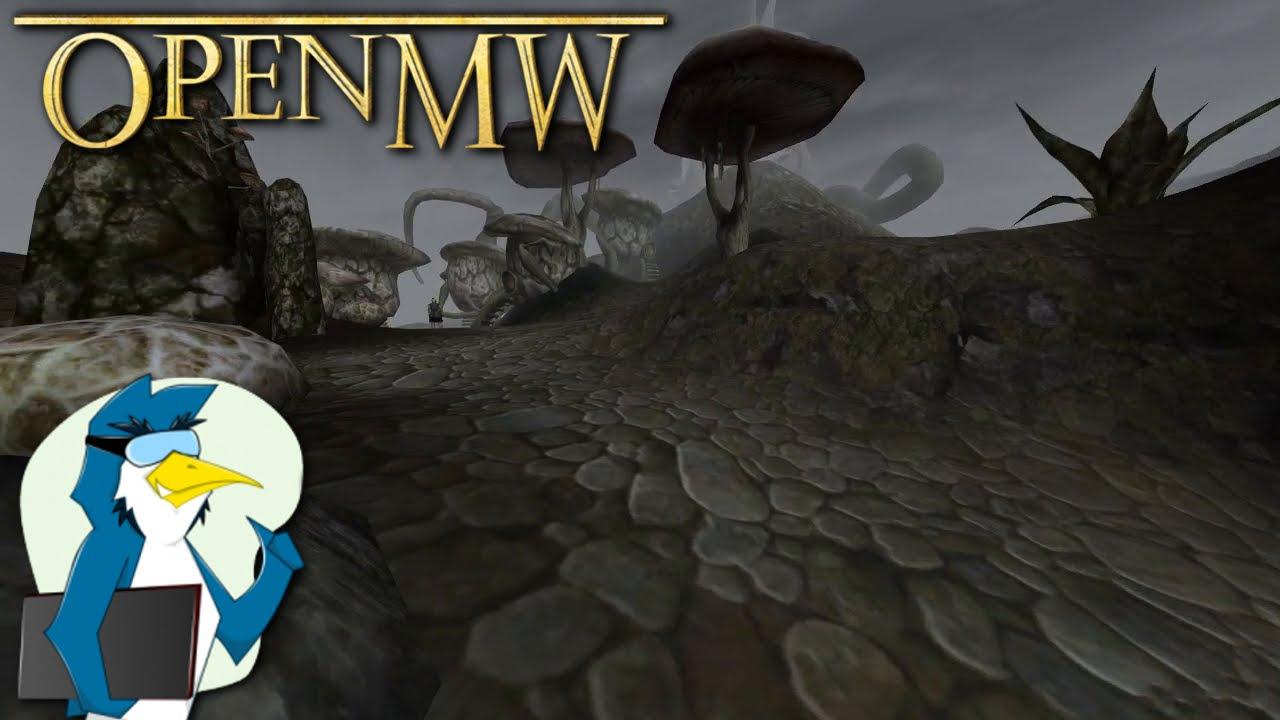 As a fan of The Elder Scrolls games, you can imagine that I have been keeping an eye out for new releases of OpenMW. The ability to play a TES game without having to resort to Wine or MS-DOS emulation definitely sounded very awesome to me and I had to buy Morrowind to test it out. I planned to write a GOL Cast of it some time ago but I decided to wait for renderer improvements which have finally arrived in the 0.37 version. So, here are my thoughts of Morrowind with the OpenMW engine.
Morrowind is a quite interesting game and it has a rather unique approach to dealing with the storyline. As per usual with TES games, Morrowind features a fully open world full of dungeons, ruins, temples and various cities, towns and villages that are simply waiting for adventurers to explore them. Instead of the game immediately presenting you with an enemy to defeat or a catastrophe to prevent, it simply tells you to explore a bit and come back to the actual main quest after you have gained some experience. I kind of like this hands-off approach because it allows you to explore the game without feeling like you are keeping a whole civilization on the brink of destruction waiting while you raid dungeons and ruins for loot and artifacts. I naturally never got around to doing even the first bits of the main story because the Mages Guild kept me quite busy with endless expeditions for old tomes and artifacts. I guess the good thing about that is that now I am completely unable to spoil any of the storyline for you.
There are tons of different ways to play the game and the choice is yours. You can become a sneaky assassin, a thief, a great paladin in shiny armor or a powerful spellcaster. Or you could be something between. Your starting class determines how well your character is suited to different tasks and leveling up minor skills can be quite time consuming, so you probably should deviate too much from your original plans but you still have the option to do so. You can create you own class too, if you feel the preset classes restrict your gameplay choices too much.
Like I mentioned, there is simply a ton of stuff to do and Morrowind is no small place. There are lots of places to visit and exploration is often rewarded with awesome loot, numerous quests and lore. Morrowind is definitely among the biggest RPGs you can play natively on Linux. However, the size does have its downsides since the game doesn't have an easy fast-travel system that can take you everywhere. You have paid services that can take you to most towns and cities but areas between them are only accessible by foot. This makes the game a bit of a walking simulator at times but luckily most roads have occasional tombs or dungeons to make travelling a little bit more interesting. You also need to prepare for these trips because it's unlikely you can find potion shops in the more desolate areas of Morrowind and various enemies will quite happily ambush unaware adventurers.
Morrowind is starting to show its age in some aspects though. The combat mechanics of Morrowind are in my opinion quite clunky and the heavy use of a random number generation might not appeal to everyone. Especially melee-only character can end up being a little bit boring as there isn't much to do other than to swing your weapon at the enemy and hope you land hits. This is why I decided to go with the spellsword class so that I can combine melee combat with some magic for more interesting encounters. The landscapes of Morrowind are also quite barren and not all that appealing to the eye.
In addition to simply replicating the behavior of Morrowind, OpenMW is aiming to improve the experience in many ways. Already you can see some graphical improvements, for example, the water in OpenMW is quite a bit prettier than in the original Morrowind. In the past releases there have also been dynamic shadows and other graphical features which have been temporarily been removed due to the move to OpenSceneGraph in version 0.37. These features will likely make their way back to OpenMW when they are reimplemented in OSG. After 1.0 we might also see further improvements to gameplay and even co-op multiplayer has been talked about though not confirmed.
On the technical side of things, OpenMW already performs quite well as an engine replacement. In the past two releases I haven't seen major breakage with any of the important gameplay mechanics and all of the quests I have run into have worked just fine. I also don't recall the game crashing a single time which is quite an achievement considering we are talking about a TES game here. The performance is also quite good in 0.37 and I can reach playable framerates on my Intel i5-2500k + R7 370 (mesa drivers) system. There are still occasional performance drops and my Intel HD Graphics 3000 laptop still had some difficulties rendering more complex areas but in general the game was still playable even on the laptop. I don't think OpenMW gives you a performance benefit over the original Morrowind but at least it gives you a playable gaming experience if nothing else.
Overall I have had tons of fun playing Morrowind with OpenMW. The project has come a long way and in my personal opinion, it's in a very playable state right now. I haven't completed the game of course but so far my experiences have been very positive and I haven't spotted any weird behavior or missing features. If you want an RPG that has dozens if not hundreds of hours worth of content I would recommend you take a look at OpenMW. You do need the game data to be able to play the game and while I don't recommend paying the full price for the data, I can quite safely recommend picking the game up on Steam or GOG when it's on sale. Just make sure to send a donation to the OpenMW team for their efforts.
OpenMW's website: http://openmw.org/en/
Morrowind on GOG: http://www.gog.com/game/the_elder_scrolls_iii_morrowind_goty_edition
Morrowind on Steam: http://store.steampowered.com/app/22320/
Some you may have missed, popular articles from the last month: