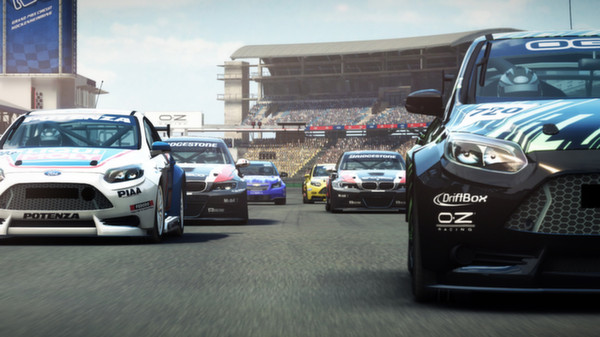 Helmets at the ready, as
GRID Autosport
will be screeching onto our favourite SteamOS & Linux platform this December.
Good news: It supports Intel, AMD and Nvidia graphics! Requires Nvidia 600 series, AMD 6000 series, Intel Iris Pro or better.
After emailing Feral Interactive as their mini-site and newsletter stated different requirements, they have edited their mini-site to only list Nvidia once again.
It will also support cross-platform multiplayer, so that's very good news. I can't wait to thrash some Mac gamers!
GRID Autosport is on track for Dec 10 on Mac & Linux, with x-platform multiplayer! Minisite: https://t.co/dfJfOwbsGf pic.twitter.com/BxyNY45hmB

— Feral Interactive (@feralgames) December 3, 2015
It's only a week away, and it's much sooner than I expected it to be released which has me rather happy!
I will more than likely do a special livestream on the release day
Thursday the 10th of December
to celebrate. Be sure to follow
my personal livestreaming page in Twitch
.
As usual, I urge you not to buy it until the official release to be sure our porting friends get the money they deserve for bringing another wonderful game to our small platform.
About the game
It's all about the teams, the rivals and the race in an intense new world of professional motorsport. Racing alongside a teammate, you must overcome key rivals and satisfy team sponsors in ferocious races where every pass and position counts.
In a huge career, specialise in your favourite racing discipline or conquer them all feel the aggression of the pack in Touring Cars, manage tyre wear and race into the night in Endurance events, race Open-Wheel cars with precision, show car control in Tuner events and react on the fly in Street races.
Players will get behind the wheel of 80 highly desirable rides including front-wheel drive hot hatches, souped-up Muscle cars, lightweight open-wheelers and 1,000 horsepower hypercars, by manufacturers including Jaguar, McLaren, Pagani and Aston Martin. They'll put these wonderful vehicles through their paces on 22 speed-friendly locations around the world, including purpose-built circuits such as Spa-Francorchamps, Brands Hatch and Yas Marina, and the exhilarating city street circuits of Barcelona and San Francisco.
I have updated our
Release Calendar
to reflect the release date too!
Some you may have missed, popular articles from the last month: