RIVE [
Official Site
] is an action heavy platformer and the final game to come from Two Tribes as th
ey are leaving game development behind
. I grabbed a key from my PR people and took a look.
Usual full disclosure if it wasn't clear already: My copy was provided for me.
Steam Controller issue: One issue with the Steam Controller is the default binding doesn't work with firing the weapon, as it's set to emulate a mouse. If you switch it over to the plain gamepad config it works fine. I did have to adjust the curve on the right pad to "aggressive" to not have to move my thumb so far out (small hand issues eh!). Once those adjustments were done it was
near
perfection with the SC.
Update
: They have acted on my feedback and given the game the correct config for the Steam Controller.
I also used the mouse and keyboard to try out the different control methods, and I did use the mouse to aim for one specific part, so nearly the entire game was played using the Steam Controller. Both work fine, so it just boils down to your preferred method here.
Check out my gameplay video featuring a few different sections and one incredibly difficult mini-boss fight: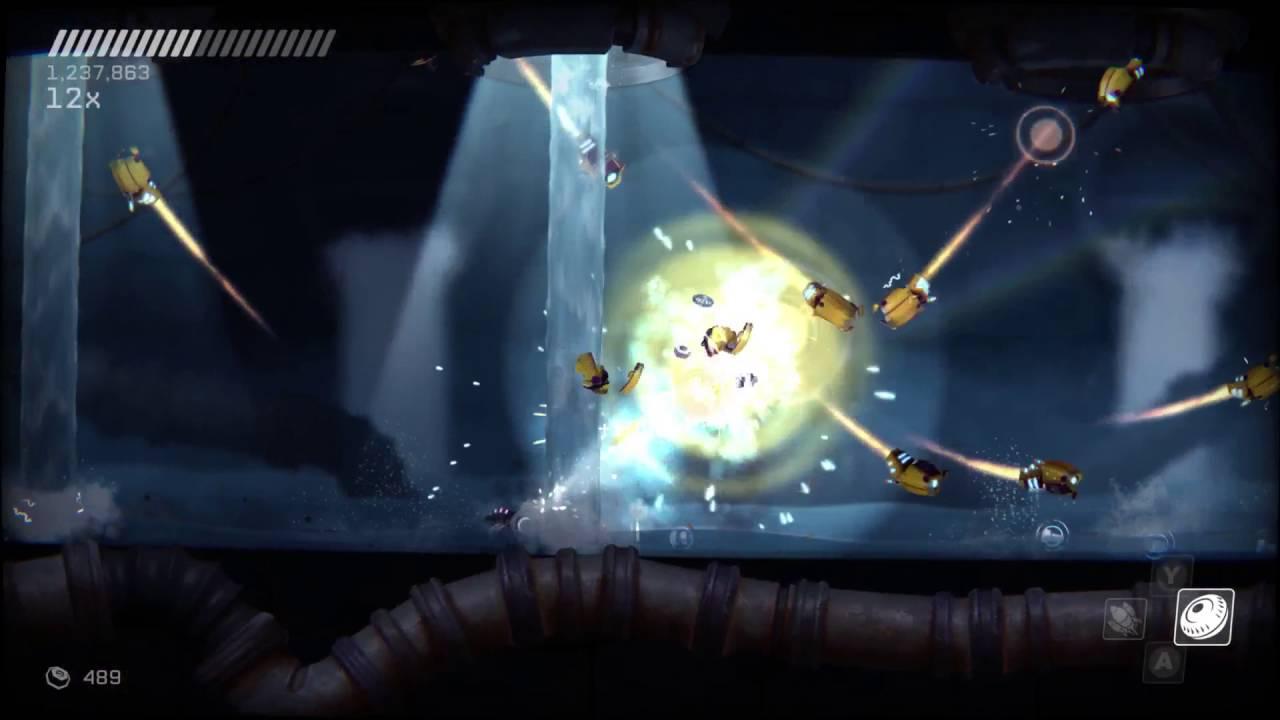 The game is beautiful, they really did a fantastic the job on the visuals. This isn't some basic action platformer, it's full of lasers, rockets, explosions and it just looks incredible. The use of lighting in the background and other props in the background too is very well done. There's a section towards the start where you activate the power and some kind of portal gets lit-up behind you. I wasn't expecting everything to look so damn good, but it's utterly gorgeous.
I don't think I can understate just how fantastic the scenery is in this game, there always seems to be something going on in the background in the bigger rooms. Like pipes blowing out steam or massive fans slowly moving around.
As for actual gameplay:
You're space scavenger Roughshot, looking for your next lot of loot in space and you come across a mysterious starship. After manoeuvring around some asteroids you make your entry, but what will you find?
The game doesn't hide the fact that it's difficult as hell, with the only option available at the start being "Hard Mode".
At the start a funny little robot came down to welcome me, while it was talking I blew it up for a laugh. What made me chuckle is another came down and before it carried on it said "as I was saying...". It's a small, but funny touch that made me like the game from the very beginning.
The AI you speak to named "DLL" is well designed too, I love the fact that an AI robot gives off attempted facial expressions, another nice touch. If you don't want to listen to the robot, you can keep blowing it up to move on quickly without the chatter too.
As you destroy your way through this old starship you will collect pieces of scrap, which are used for upgrades. The upgrades themselves are pretty damn nice too, like a swarming rocket launcher or more armour. You repeatedly come back to the upgrades room to pick your next buff.

What I absolutely love about the action in RIVE is that a lot of it is completely out of the blue. You have no idea what's coming next and even when you think there might be a pattern the enemies come from a slightly different direction. It's difficult, brutally fast at times but extremely rewarding and fun to play.
There's a lot of variety in the areas you battle in too, from big open rooms where you get swarmed with a possibility lasers or massive circular saw blades restricting your movements. Then there's the small corridors where you may get flanked from behind, or be chased out by lava.
You may even drop down onto a conveyor belt where you're fighting its movement as well as swarms of enemies coming from each direction. That particular section of the game was incredibly difficult, it really tested my accuracy, my reaction times and my heart. It was stress sweat central over here at that point.

If you think normal sections of the game are hard, just wait until you get to the boss battles. The difficulty curve is quite crazy at times, but nothing is invincible and the game does give you little helpers. You do gain the ability to hack floating healing units, which follow you and heal you, or floating gun turrents, but even with them it's still a massive challenge.
There's just so much thought put into every aspect of the game, it's extremely rare for me to be so unequivocally impressed with a game.
The timing on some sections is so fast, I imagine it might put a few people off as your own timing needs to be impeccable. Some parts of the game literally need you to die once to know what's coming to work on your timing. I saw it as a challenge, and eventually pushed past all parts I previously thought impossible.
The only downside I can see is that currently the leaderboards just don't work at all. It just fails to get anything. I would love to know just how badly I've been doing!
Graphically, it's one of the
best
platformers I think I've ever played. Gameplay wise–it's rammed full of seriously hot action.
It's weird really, Two Tribes are obviously rather competent developers, but they have generally stuck with puzzle games. Now they come out with a really rather great action platformer, the first game from them that interests me at all and they're leaving us?!
I think you guys will love it. A very good send off for Two Tribes. After this game though, I do hope they eventually change their minds and come back. Would gladly check out more like this from them. To me, it feels like they well and truly found their feet in another genre, so it's a shame to see them go, but what a send off!
You can find
RIVE on Steam
. I do fully recommend buying it.
Some you may have missed, popular articles from the last month: