I recently gave one of the entries in the ongoing Indie Game Maker Contest 2017 a look and came away slightly befuddled.
Die Totenmaske is an RPG, much like the other entries in IGMC 2017, and was created by a small team of indie developers. What sets it apart from the other entries, however, is both the aesthetics and the premise of the title. Yes, it's a party-based RPG. But the party isn't made up of people, instead it's made up of body parts. You control a guy named August and his limbs and you're on a quest for vengeance, shooting and headbutting your way to the end of the game.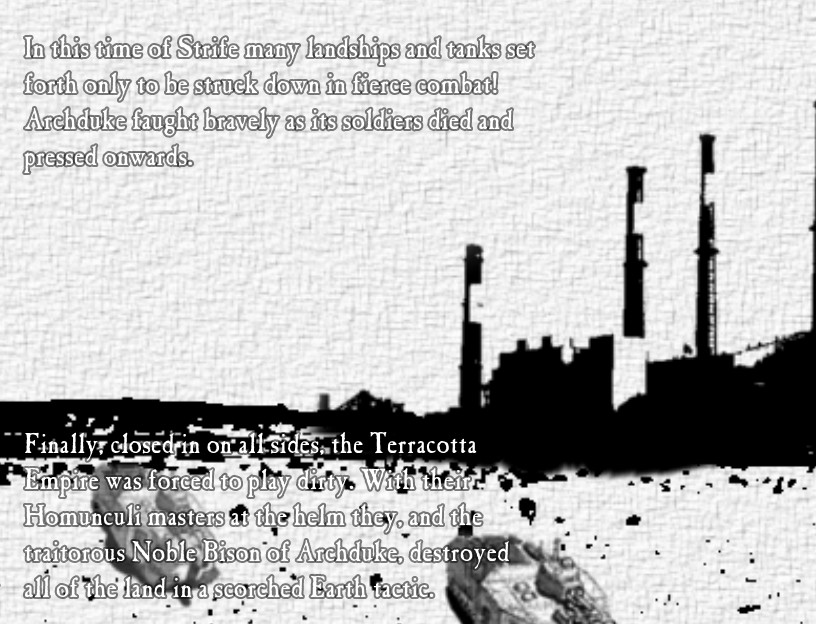 Honestly, the backstory is a bunch of poppycock. The introduction says something about war and a costly struggle that eventually ends with horrific scorched earth tactics. The important thing is that everyone else is the bad guy and you're the only one of the good guys left in the world. As for why you get to control your body parts individually a turn and why your enemies scream at you Russian profanities, it's all just a big mystery.
Battle is the most interesting part of the game with head, arms, torso and legs each being their own separate "character". You issue commands to each separately in a turn and they each have their own special abilities and HP. Using the different abilities to give you an edge in a fight is important and so is keeping an eye on your stamina/MP. If your head reaches zero stamina or HP, it's game over, so it's important to protect it at all costs, ahead of every other body part.
The world is painted in stark black and white and the game seems to be going for that grey and oppressive feeling of a world gone mad. Guys with guns wearing gasmasks work for this sort of thing. But weird monstrosities and treasure chests? Not so much. It's a somewhat hit or miss sort of deal.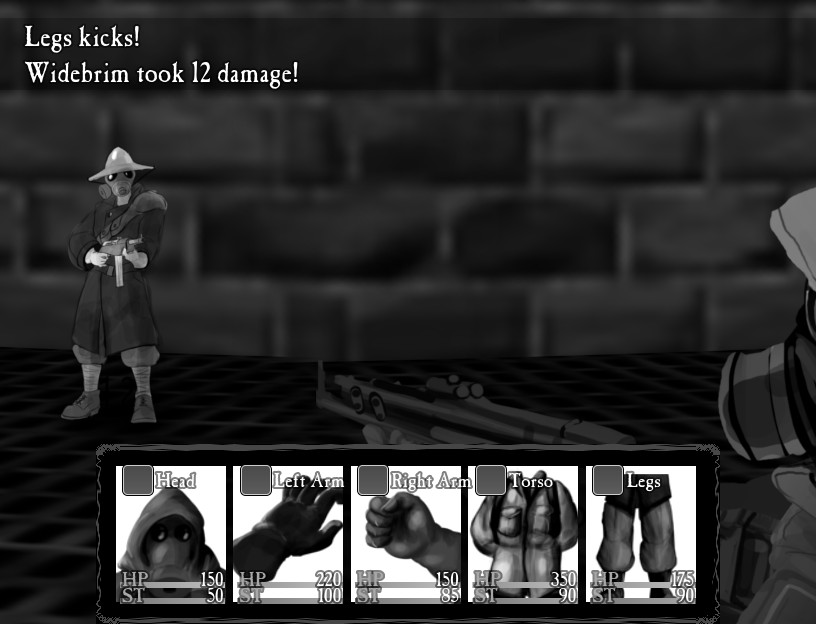 Whatever charm the game might have going for it is lost when you walk around. It feels utterly generic as an RPG, with non-player characters occasionally appearing and being either useless or another battle to fight. There's no joy in the exploration with the many brick walls and pipes being dreary as they are disorienting. I couldn't tell half the time whether or not I could continue in a direction as the edge of the screen had no indication whether it was a passage or a delimiter. The only way to find out is to actually walk into that direction and hope for the best.
This lack of clarity and continuous barrage of random battles eventually made me gave up on the game before getting too invested. It felt like a chore to keep on pressing ahead. Maybe I was a wrong to give up so quickly. Maybe you'll have a better time if you try it out. You can check out Die Totenmaske for yourself here.
The Indie Game Maker Contest 2017 is currently ongoing and is currently in its voting phase. There's 11 entries that are Linux-compatible and you can try them out by going to the contest's page.
Some you may have missed, popular articles from the last month: