I've been playing Lil Tanks [Steam, Official Site] and I think it's a fantastic side-scrolling action game well worth a look.

Note: Key provided by the developer.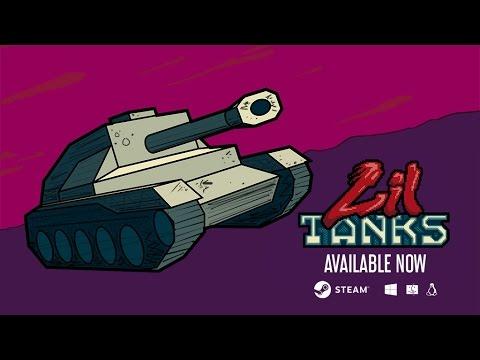 The Cuur have invaded Earth and they stomped all over our armies, but it's time to fight back. You control a prototype tank and your Earth's last defence, will you answer the call?

Lil Tanks is a game where you don't worry about your failure, since each time you die you keep your XP — that doesn't make it any less infuriating when you die though! Each level up makes your tank more powerful and it's been fun stomping all over the aliens. You will need those extra levels too, as the first mission is incredibly deceptive in terms of difficulty. Later into mission two the curve suddenly jumps and the game really kicks the action up a notch or three.

Some nice varied enemy types, some of which are truly annoying. Like a flying/spinning cube that stops and spits lasers out, blocking off parts of the screen while you're dodging alien bullets flying around — madness.

Crisp and colourful retro visuals, but the real surprise is the awesome sound-track. I've found myself sat here with it playing in the background tapping my fingers away to it, it's just that good.

It also has a co-op mode where a second player can play as the tiny invulnerable tank, so likely pretty fun to play with family and friends. Seems like a game that's okay for a younger audience too.

It's a game that reminds me of a younger me, someone who sat for hours in front of the TV playing side-scrollers on the Mega Drive and Amiga. A side-scrolling shoot 'em up that quickly goes from accessible and easy, to downright difficult. Clearly taking inspiration from the '90s, but it's a pleasure to play today.

It's a well polished game all around and works flawlessly. Impressed with this one, very impressed. Do check it out!
Some you may have missed, popular articles from the last month: