Here's a bit of positivity for you today! According to the statistics gathered by the
netmarketshare
website, in July the percentage of people using Linux on the desktop hit an all time high.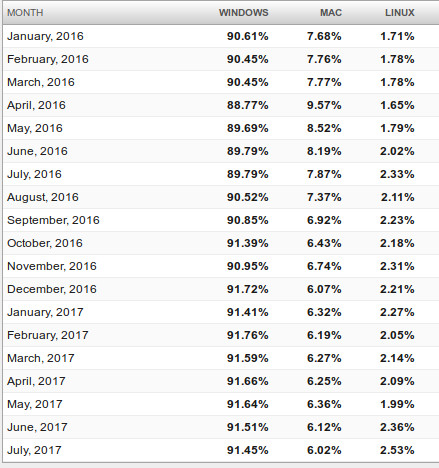 In June of 2016, Linux market share on the desktop according to their statistics hit over 2% for the first time. People were sceptical, but it seems it has mostly stayed above that 2% mark. In May of this year it did dip down to 1.99%, but as of July it recorded the highest yet at
2.53%
.
Going by their statistics, Linux's share of the desktop market has nearly doubled since early 2013. I hope this upwards trend continues over the next few years. Going by their statistics, if it does continue as it is, we may hit ~3% (and hopefully stay above it) by the end of 2018.
Small victories eh?
We still have a long road ahead, but I've personally never been more happy with how Linux has progressed as an operating system and as a gaming platform. Our drivers perform well, we have a lot of great games and a lot of people invested in seeing us here at GOL continue too.
Sure we don't get the latest "AAA" rehash sequel number 4, and there are a number of titles I would personally like to see ported to Linux, but we do have an expanding list of high quality titles. Admittedly we get a lot of trash too, but thankfully there's a lot of great indie developers out there supporting Linux and some bigger developers too (hello Feral, Aspyr, VP etc).
Some you may have missed, popular articles from the last month: