The OpenMW team is proud to announce the release of version 0.23.0! Release packages for Ubuntu are now available via our
Launchpad PPA
and for Debian in our
Debian PPA
. Release packages for other platforms are available on our
Download page
. This release introduces the initial implementation of NPC movement AI, item repairing, enchanting, levelled items, texture animation, basic particles, and more, along with an extensive list of fixes and improvements. Also as a note, Morrowind's 11th Anniversary is May 1st!
Known Issues:
Extreme shaking may occur during cell transitions for some users (enable anti-aliasing as a possible workaround)
Launcher crash on OS X < 10.8
Polish version of Morrowind.esm makes OpenMW crash
The OS X package for this release will be delayed. Never fear, we still support OS X, our package maintainer is just away!
Check out the
release video
by the our very own WeirdSexy.
Changelog:
Implemented Item Repairing
Implemented Enchanting
Implemented NPC pathfinding
Implemented NPC travelling AI Package
Implemented levelled items
Implemented texture animations
Implemented fallback settings
Implemented levelup description in levelup dialogue
Implemented armor rating
Implemented companion item UI
Implemented basic particles
Improved console object selection
Fixed player colliding with placeable items.
Fixed Jounal sounds playing when accessing the main menu with the Journal open.
Fixed Bribing behavior
Fixed rendering of bone boots
Fixed NPCs not rendering according to race height
Fixed inverted race detection in dialogue
Fixed two-handed weapons being treated as one-handed
Fixed crash when dropping objects without a collision shape
Fixed handling for disabled/deleted objects
Fixed merchants selling their keys
Fixed game starting on Day 2
Fixed "come unprepared" topic with Dagoth Ur
Fixed Pickpocket "Grab all" taking items not listen in container window
Fixed camera shaking when looking up or down too far
Fixed player position at new game start
Fixed the player not having the correct starting clothes
Fixed merchant gold not changing when transacting
Fixed starting fatigue
Fixed incorrect coin stack behavior
Fixed auto-equip ignoring equipment rules
Fixed OpenMW not loading "loose file" texture packs
Fixes for some NPC rendering issues
Fixed a sail transparency issue
Fixed a crash during character creation
Fixed Tauryon growing in size every time the player enters/exits a nearby house
Fixed NPC stats defaulting to 10
Fixed talk and container dialogue not opening sometimes
Fixed crash when trying to get Rank of NPC without a faction
Various UI fixes
Various scripting improvements
Various mod compatibility improvements
Various code cleanup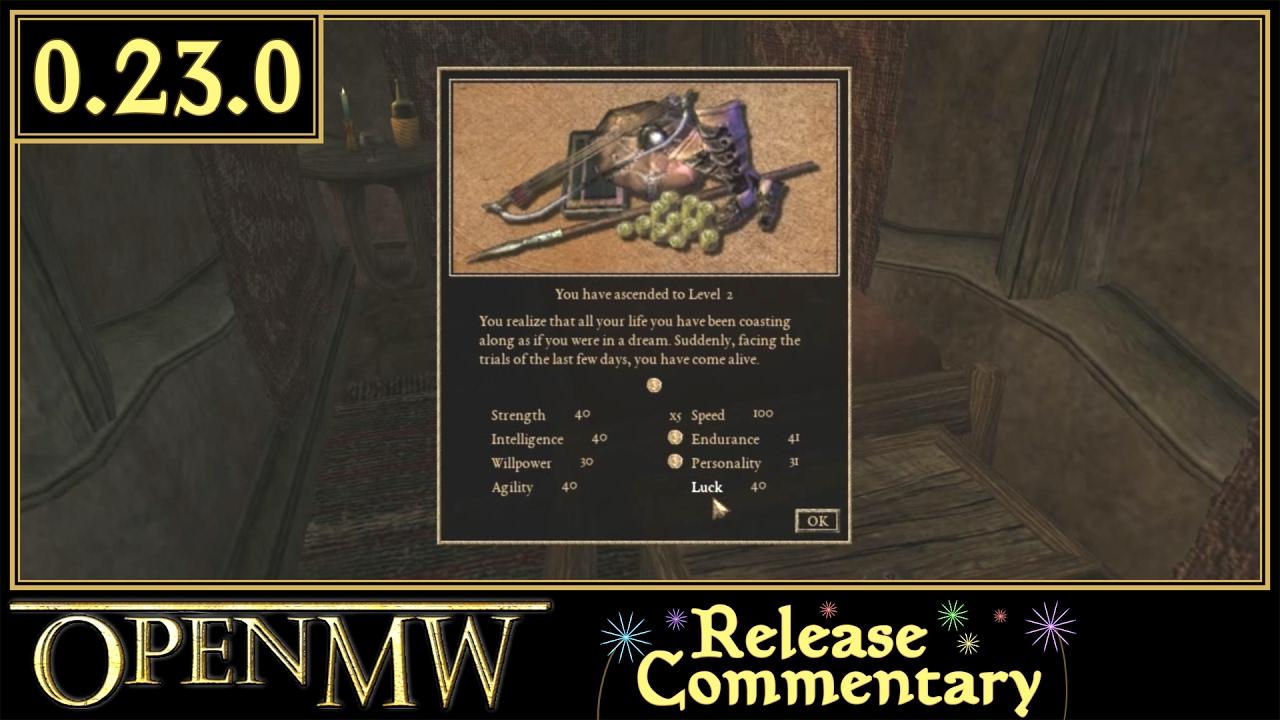 see also:
Official Youtube Channel
For New Developers
OpenMW Homepage
Chat @freenode
Some you may have missed, popular articles from the last month: