Parkitect [Official Site, GOG, Steam] really is a lovely early access game that has you building a theme park, it recently updated too and it's better than ever.
They've worked to improve the performance of the game, particularly when you're zoomed out and you have a lot on the screen. They've managed to do pretty well, as shown by this chart included in their update post: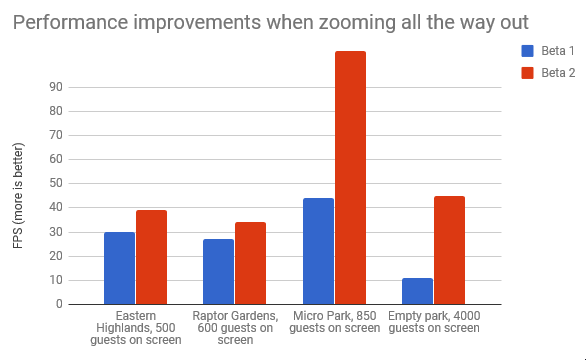 That's some good looking improvements, which they've done by reducing the quality of animations when zoomed-out. It's a pretty interesting idea, since you won't notice much of a difference. I'm sure there's plenty more they will optimise as they continue development, but that's a great start.
On top of that, they've also added in an Elevator transport ride, three new ride music tracks, custom ride music support, an overview list of all current guest activies and more.
While the game is still mostly a sandbox experience right now, it's still quite enjoyable. If you like the idea of building your own park, it's well worth checking it out even now. The quality of the game overall is what surprises me with each update, it doesn't feel like an early access game, it's quite polished and it looks great.
See the full changelog here. You can find it on GOG and Steam right now.
GOG links are affiliate links.
Some you may have missed, popular articles from the last month: