Update: A patch is out that fixes the Linux text issue.
Pizza Connection 3 [GOG, Steam], the simulation and management game from Gentlymad Studios and Assemble Entertainment is now out with Linux support.
Disclosure: Key provided by GOG, GOG links are affiliate links.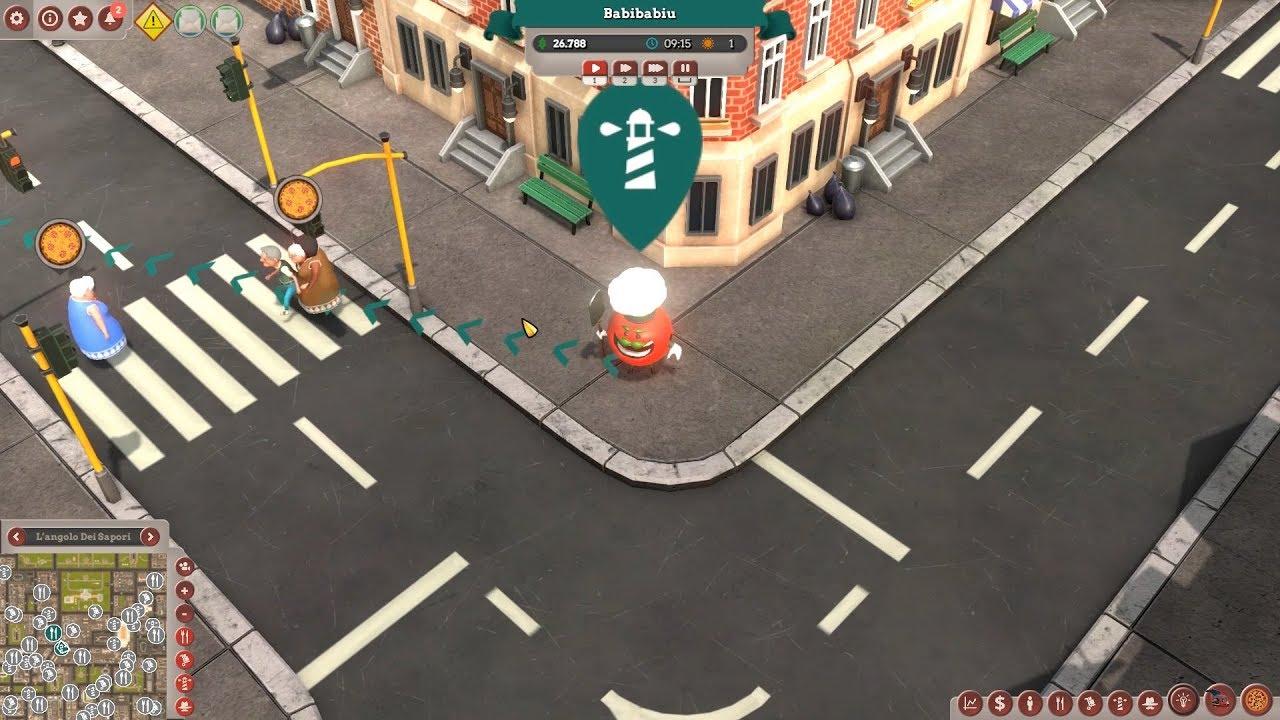 Features:
No one's invented your favourite pizza yet? Vegan, straight vegetarian or meat with added meat? Create your own pizzas using the legendary Pizza Creator and over 75 different ingredients!
The 12 mission single player campaign lets you rise step-by-step from a simple pizza baker in Rome to the world's greatest pizza mogul.
From Sydney to Berlin to Washington DC: Conquer the world's greatest metropolises with your own pizza chain and discover their unique tastes!
Customize your restaurants the way you want: Floorplan, furniture, personnel, interior decorating. There is a little interior decorator in every pizza baker.
Use market analyses and sophisticated marketing strategies to reach your customers with targeted advertising.
Get rid of your competitors by using particularly spicy ingredients such as sabotage and bribery.
The free game mode offers an alternative to the campaign rich in its diversity. You yourself can determine a wide range of parameters such as startup capital, number of residents, competitors and much more, allowing you to create your own challenges.
Sadly, the Linux version does suffer from a Unity bug that multiple other titles are having issues with. Input you type is doubled up, meaning "This" becomes "TThhiiss" which makes it a nuisance to name things: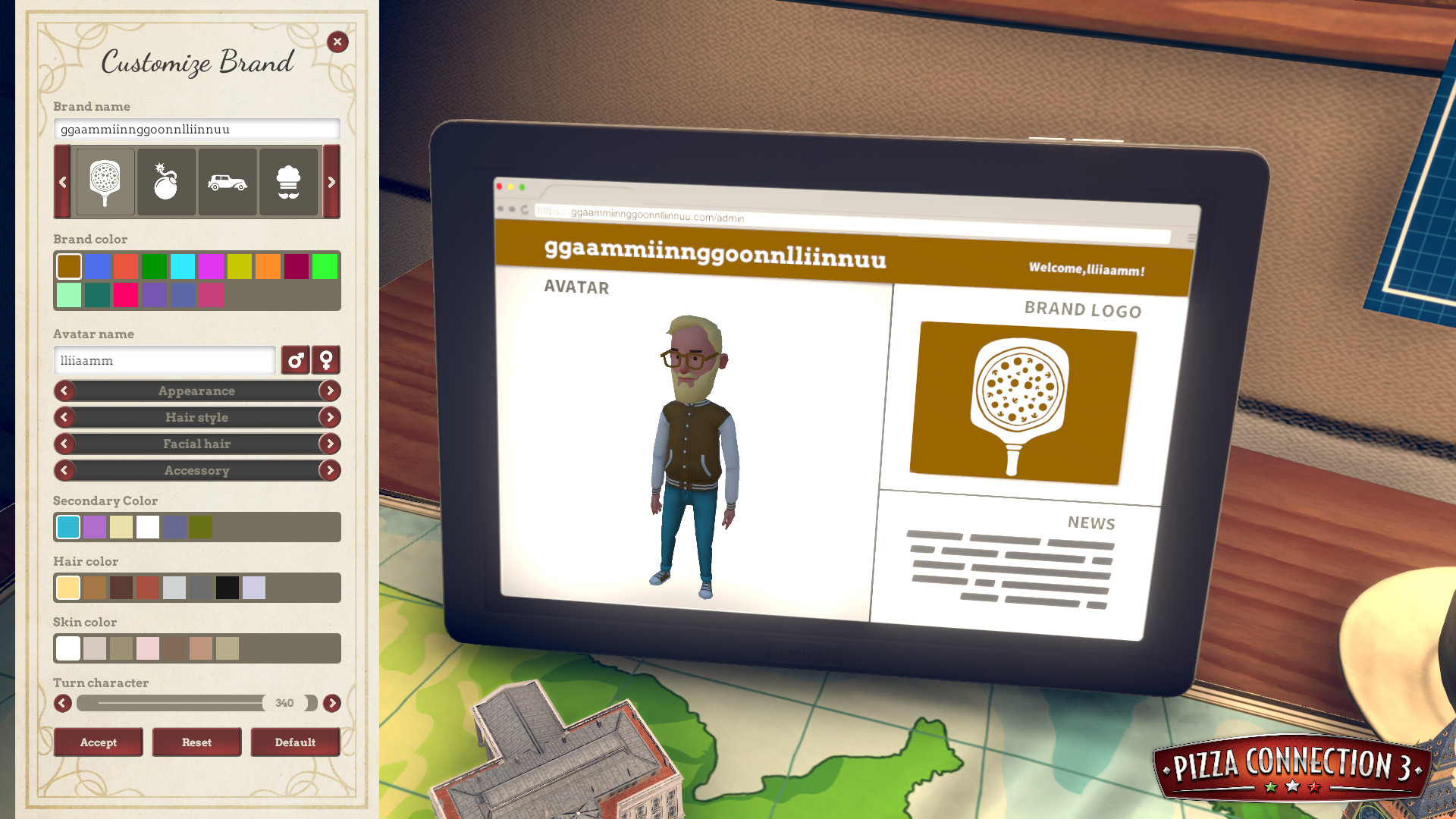 The same happens when entering text anywhere, like saving a game or naming a Pizza, so it's a little annoying. To be clear, this is a Unity game engine bug (I know—another one!) that affects Linux. It's fixed in a later version of Unity. The game developer has said they're already working on a fix, so hopefully it won't be too long. The game is still playable, since it's only a minor nuisance.
I played the original Pizza Connection (Pizza Tycoon) when I was a lot younger and it does feel quite a bit lot it, especially creating the pizza, it even has the same cutting tool to chop up items.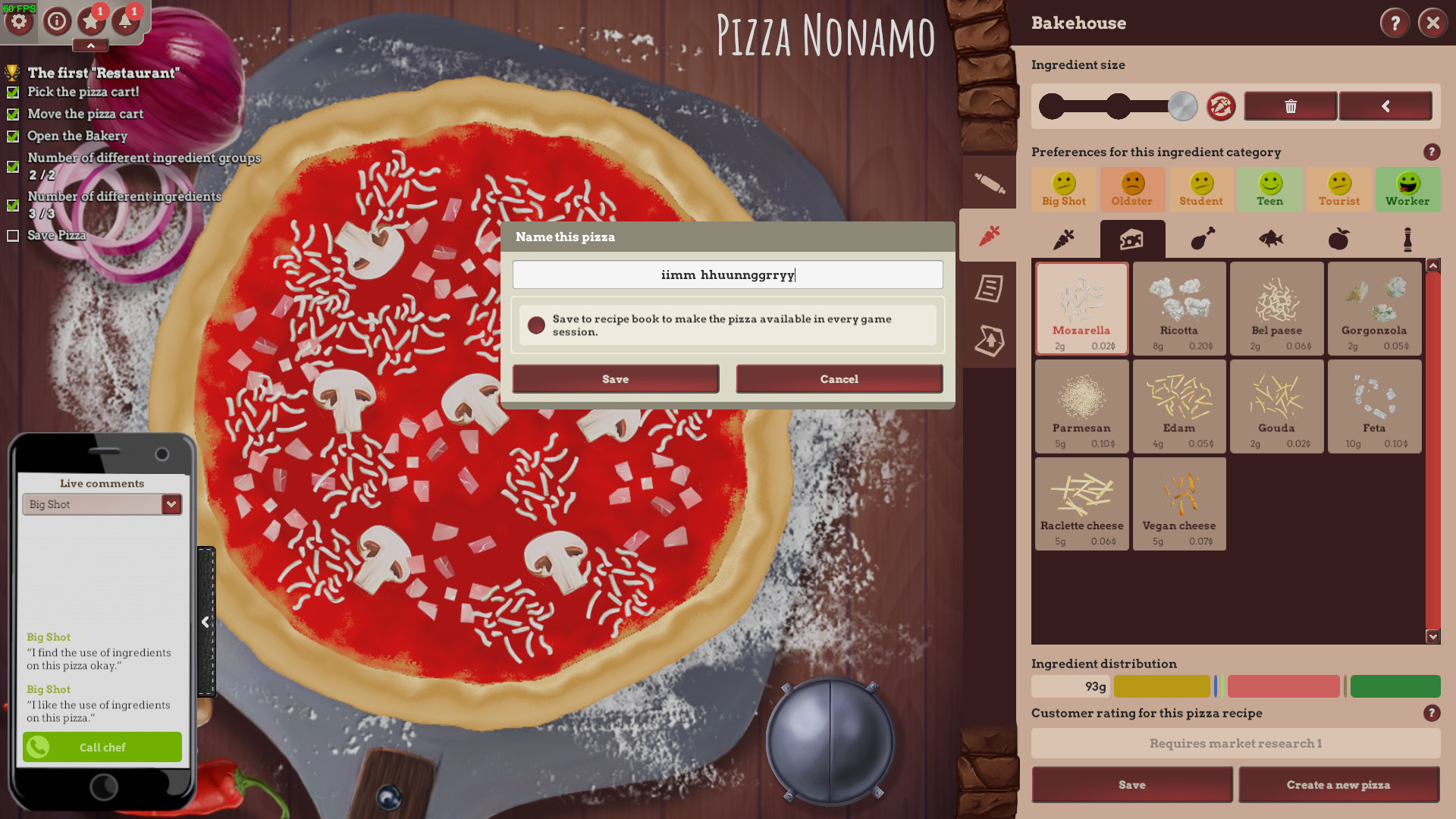 In terms of game performance, it's not the best. The screen where you're making a pizza is fine, but the actual map view performs pretty badly. Running it on the "Good" preset, which is only one above Simple results in a game that bounces between 30-40FPS and it's noticeably sluggish when scrolling. It's particularly poor when speeding up time, when it drops right down to 15FPS and has a few stutters too.
There's quite a few ways to tweak your pizzas with different shapes including the ability to shape your pizza manually, plenty of different ingredient types along with various sizes which appeal to different age groups and more. You can also pick a specific age group, to give you a small amount of feedback on what they think to the pizza. The art of actually making your pizza seems great, they got that feature down pretty well.
It took me a while to realize, but I was constantly in the red for money as the default pricing for pizzas is far too low. I had to set the profit margin on my pizzas rather high to even break even and get past the initial campaign section to earn at least $3,000. They could have done with explaining the pricing section properly, as there was little mention of it. Upping the price of my pizzas substantially also seemed to have zero impact on sales, which I would have thought it would have.
Other things don't make too much sense either, like the Architect system to adjust your restaurant. My guests were complaining there weren't enough tables and chairs, so I went for a rebuild to get a bigger dining room. What bugs me though, is that I was left with this: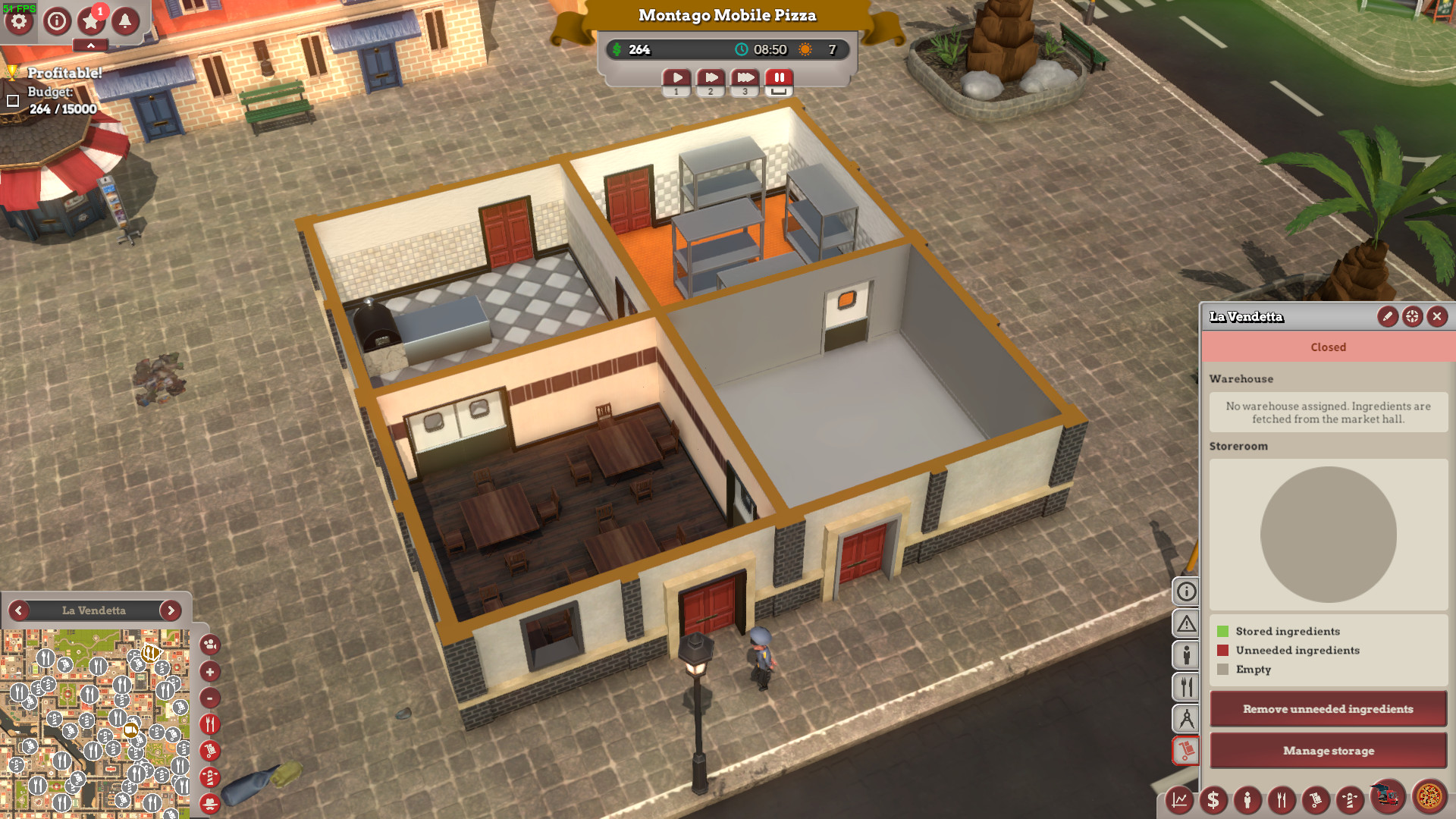 See that big ugly grey room with nothing in it? Well, you're only allowed one of each type of room apparently and, you can't remove walls to make one bigger. I doesn't tell you if you can do more with it later, because so little is explained about it other than "this screen does this, this screen does that". Looking over the research system to see if perhaps we can get more rooms later, but the research screen tells you nothing other than the names of each research. As it turns out, you can unlock a Garage later in the game, so some of the layouts are utterly pointless until you've put a while into it.
There's no real feeling of progression other than money and expensive research either. You cannot purchase properties, you can only rent specific buildings and adjust them a little bit.
I feel like I'm moaning at this point, but the UI really could be better. Take the staff rota for example where you assign them into time slots, it would make sense if you could see on this screen the level of expected visitors and their age group, but that's an entirely different screen. So you need two parts of the UI open to see it, so it feels like a mess.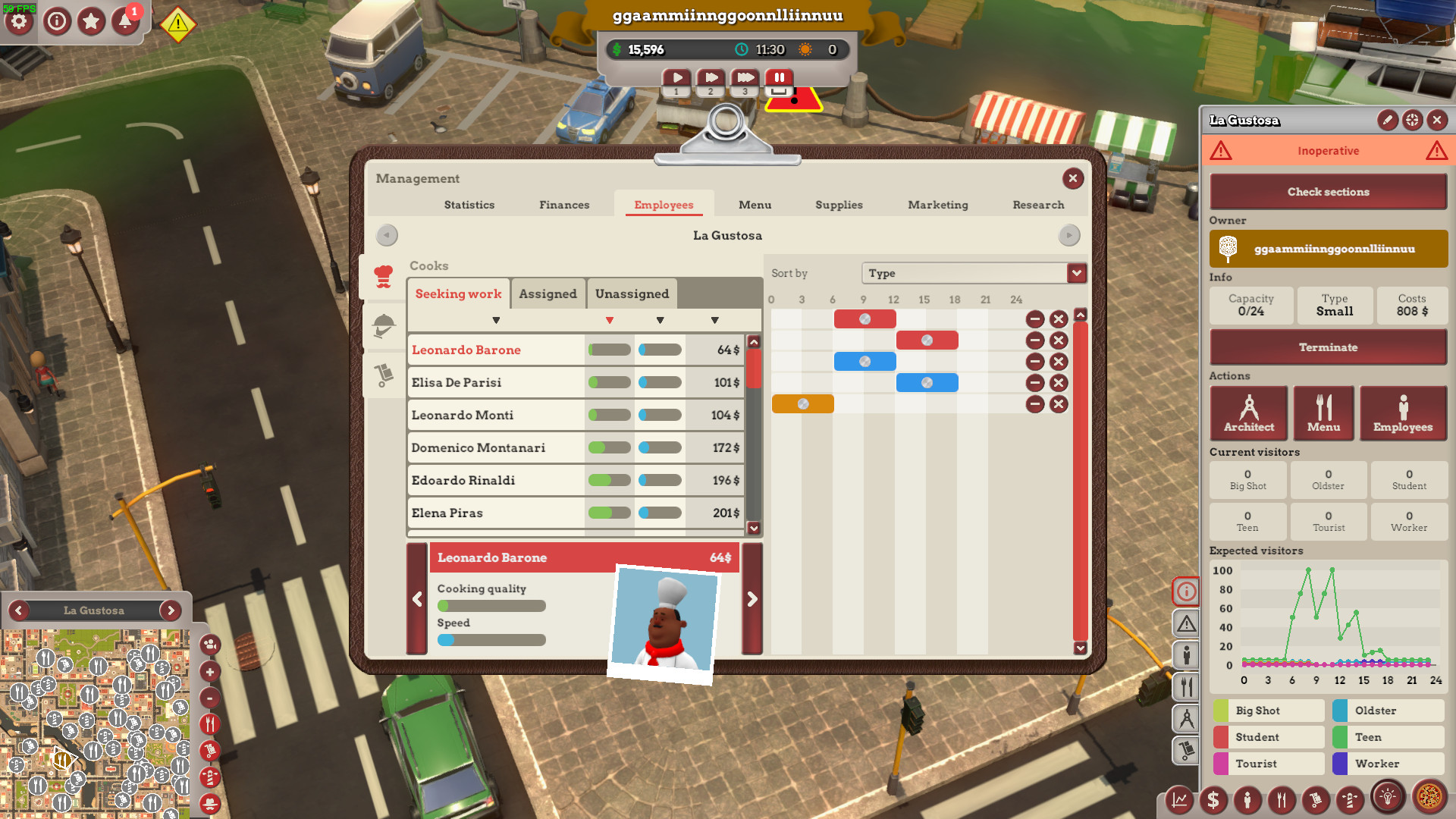 Simply having the expected visitors right there, would be a vast improvement. Having your eyes diverted backwards and forwards between the small side panel to see when you need to assign them feels odd.
While we're talking about it, see the "Expected visitors" chart? Junk. Pretty sure those are static made up numbers that don't actually give you the numbers they describe no matter how you go about advertising it, furnishing it or anything. I'm struggling to even get a tiny amount of visitors, in an area that the game tells me is supposed to get a huge amount of Teens—even with marketing to attract them. Meanwhile the AI has visitors flowing in, enough to rent more restaurants.
There's also AI issues with their aggressiveness and probable cheating. Others have reported this and I've now personally seen it too. I picked two competitors to play against while testing the free mode, with the lowest aggressiveness possible. They constantly send gangsters to my restaurant even very early on in the game, which is something that costs $10,000 to research. They seem to be incredibly fast at getting everything they want.
Here's another moan about the interface: When adding competitors in the Free mode, you don't actually know anything about them until you add them. So you go through each, adding them and deleting them until you find the AI you wish to compete against, which is complete nonsense. It's as if no thought was put into any part of the UI:
I really am failing to find the fun factor in this one and I absolutely love simulation management games. The game just feels too simplistic overall. There's very little in the way of actual features apart from rent a restaurant, make some pizzas, deal with any competitors and that's really it. There's nothing in Pizza Connection 3 to make it special in any way, which is a shame as it feels like a missed opportunity. On top of that, there's also the issue of performance which really needs checking.
Grab it now from GOG or Steam.
Post updated after more time spent with it.
Some you may have missed, popular articles from the last month: