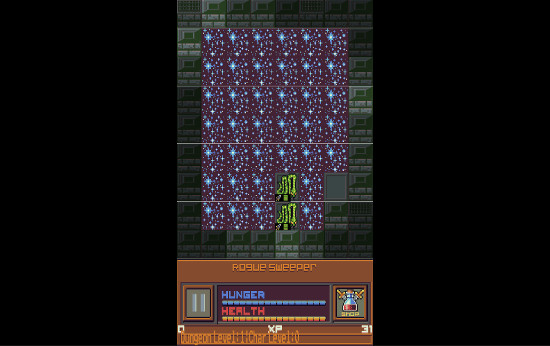 RogueSweeper is a mashup between a roguelike and a minesweeper game. Tap to reveal tiles, monsters, traps or items. Tap (or click) your way to the bottom of the infinite dungeon. How far can you go?
From the developer of
Mutant Gangland
comes RogueSweeper! It's a pretty simple game, but it's an interesting idea to see, and it seems to be executed well. I always liked Minesweeper, so having a more interesting version of it is a fun idea, and it managed to keep me entertained!
The game was originally made for the Global Game Jam 2015. but it has been polished up and put up for sale.
One small issue is that making the game screen bigger creates lines on the screen, but the developer noted it will be fixed.
Features:
- 5 items that can heal, feed, reveal the map and enemies and increase your stats,
- 8 enemies
- In-Game shop that allows you to buy items with your XP
- Generated dungeons with items, monsters and traps
- No end in sight! Delve deeper and deeper
Check it out on
Itch.io
, and help the developer buy some beers for their birthday! It's really cheap too!