This metroidvania title has you facing off the scourge of biological life to save your robotic utopia. After spending my time blasting everything with a pulse I have a few thoughts to share.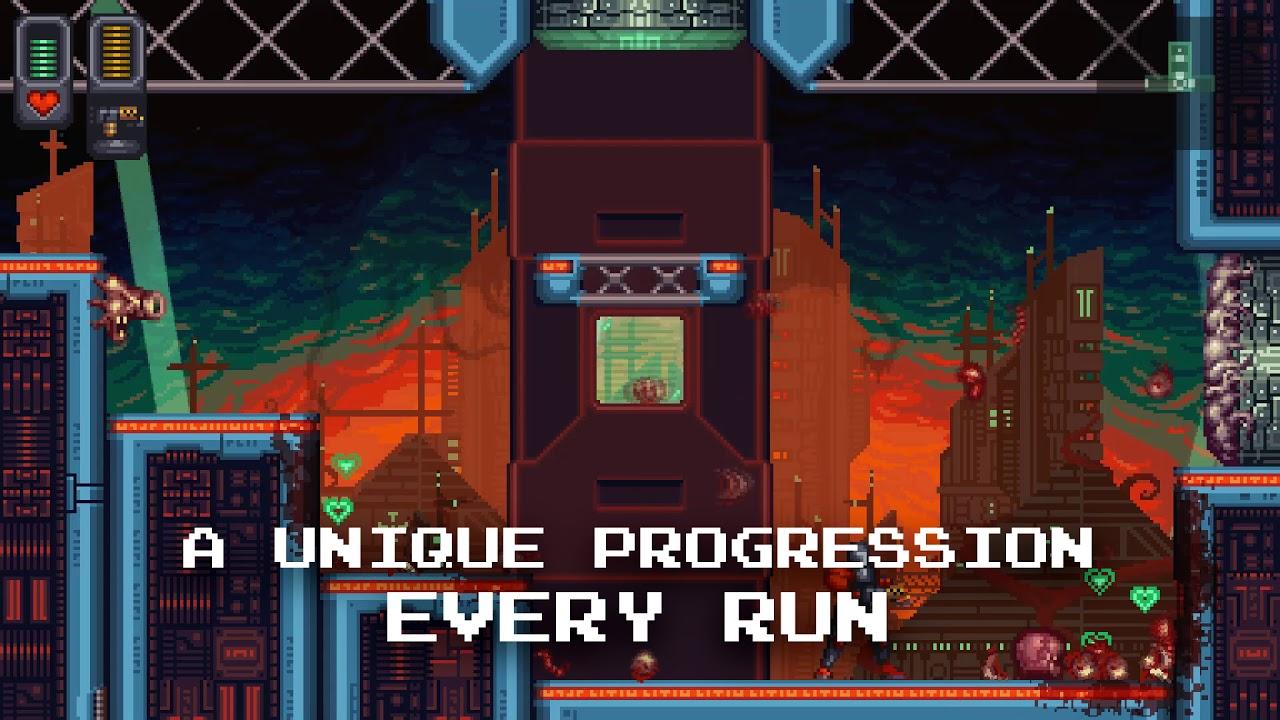 Note: Key provided by developer
A Robot Named Fight [Official Site] places you in the role of a lone robot that's set on saving the mechanical civilization from the gigantic Megabeast—a massive biological entity that's rained death and destruction on all machinekind. It hits many of the familiar gameplay beats for a metroidvania title: there's powerups and bosses to find and defeat and several different areas to explore before facing off with the gargantuan final boss.
What sets this title apart from many other titles in the genre is that the actual map and the flow of the game is procedurally generated. Unless you use the exact seed, every playthrough is different in terms of map layout, bosses you face and the abilities that you acquire. Even after dying a couple of times and seeing how each session could play out differently, I have mixed feelings about how it works out in the end.
The actual map generation aspect is more than fine and I think that there's a fair argument to be made about an increased replay value due to the randomization. Areas seem to be connected in a logical enough manner and items and enemies all spawn in a way that would be consistent with a more traditional metroidvania. I played somewhere in between half a dozen to a dozen new games to varying degrees of completion and never once did the map feel illogical or particularly annoying to explore.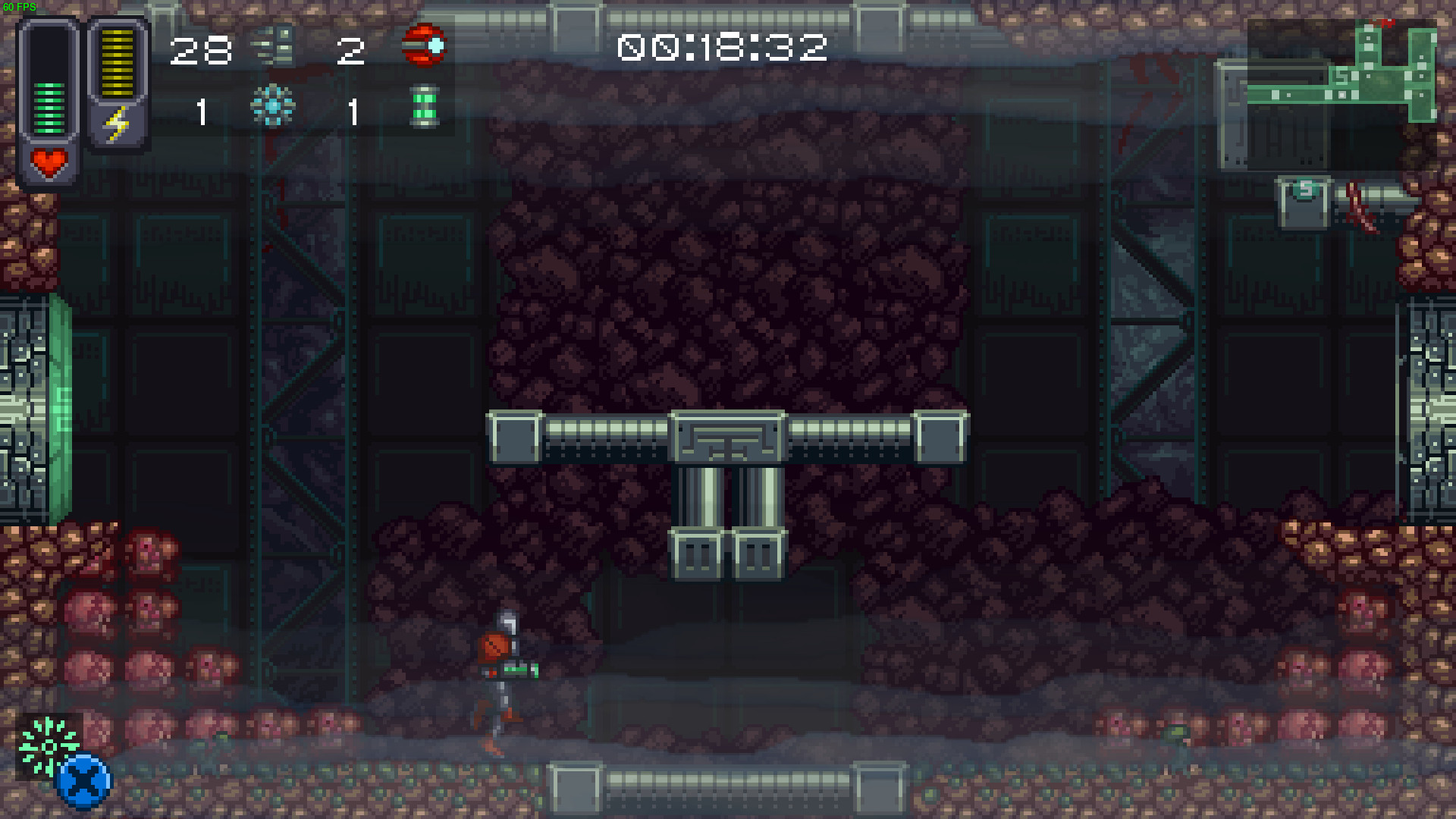 There's a lot of items and powerups to discover across different attempts as well. A lot of this is bog-standard in your dungeon crawlers or rogue-likes and you can expect to find all sorts of things that can change how each game plays out. There are a few shops where you can buy things at and temples where you may offer a god tribute in the hopes of scoring a really rare and game-changing item. There are no RPG-like elements like levels so only your loadout and skill will affect how the game progresses.
The problem is that, despite the random elements, progression happens in very much the same manner every time. The types of powerups you need to advance are the same in every game though the particular item may vary. For example, when you encounter an obstacle that obviously requires you to crawl through to advance you may get something like an ability to turn into a smaller spider drone or the ability make your character slide through. These feel different to use, sure, but in the end they both solve the same kind of obstacle. And the order in which you get the solution to the particular obstacle type didn't seem to vary in my playthroughs—the end result is that I got a feeling that I was proceeding in the same way in each game despite the obviously different map and powers.
Enemy designs are appropriately chunky and biologically abominable and generally look good. A lot else, like the protagonist and certain area backgrounds, looks fairly uninspired. Too many rooms look too similar and the enemies within too familiar. There's variety and a lot of unique areas but it doesn't even out nearly enough for the game not to look absolutely generic in a lot of places. A good part of that is likely due to the procedural nature of the game but I found it hard to keep playing the game over again because of how bland a lot of areas look.
There's a fine line between paying homage and lacking your own vision and I think the game straddles that line a little too closely at times. You can see in the game's introduction, some of the special rooms and with some of the alternative powerups that there's a good degree of talent at work. Unfortunately, that talent can feel a little misused as a lot of the time I felt that I may as well have been looking at a Super Metroid fangame. I wish that in cases like these the artists would dare to be a little bolder and confident in their own creativity. It's perfectly alright to do your own thing and only have subtle references to the games that inspired you.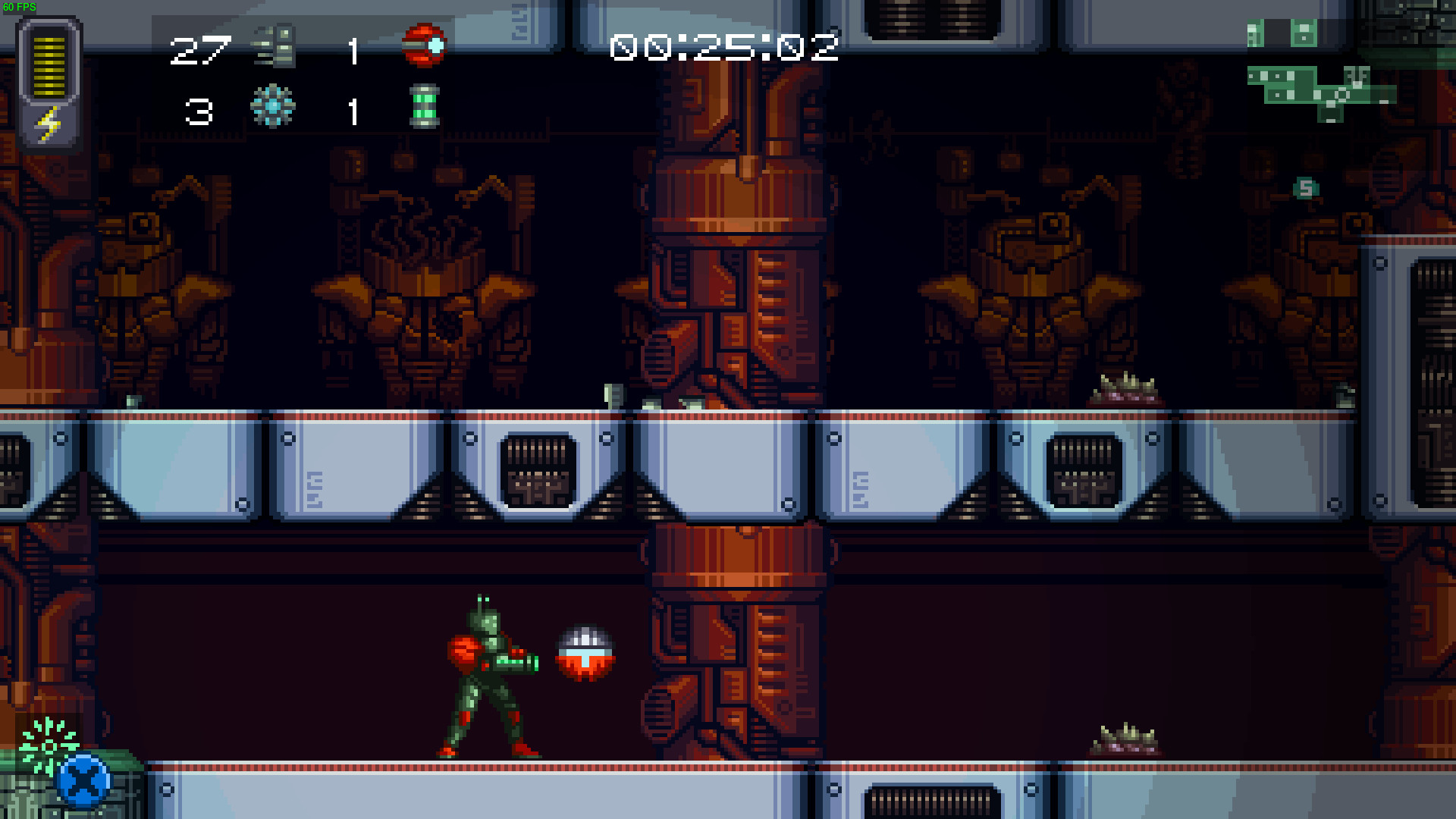 The only technical issue I had with the game was finicky gamepad mapping. I tried my range of generic gamepads and Xbox 360 controller and found that I had to adjust the bindings manually regardless. It's not a real deal breaker but it's something to be mindful about as I found it difficult to navigate menus with mouse and keyboard if you have a controller connected as it prioritizes the gamepad.
In the end, A Robot Named Fight is a competent game. There's certainly a lot to like there and plenty of content to enjoy across multiple playthroughs. I just wish that it had tried a little more to be different, to use its gameplay elements to provide a more unique experience. In the course of reviewing this game I kept thinking back to Rogue Legacy which shares a lot of the same ideas yet manages to stand out because it does more than just being a metroidvania with rogue-like elements; it added a legacy system with generations of characters that ultimately all contribute to your eventual success. I'm not saying that that aspect needed to have been emulated. Merely that, with the glut of games of all sorts in the market, it's often worth taking risks to stand out from the rest of the crowd.
Whether or not I can recommend A Robot Named Fight will depend on two things: on whether or not you mind that it'll take multiple games to see everything there is to see and how willing you are to put up with fairly generic gameplay. If you're a metroidvania fan just looking for your next fix, then it won't disappoint you. It just won't make that much of a lasting impression.
You can get A Robot Named Fight on Steam.
Some you may have missed, popular articles from the last month: