While I was asleep Valve announced some new profile privacy settings which are good for users, but it seems Steam Spy is likely going to shut down as a result.
The new privacy options are actually quite good, as they were pretty limited before. Originally, if I wanted to keep my playtime private I had to essentially make my Steam profile completely private to everyone. That's all changed now, since there's a lot more settings you can tweak. Here's an example of how mine currently looks: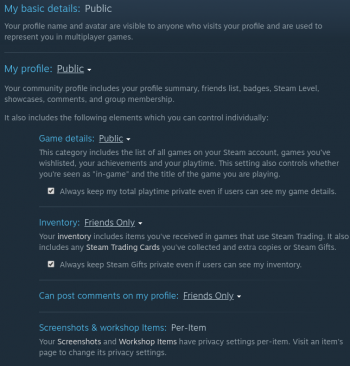 You can now have a public profile, but keep all details of games you own private for example. You could also make your game information public, but keep your playtime private. It's just so much better than what we had before, since privacy for users is important and putting them in control and having it as private should be the default. It should be up to users if they want it public, not public by default in my opinion.
Valve also said they're working on a new "Invisible" mode where you're shown as offline, but you will be able to actually see your friends list and message people. For me especially, that mode will be perfect and I'm very happy they're doing it. As someone with over 300 friends on my list due to running tournaments, co-op play sessions on Twitch and so on, it can end up quite overwhelming any time I decided to set myself as any form of online to message people.
This has had a side-effect that Valve has hidden the games you own by default to the public, which isn't noted in their announcement. This has caused the owner of the tracking website Steam Spy to say "Steam Spy relied on this information being visible by default and won't be able to operate anymore.".
Quite sad, since Steam Spy offered some interesting statistics that Valve didn't give out, but likely many developers and publishers would have preferred it to stay hidden. I've seen the other side of the coin too, with plenty of developers on both sides filling up our Twitter feed today, as some developers found it more useful than what Valve give them—that tells me Valve really need to improve how they report information to developers directly. It is odd, as people from Valve have even said Steam Spy was useful, so it will be interesting to see what happens.
Some you may have missed, popular articles from the last month: