Duke Nukem 3D. Shadow Warrior. Blood. All built on the Build engine, these three games when taken collectively are often referred to as the Big Three, and they are now all available for Linux from GOG. But just how well has GOG done in bringing these classic '90s shooters into the modern era?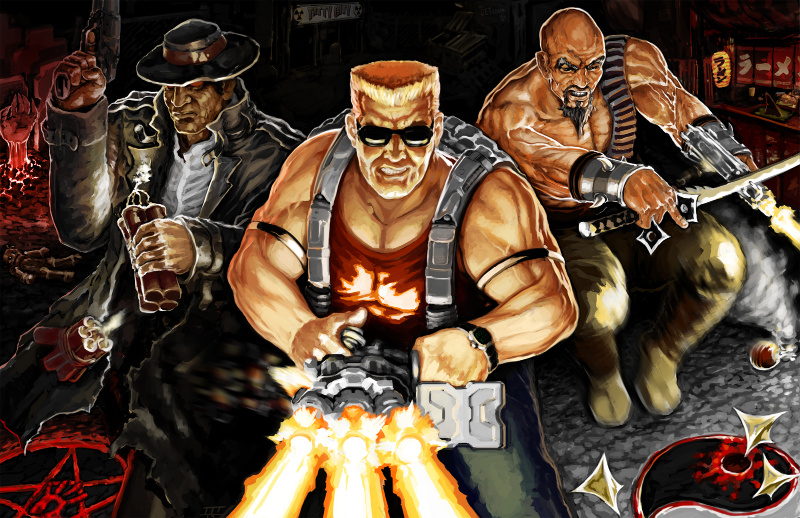 "Build Bros" image used courtesy of Robert Treherne on DeviantArt.
Prerequisites
For this article I am concerning myself only with the single player aspect of the games; I have not tried to use any of their multiplayer components. I am also using the Tarball Archive option offered by GOG for all of the games.
Software Specifications:
Distribution: Arch Linux
Kernel: Linux 4.0.5
Graphics Driver: R600 Gallium3D Driver
Desktop Environment: Xfce 4.12 with compositing
Hardware Specifications:
Motherboard: MSI 760GM-E51(FX)
Processor: AMD Phenom II X4 955 BE 3.2 Ghz
Video Card: SAPPHIRE HD 6870 1GB GDDR5 PCIE
Memory: 4 Gigabytes DDR3 PC10666, 1333 MHz
Boot Drive: 500 GB Western Digital Caviar Black
Headset: Roccat Kulo ROC-14-702

Hamish Paul Wilson is a free software developer, game critic, amateur writer, and farm labourer living in Alberta, Canada. He is an advocate of both DRM free Linux gaming and the free software movement alongside his other causes, and more information on him can be found at his
icculus.org hompage
where he lists everything he is currently involved in.
See more from me