Several years ago I made a number of standalone Linux binaries for the Chzo Mythos using the then closed source Adventure Game Studio runtime as a base. Now that the source code to AGS has been released, I have updated the builds to use the superior free software engine. Included are all of the games in the John Defoe Quadrilogy, as well as a few other titles created by Ben "Yahtzee" Croshaw.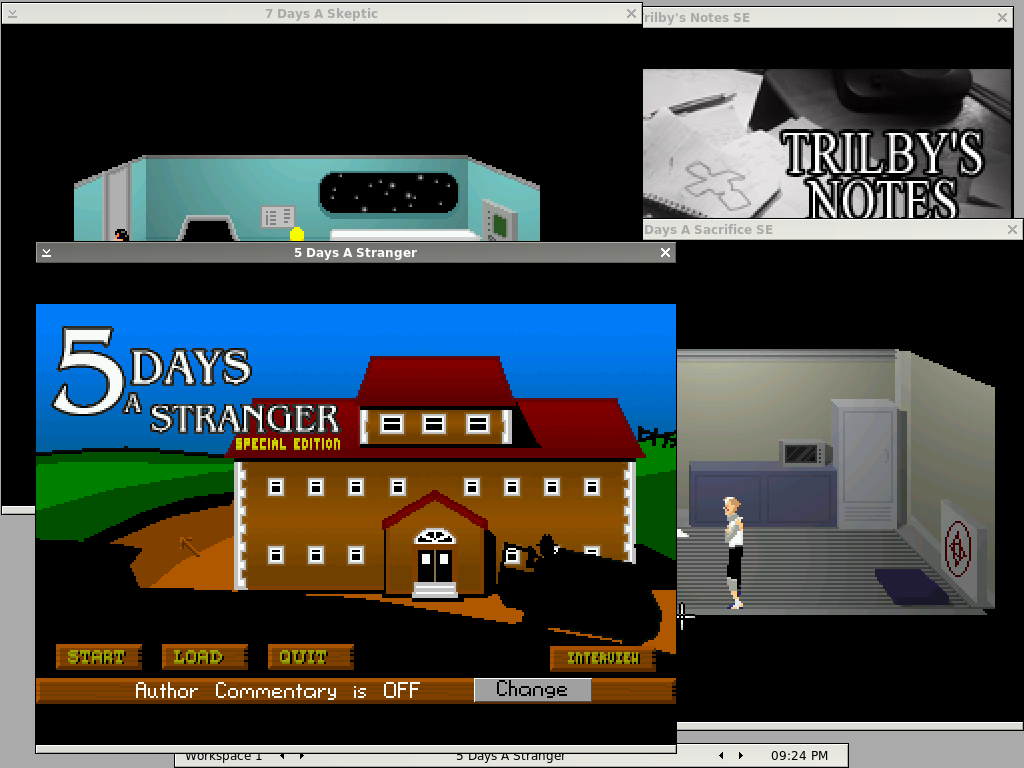 5 Days A Stranger
A cat burglar breaks into a supposedly deserted country mansion, only to find himself imprisoned along with four strangers by a mysterious force. A nice nasty horror game with some murders and gore.
7 Days A Skeptic
The sequel to 5 Days A Stranger. Four hundred years into the future, the scoutship Mephistopheles and its crew of six discovers something it should have left alone.
Trilby's Notes
Master thief turned paranormal investigator Trilby follows the trail of John DeFoe's soul idol to a small hotel in Wales, where he discovers the dark history of the cursed wood.
6 Days A Sacrifice
Council inspector Theodore Dacabe is sent to investigate the headquarters of a fad religion and finds himself embroiled in the machinations of destiny.
Trilby: The Art of Theft
The eccentric British cat burglar Trilby is at large in an American city, robbing the rich to give to himself, but will his arrogance cause him to bite off more than he can chew?
Source:
http://icculus.org/~hamish/chzo/
Also available are builds for two other games created by Yahtzee using a compatible AGS engine.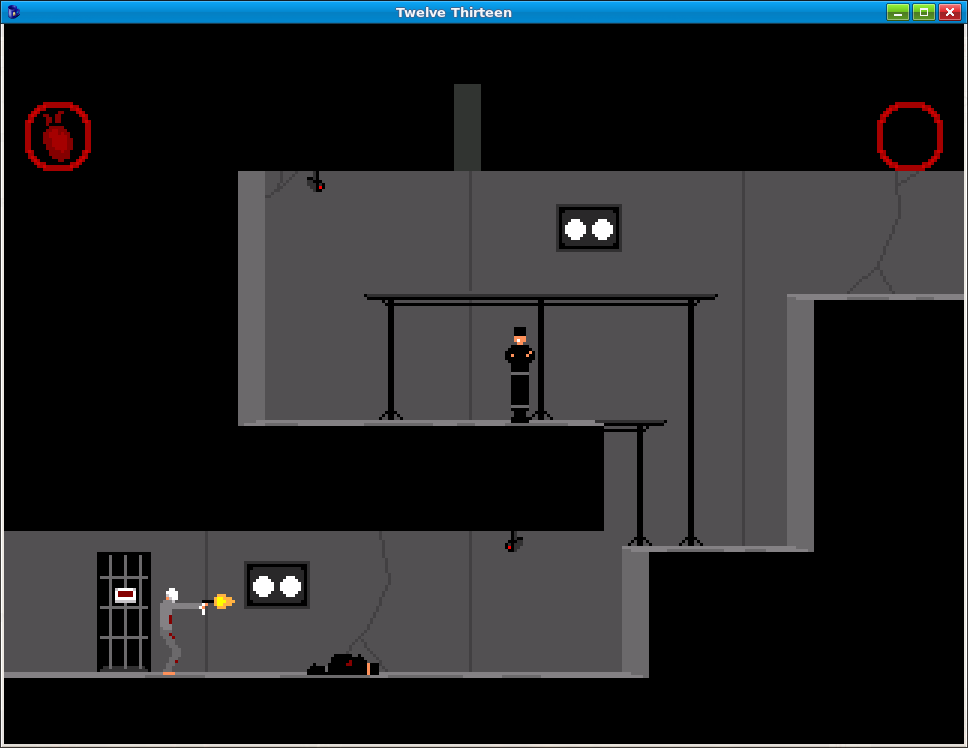 1213
A man lies in a darkened cell, consumed by pain and sickness. He does not know where he is. He does not know how he came to be there. He does not even know his own name. All he knows is that he is being tortured by a bizarre, bespectacled man, who addresses him only as a number - Twelve-Thirteen.
Every day, Twelve-Thirteen is taken out of his cell and goaded into running a dangerous hazard course, apparently for the sole amusement of the bespectacled man. Today seems to be no different. But while Twelve-Thirteen sits brooding in his darkened prison, the door suddenly falls open with no apparent cause. To discover the answers to all of his questions, Twelve-Thirteen must adventure into the unknown world beyond the cell...
Source:
http://icculus.org/~hamish/chzo/1213.html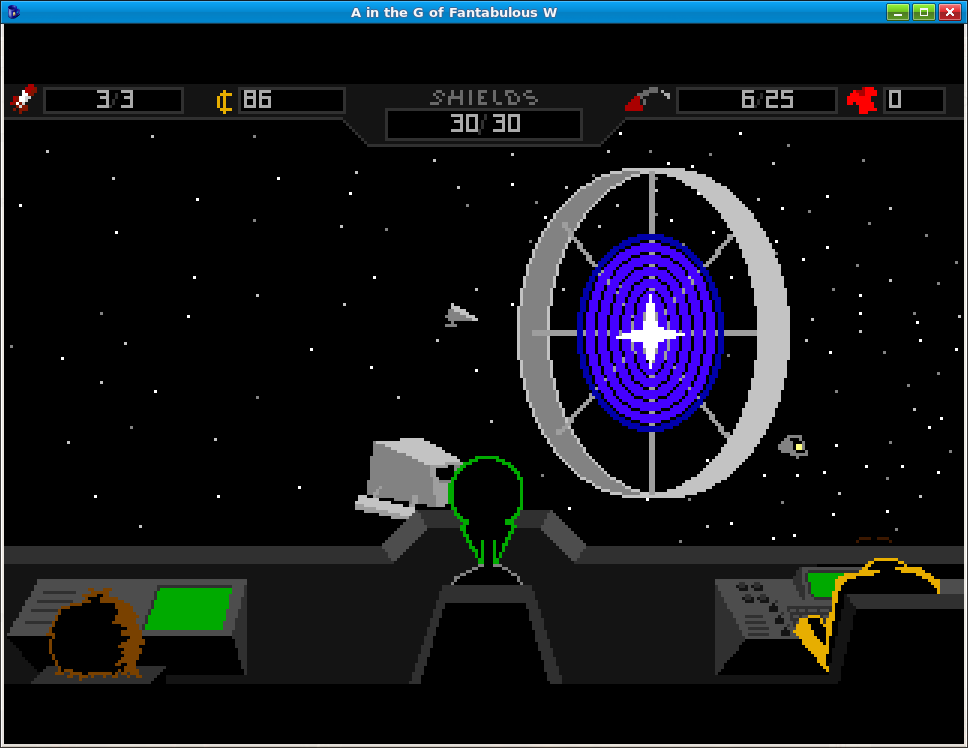 Adventures in the Galaxy of Fantabulous Wonderment
It is a time of turmoil in the galaxy. Following the disappearance of the Defender of the Universe, the Galactic Presidency has been dissolved and anarchy reigns. With the galaxy divided into three distinct zones, the Galactic Police and the Culthorpe pirate family are engaged in a cold war from across the Lifeless Zone. Life has never been more dangerous for the people of the universe, doubly so for those who make a living flying from planet to planet. And to make matters worse, an invisible conspiracy is threatening life itself.
None of which means anything to Daniel Gordon, earthling and wage slave, whose major concern is keeping hold of his pension plan. That is until he is unexpectedly abducted by the galaxy's premier employment agency and finds himself stuck with a crew of misfit mercenaries on a cargo transporter built more like a skip with thrusters. Will he get back to Earth in time for the meeting with his boss? Or will his adventure be cut short?
Source:
http://icculus.org/~hamish/chzo/galaxy.html
It should also be noted that the versions of 5 Days A Stranger, 7 Days A Skeptic, Trilby's Notes, 6 Days A Sacrifice, and 1213 included are the Special Editions which possess a wealth of additional content, including exclusive in-game commentary by Ben "Yahtzee" Croshaw himself.
Some you may have missed, popular articles from the last month: