Seven years ago, Valve officially released the Steam client for the Linux desktop and since then the amount of games playable on Linux has continued rising. Thanks to Steam Play Proton, that's grown drastically too. Here's a brief look at how Linux gaming is doing right now.
Looking over Steam stats there's now well over 6,000 games that support Linux with a build. Taking into account games being listed that have not yet released, it's actually around 6,366. Three years ago it had only just hit over 3,000 so it's more than doubled during that time.
Here's a little look at how that number of Linux games releasing monthly on Steam has changed: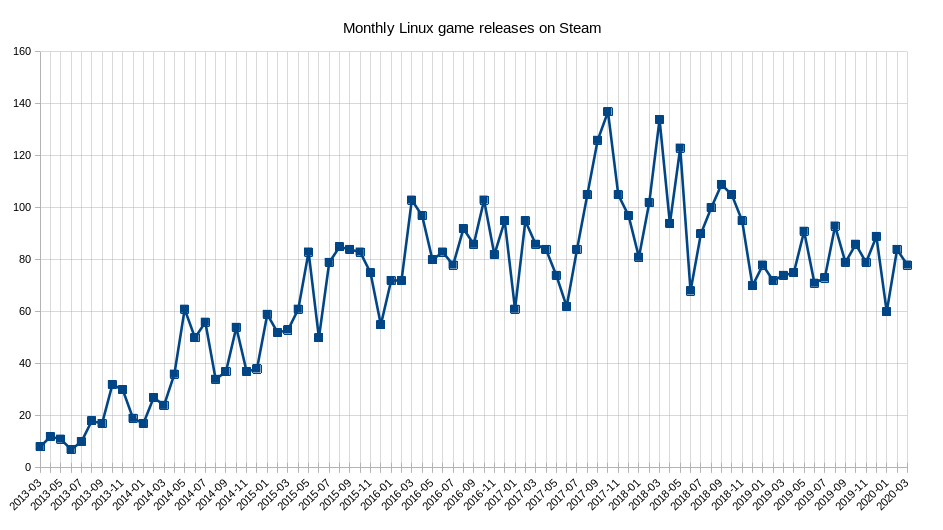 It's worth noting that between 2013 and 2018, the total amount of games being released on Steam jumped thousands a year. However, the difference between 2018 and 2019 was quite small. Steam as a whole appears to be calming down drastically on increased yearly releases.
With Steam Machines being announced back in September 2013, you can see a clear upwards trend going on afterwards. To me now, this data tells us we're finally seeing the tail-end of the original hype as Valve steered away from Steam Machines (although SteamOS may yet live again) and it looks like we're actually stabilising to monthly releases around the 80 mark.
It is just a number though of course, quality is obviously the most important but it's still impressive considering how Linux gaming is currently still very much a niche. We do have some of the most consistently popular Steam games available on Linux including: Counter-Strike: Global Offensive, Dota 2, Terraria, Total War: WARHAMMER II, PAYDAY 2, Stardew Valley, Cities: Skylines and the list goes on. Lots of Linux games constantly being the most played on Steam.
As of March 2020, Linux sits at 0.87% of the total market share on Steam from Valve's monthly opt-in user survey. This puts the amount of "monthly active" Linux players on Steam around 826,500 (see our Steam Tracker for more).
To help with that number, nearly two years ago Valve announced and released Steam Play with Proton (see our Steam Play page for more). A compatibility layer based on Wine (with other bits included) to get Windows games running on Linux. This means anyone switching to Linux, can hopefully play the majority of their games. Some are flawless, some don't work at all and there's all sorts in between. When it works and works well (example), it can be pretty amazing.
How's Proton doing nearly two years on? Using data crowdsourced from users on ProtonDB it's proving popular.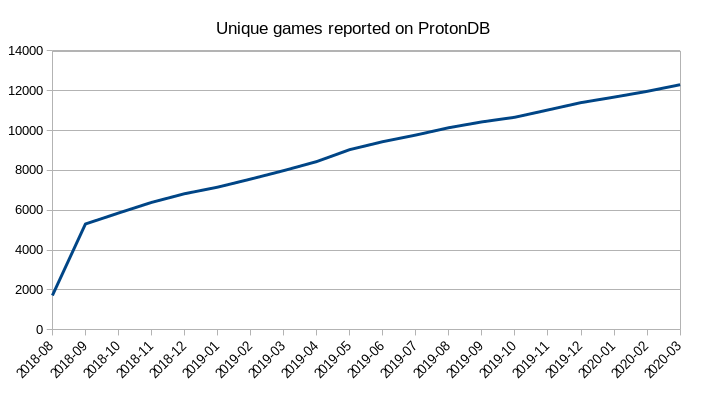 That tells one story, how about how many Windows games are actually playable on Linux when using Proton? Let's take a look at that too. Only using what games should be click and play ("Platinum"):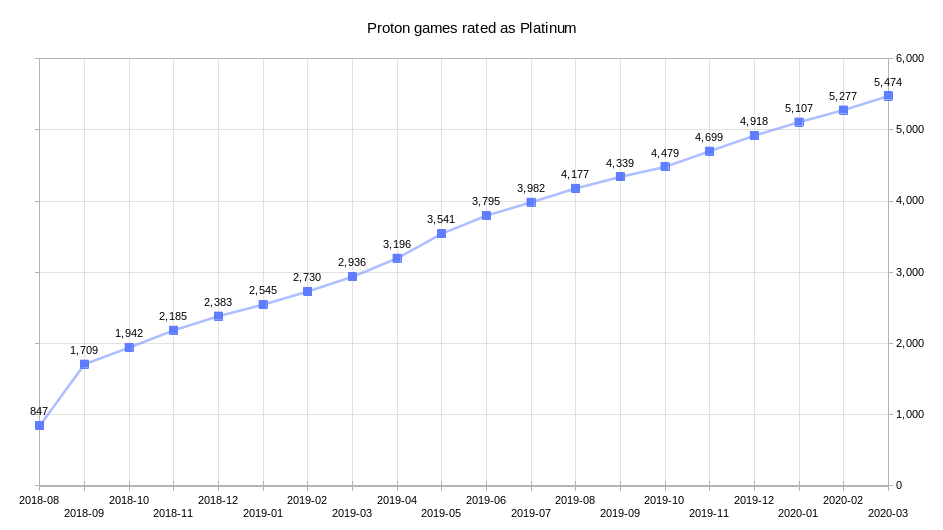 There's likely a lot more that are playable, as ProtonDB depends on user reporting. As impressive as it is, there's still a very long way for Proton go still. For multiplayer titles anti-cheat is still a sore spot. You won't (usually) be able to play games that have Easy Anti-Cheat or BattlEye (they both have Linux builds but they don't work with Proton). We did get confirmation of Easy Anti-Cheat attempts being made before, same with BattlEye but since then not much in public has been said about it.
All of this is only looking at Steam too.
There's still a lot of games that aren't available on Steam at all. Over on GOG.com, even they have close to a thousand games available for Linux. You also have big hitters like Overwatch (which works great), Starcraft II, the Battlefield series and more from certain publishers with their own store launchers. A lot of them can also be played on Linux with Wine, and using Lutris makes them easy to setup too.
Is that an elephant in the room I see? Yes. The Epic Games Store, that's another that doesn't support Linux and it appears Epic Games have no current plans to do so either. Tim Sweeney did mention before he thinks Wine can help break the cycle, and that's certainly what Valve seem to be trying to do. Wine again can help there though, since the Epic Games Store can be run through it.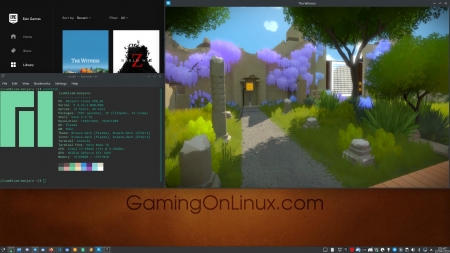 Pictured: Epic Games Store on Linux
Right now, Linux gaming has been Steamrolled forwards thanks to many different companies and people—mostly Valve (and their many contractors and partners). There's a lot of others doing awesome work though, don't think I will forget that ever. Various Linux game porters, people working on cross-platform game engines and other software that supports Linux - every single bit helps.
It's pretty incredible how far it's come! If you just want to click and play, making a /home on Linux has never been better.
Some you may have missed, popular articles from the last month: