It was a nice surprise to see Tomb Raider officially supporting AMD hardware. Of course, the level of that support now has to be tested, so let's run some benchmarks!
Thanks to Pepster from our IRC channel, I also managed to get results from his hardware, so we have an additional card to show results from. My computer is an i5-2500K@3.3 GHz, 8 GB of 1333 MHz RAM and the R7 370 4G. Pepster's rig has an i7-5830K and a HD7970. My rig runs Xubuntu 16.04 and thus uses Mesa 11.2 as stated in the official requirements for the game. Pepster used a bleeding edge Mesa from git on his Manjaro 15.12 installation.
Before we go into the benchmarks I'd like to remind you that the official benchmark is not fully representative of the actual performance you will see in-game, so don't entirely rely on these numbers to determine level of playability.
We tested on all of the available graphics presets from Low to Ultra. TressFX was not supported on my installation and it was not behaving correctly on Pepster's rig, so it was disabled for these benchmarks. Worth noting is also that Pepster had to leave his Depth of Field to Normal during the benchmark on Ultra to work around a lighting bug. This problem was not present on my rig, so it's likely a bug somewhere in the bleeding edge driver suite.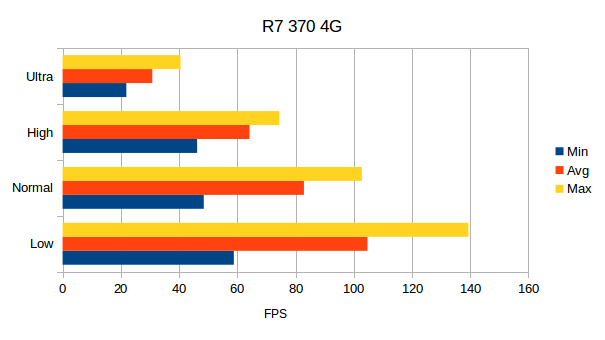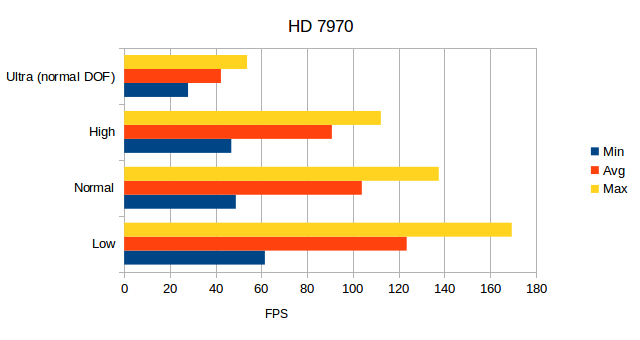 As you can see, the results look quite positive and these GPUs managed to keep a smooth framerate all the way to High, with Ultra becoming more of a cinematic experience on the R7 370. Once again I'd like to remind you that these benchmark numbers do not fully reflect the actual gameplay experience.
I did also play the game for a little over an hour on Normal graphics setting and I was pleased with the experience. The framerate seemed to mostly stay around 40-60 FPS, sometimes going well over 60 and other times dropping down to the 30s. Some areas of the game do seem more demanding though and particularly when there was loads of fire everywhere the framerate started creeping down towards 30. More of an annoyance was the stuttering during asset loading/streaming. When new areas were loaded in, the game would stutter for a couple of seconds, practically stopping the flow of the gameplay until the new assets were properly loaded. So far this hasn't happened during a critical moment but it's annoying nonetheless.
I haven't made it too far into the game but so far the gameplay experience seems quite acceptable on the R7 370. Based on the performance I've been getting I probably wouldn't take the game any higher than Normal settings but the game also doesn't need to look like total crap to make it run at a playable framerate. What I've seen so far is not perfect of course, but very good nonetheless and it's definitely nice to see the open source AMD drivers making it to the system requirements.
Once again, thanks to Pepster for giving me some benchmark data!
Some you may have missed, popular articles from the last month: