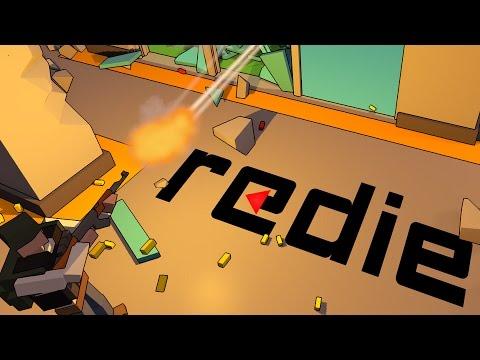 Redie
(pronounced
're-die'
) is a game that I found by chance on
IndieDB
some time ago, which caught my attention immediately. It represents the first title released by Rückert Broductions, a small German studio composed of
two student brothers
. After a
beta period
that took two and a half months, it's finally available on Steam, so I gave it some thoughts about whether it lived to its expectations or not.
Note: Key provided by the developers.
If you read my
previous GOL article
about the game and played the demo, there is one big change that you will notice immediately: the graphics now feature light effects and shadows, and the final result is simply gorgeous. I really like the colourful aesthetics, which along with its flat textures give the game a minimalistic but stunning appearance that is very distinctive. And most importantly, even if you have an old computer (like mine) you don't have to worry about a decrease in performance with these additions, because the game is still as fluid and smooth as it was before in the original demo. As you can see in the
Steam Store description
, the developers used an engine made by themselves, and the decision really was worth it, because during my whole gameplay I never experienced a single instance of stuttering. The same smoothness is shared with the controls, which are very tight and responsive as is required; given the nature of the game, failing in achieving this would've been a source of constant frustration, but fortunately this was another highlight to remark.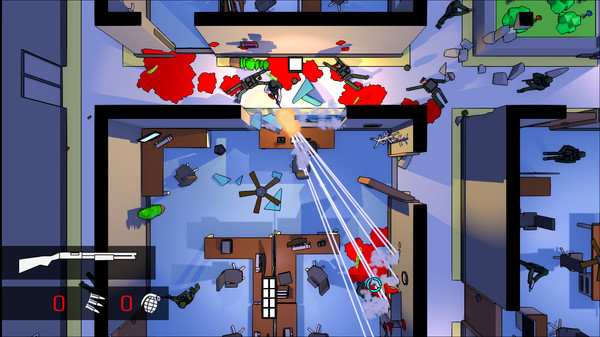 Regarding the gameplay, in the months previous to the release, the developers received some mild criticism on the
Steam Greenlight page
about the game supposedly being a clone of
Hotline Miami
(you can check the messages on Sept, 4th; it's not possible to link them directly); while it's obvious the huge influence and inspiration that
Hotline Miami
had on this title (properly addressed by the brothers), there are several differences and features that make Redie stand on its own:
-
There isn't any kind of story.
This was anticipated since the very beginning, and you won't even find a single sentence in-game explaining who you are and who you're up against with. While a minimal plot would've been nice, it isn't something that I particularly cared; since the developers announced this decision early, at this point my expectations were adjusted accordingly, but it's best to warn you in advance in case this is an aspect that you consider pivotal in any game. Also, in the end it adds an undeniably advantage to the pace of the game: once you press Start, a raw and uninterrupted frenzy of pure and addictive fun begins, making you lose the notion of time until your tired reflexes force you to stop.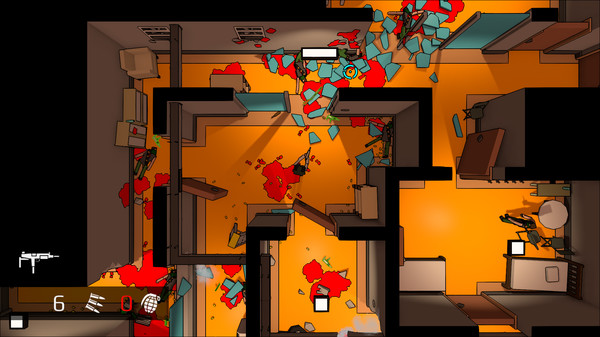 -
The tone of the game and the depiction of violence is different
. Although the game is violent and visceral, unlike
Hotline Miami
it isn't focused on being sadistic, so you don't have those gruesome melee attacks to kill your enemies when they're already on the floor, like smashing their heads with a bat or cutting their throat; here you instantly kill them and then proceed to continue the level. In the same vein, there isn't gore, even in situations where it would've been completely justified. Something to remark though is the way you get killed, since it's showed in slow-motion to make it more impactful.
-
The weapons are more classical
(basically, pistols and automatic guns) and you only have a knife as a melee weapon. But also now you have a grenade launcher, a bazooka, grenades (that you can use along with your primary weapon) and a sci-fi weapon. Another difference is that you can't choose which weapon you can start the level. You kill and get killed with one single shot, and in this sense the selection of weapons is appropriate, and you won't ever find yourself hating a weapon because it isn't effective; all of them feel and are actually deadly, and their implementation on the different levels is correct. Plus some levels are filled with explosive barrels that you can use at your advantage... provided you aren't too close.
Hotline Miami
had a couple of rooms full of explosives, but they were used only twice or three times; here in Redie you'll see this with more frequency.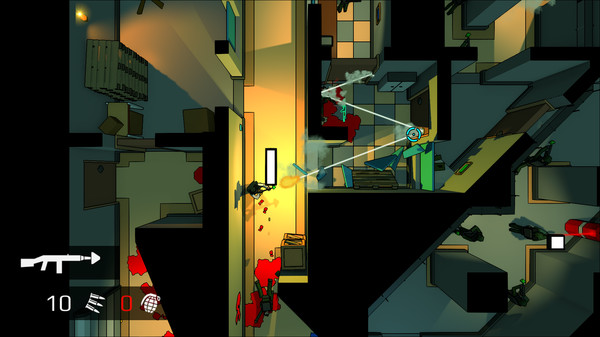 -
This is a 3D game using ragdolls
. Although the 3D is mostly an aesthetical decision (i.e.: making the shattering of glasses or your death more spectacular), it can actually affect some particular aspects of the gameplay on a couple of levels. For instance, you can use the grenade launcher against destructive walls, you can push certain objects, the debris may slow you down, etc.
-
The soundtrack
isn't considered one of the main features of the game, since there isn't any kind of mention of it on the official pages related to the game. That's strange, because the songs are pretty catchy and perfectly fits the fast pace of the game.
-
The statistics are better showcased
. Remember the grades you got in
Hotline Miami
after you finished a level? For the record,
Hotline Miami
is one of my preferred games of all time, but this was the feature that I never liked because of its lack of clarity. You never knew why you got an A+ with certainty, and it didn't encourage you to play better. In
Redie
luckily this was handled correctly, since not only the statistics are more clear and transparent, but also every level has a Challenge, where you have to meet some criteria in a matter of seconds to beat it; with the exception of one or two, they're always unique to every level, and some of them can be pretty original. Something curious is that now you're rewarded for achieving headshots; they are counted by clicking exactly over the enemy once they appear in your character's line of sight.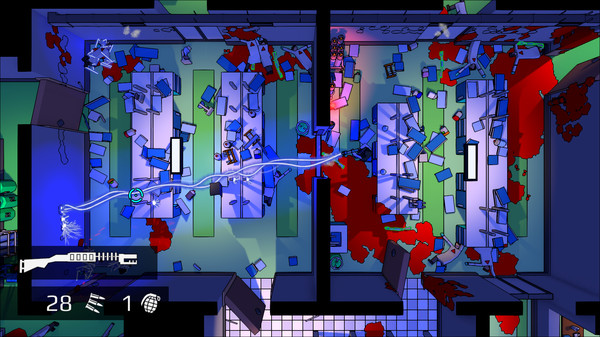 As for the gameplay itself, it's similar to
Hotline Miami
in the sense that you see the action from a top-down perspective, you're in a closed area fully occupied by enemies that you must kill to finish the level, and if you get shot only once you'll need to restart from the beginning of the level. But the fundamental difference lies on the enemies: although they behave almost similarly to the ones from
Hotline Miami
, these ones are incredibly relentless and if you commit the most single mistake you will be dead, because their reaction time is minimal and their accuracy is flawless. Certain tactics that were effective in
Hotline Miami
, like luring them to a corner where you kill them as a camper simply won't work here, and in order to win, you need to develop your accuracy to the same level than them; but still, this will even prove insufficient in certain levels, where you will need to establish priorities about who to kill first and where to cover yourself between every shot of your own. In a few words, this is a game aimed at expert or persistent players, because your game sessions will be like
Super Meat Boy
: you will die and (re)die dozens of times until you find that single and subtle detail that will give you those needed nanoseconds of difference to overcome a complicated situation. Beating almost every level feels incredibly satisfying, because you know that it will be due to your consistent practice and skills.
Currently, there are 29 levels to play (despite the Store page only claiming 25). At first I thought the game was going to be too short, but given the level of difficulty it finally took me six hours that almost worth every single second. Also, as of the moment I'm writing this review, I still need to beat 20 more challenges, so if you're a completionist you will likely have 12 hours of content to play.
And I intentionally left unmentioned until now what I consider one of the most superb features of the whole game: the Leaderboards. Yes, you can now compete with your friends online and brag about your superhuman reflexes and skills, because once you beat a level it will automatically upload your statistics and will allow you to compare yourself with the scores of other players. Even more, there is a Watch Replay option available.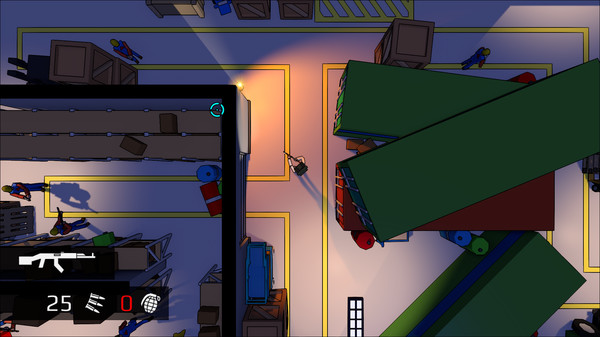 Having mentioned all the positive features, the following paragraphs will cover some negative aspects of the game. Only one of them is serious, while the rest are mostly details, though I think it might be worth to mention them.
The first problem is actually a group of very small issues regarding the AI of the enemies; incredibly, they were present in
Hotline Miami
, and somehow were repeated here as well: basically, the way some enemies behave is unrealistic, because for example, in some cases you can kill an enemy from a long distance, and if he has a partner besides him he won't react to his death neither by start looking for you nor by taking cover. Plus, certain enemies appear to be deaf, and every single one, if they start searching you, will stop doing it after a couple of seconds and will return to their original position; it would've been nice to see them keep patrolling the area until they eventually find you. Also, there is a rare but specific problem on
Redie
, which is some enemies that keep getting stuck on doors in very particular locations, even after you restart the level. Obviously, these are very small problems and I'm being very meticulous at this point, but like I said it would have been terrific if these little problems weren't present. The
developers are aware of them
, but it seems they will leave them as they're now; though since they aren't game breaking and don't ruin the fun, you can overlook them without problems; also, addressing them would implicate the need of changing the design of several levels, like the Office one.
The second problem I encountered is the serious one: at least for me, the game completely freezes if my Internet connection is lost during a few seconds. It doesn't show a message or anything, the game simply stops running until the connection is reestablished, and I can't even return to the main menu. Though I can't be sure if this happens every single time because obviously I'm completely immersed in the game, during the two instances when it happened it turned out that my connection was lost during a couple of seconds. Once the connection was back, the game continued to run normally (though I had to restart the level because I got killed).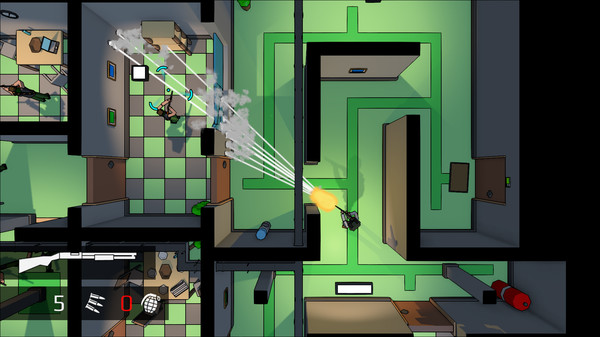 The last problem is represented by two specific levels, where due to its annoying design they were pretty tedious to play, and once I beat them, instead of being happy I thought
"I'm glad I'm done with them"
.
Redie
is basically fun because while challenging it always feels fair, but the Skyscraper level and the very last level force you to start in an extremely difficult situation, surrounded by a dozen of enemies and with little to no cover, so I'm not exaggerating at all when I say that you press the Restart button
every single
second to try them again, because they are
that
hard and you simply end up beating them by pure luck. If I'm not being descriptive enough, I even think that these two levels would be hard in a game like
Superhot
, to give you a more accurate idea.
The last level also has an additional problem: unless you count the levels in the list, you won't have any signal that it's actually the last level; also, anything in its design suggests it, so basically once you beat it the credits start to roll automatically and it feels pretty anticlimactic. Since the game doesn't have a story, I wasn't expecting an ending message or something like that, but maybe having the level start to explode or to fall apart while you run... anything like that would've worked.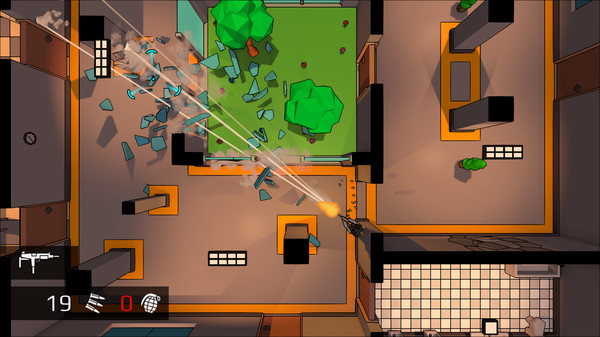 Though, like I said, with the exception of the second problem (and a bit of the third one) none of these issues have a lot of importance, so if you're a fan of the genre, or if you like challenging games in the styles of
Super Meat Boy
,
Deadcore
or
Velocibox
, this is a game that you can't afford to miss. It's a shame they announced that
there won't be workshop support and a level editor
(at least for the moment), but at least I hope this isn't the last we see of
Redie
, because the game surely has a lot of potential for more content.
Finally, if you feel "scared" to buy it because of the high difficulty, thinking that you might give up easily, remember that you have the
demo
available to try it out and see by yourself if you're ready for the challenge. In the event you find it too hard, you still will enjoy an excellent game, an amazing debut title, and a serious candidate in my list of Biggest Surprises of the year. Who knows, maybe you'll end up finding that it's good to
Redie
over and over again...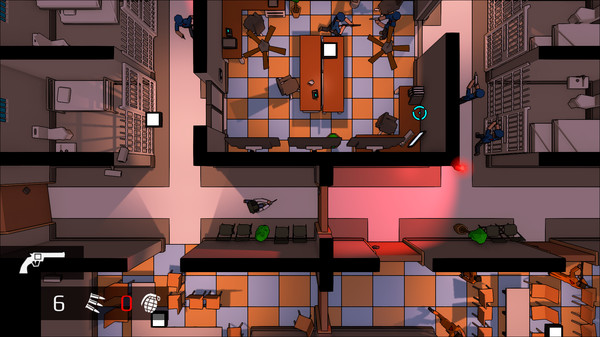 Official site
:
Redie
Steam Store page
:
Redie
About the game (Official)
Redie
is a challenging singleplayer 3D top-down shooter. Fight an army of well-trained terrorists and soldiers in action-packed close quarters combat. Prepare to (re)die.
Features
-
Challenging
- Enemies with unforgiving aim and inhuman reactions!
-
No story
- Unfiltered action-packed gameplay!
-
Deadly weapons
- 13 unique weapons, that can all kill with one shot.
-
Tons of action
- Over 25[sic] detailed levels with optional mastery challenges keep you busy.
-
Physics
- Destructible objects, particles, ragdolls and powerful explosions.
-
Optimized
- Tight controls and high frame rates, even on low-end computers, using a self-made engine.
Some you may have missed, popular articles from the last month: