Today, Valve put out the last Steam Play update of 2018 with Proton 3.16-6 beta now available for fun times.
After you excitedly unwrap your present, you will find (changelog here):
Support for gnutls >= 3.0, which should fix many networking issues with games. Note the Steam runtime doesn't ship this yet, so your distribution will need to provide it. For users on distros that don't provide this, Steam Play will still use the Steam runtime library as before. When the Steam runtime is updated, this will be available for all users. In our testing, we saw improvements in Eve Online, DOOM (2016) multiplayer, and HELLDIVERS.
Other networking fixes, too. In particular, Hitman 2 and Metal Gear Solid 5 should now be working online.
DXVK is upgraded to 0.94. In addition to the DXVK release notes, Dishonored 2 and Middle-earth: Shadow of War appear to be working with this release.
Configurable support for forcing the LARGE_ADDRESS_AWARE mode. This can help some games which run out of memory when run in Steam Play, for example Bayonetta.
Further improvements to FAudio.
To access it, you will need to find this section of the Steam client settings (you likely need to restart Steam):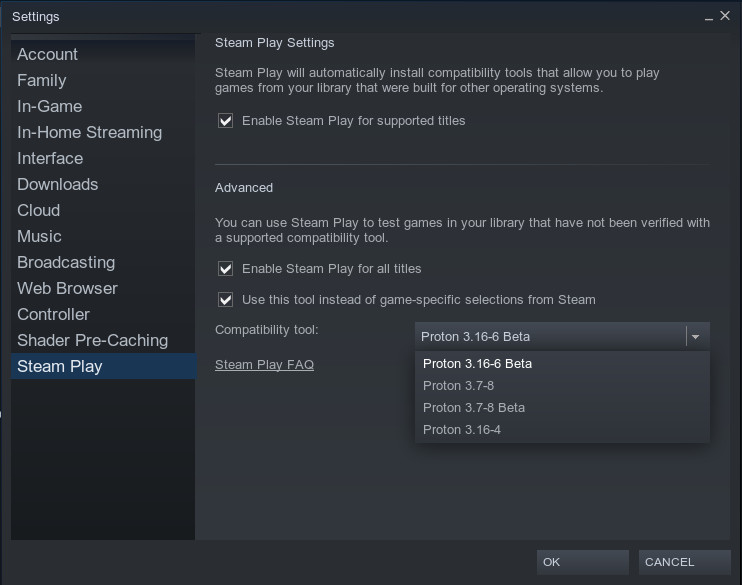 The update to gnutls is quite an exciting one, hopefully that will sort out multiplayer in quite a number of titles where it didn't work before in addition to the other networking fixes.
Great to see Valve and co work so diligently on making Steam Play and Linux gaming better together. It's certainly exciting to follow development. I'm sure this will make a number of you happy to tinker with over the holidays.
I can confirm that DOOM multiplayer does indeed now work fine on Ubuntu 18.10:
If you want me to test other games in future, feel free to gift me a game any time.
As always, feel free to report your findings in our comments.
Some you may have missed, popular articles from the last month: