Review bombing is becoming more and more common, so Valve are looking into ways to sort out the mess that Steam user reviews are becoming. They've announced: histograms.
Steam user reviews have become a weapon. Review bombing is when users flock to a Steam page and make negative reviews, in hundreds and possibly thousands. It often happens when a big name Youtuber says bad words about it, so people in their droves go to the Steam page and make the review score dive.
The problem here with Valve's addition, is that people need to know what review bombing is. Let's face it, the vast majority of PC gamers likely have no idea what it is. I would go further, and say that the majority also see "Mostly Negative" and probably won't look at a game again.
Here's an example of ARK: Survival Evolved: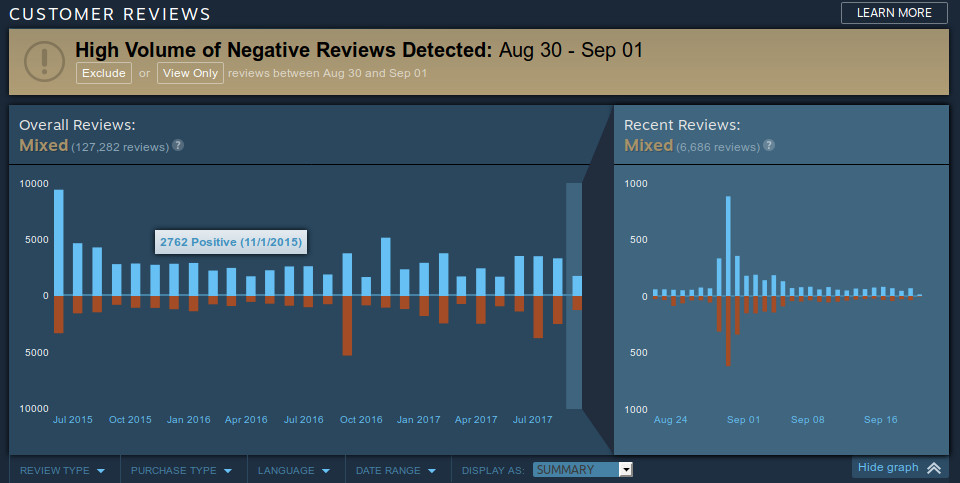 They show it by default, if there's been an issue. Otherwise, it requires a button click to open.
Another interesting point from the Valve post, is this:
Hopefully this post has been useful. It's quite possible that we'll need to revisit this when we move to personalized review scores, where our prediction of your happiness with a purchase is based upon the games you've enjoyed in the past. In the meantime, we'll keep a close eye on the community conversation around reviews.
It will be very interesting to see what Valve mean by a personalized score. They're much smarter people than me, but I don't really see how you can personalize a review score. One possible they may do, is give it their own overall score based on the type of game it is, the types of games you've review positively and things like that.
Naturally, a fair few developers aren't too happy about Valve's changes. I've seen a number of developers on Twitter make jokes about it, like this one:
Devs: help we're getting review bombed!
Valve: good news guys, we're gonna fix it!
Devs: yes finally!
Valve: we'll add a graph!
Devs: NO

— 'Shark Hugs' Eniko (@Enichan) September 19, 2017
I'll be honest, that made me chuckle a bit.
You can find the lengthy news post about it here. It's nice to know Valve are thinking about it at least, there's not a massive amount you can really do to combat such a thing. The thing is though, throwing more and more data at users isn't going to help, it's going to end up overwhelming people.
Valve did think about locking down reviews temporarily, like the stock market would do if something's up. The problem is, it would likely just carry on once they unlock it. So Valve, for now, has decided to do nothing about them.
The crazy thing is, I'm not personally sure if developers should be shielded from this tactic. I mean, if a game is being reviewed bombed, you can be 99% sure it's for a properly valid reason. If a developer is pulling some shady crap, I want to know about it and reviews are a damn good way to see that.
Take ARK: Survival Evolved again as a prime example. The game released, with many issues. The game has features on Linux that are completely broken and have been for some time. That's on top of the vast amount of issues on the Windows version. If Valve did make steps to stop people making reviews dive and it stayed at Very Positive, would you be happy after spending £49.99 to end up finding out negative reviews pointing out all the flaws had been stopped? I don't think so.
However, there's obviously times when a game is review bombed for idiotic reasons too. It's not a one size fits all approach and I'm not saying it is.
What are your thoughts?
Some you may have missed, popular articles from the last month: