Profiles
Viewing more comments
Latest Comments by mrdeathjr
NVIDIA driver 415.22 is out for Linux, finally adding Transform Feedback support
7 December 2018 at 10:59 pm UTC Likes: 1
---
jens

mrdeathjrPeter daniels from nvidia said this:



You got his name somewhat wrong.
https://github.com/pdaniell-nv
Fixed
Thanks

---
NVIDIA driver 415.22 is out for Linux, finally adding Transform Feedback support
7 December 2018 at 9:03 pm UTC Likes: 3
---
Comandante Ñoñardommm...
I wonder if this is the reason why Proton wasn't updated in a month.
Maybe can related with faudio because them stay very active and them stay testing faudio with proton
https://github.com/FNA-XNA/FAudio/issues/59

---
Grab a glass, the first release candidate for Wine 4.0 is now available
7 December 2018 at 6:32 pm UTC Likes: 8
---
In this wine version code freeze begins only fixes, new features until next development cycle
Batman Arkham Origins
Last test DX9 with Pentium G3258 @ 4.1ghz + Artic Cooling Alpine 11 Plus
https://www.youtube.com/watch?v=tonmyFBkZEc
DX9 With Core i3 8350K Tri-Core @ 5.0ghz + CoolerMaster Hyper T4
https://www.youtube.com/watch?v=-mWWzLtGlb8
DXVK With Core i3 8350K Tri-Core @ 5.0ghz + CoolerMaster Hyper T4
https://www.youtube.com/watch?v=B3O1fLXYBT4
Curiously same seetings on steamplay using dx9 produce batman grey knight

but same settings on wine with dxvk (steamplay with dxvk dont work in test) shows the dark knight

---
NVIDIA driver 415.22 is out for Linux, finally adding Transform Feedback support
7 December 2018 at 6:25 pm UTC Likes: 6
---
Piers Daniell from nvidia said this:
https://github.com/doitsujin/dxvk/issues/267#issuecomment-445031988
QuoteHeads up to folks on this thread.

We just released the 415.22 mainline driver at the
usual place https://www.nvidia.com/object/unix.html.

This contains a fix for Unity games running under
Proton/Wine and also supports VK_EXT_transform_feedback.

Enjoy.

---
DiRT 4 is officially coming to Linux, port from Feral Interactive
7 December 2018 at 5:57 pm UTC
---
Many thanks feral, i want buy on holidays but wait until appear native
Personally i dont like simulators like dirt rally

---
Looks like both A Hat in Time and Gravel are coming to Linux, ports from Virtual Programming
6 December 2018 at 9:14 pm UTC
---
XpanderGreat news that they are still working on something. Hopefully they will bring Vulkan this time around as MXGP3 was pretty bad in terms of performance.

Gravel looks interesting
Yeah actually dxvk runs better but vp port* performance still acceptable and more important thing is native
*However wine port with developer support will be acceptable too
Actually most vp ports need high single thread**
**For this reason and emulators, wine d3d9 / proton implementation have my
Core i3 8350K @ 5.0ghz - 215 cinebench single thread
However i hope ryzen 7nm stay very closer to my actual single thread, if them show 200 or more in single thread will be acceptable

---
NVIDIA have released another new beta Vulkan driver, fixes issues with Unity games
6 December 2018 at 12:36 pm UTC
---
massatt212Is this driver on Ubuntu 18 ?
Hi in my case use run file from nvidia drivers homepage

---
NVIDIA have released another new beta Vulkan driver, fixes issues with Unity games
4 December 2018 at 12:40 pm UTC Likes: 4
---
December 2nd, 2018 - Windows 417.23, Linux 415.18.04
New Extensions:
VK_KHR_shader_float16_int8 VK_KHR_shader_float_controls
Fixes:
Fixes regression with Unity games on Linux
Tested with cuphead and works, however vulkan appears as 1.1.92

---
NVIDIA have released the 415.18.02 Vulkan beta driver
29 November 2018 at 10:40 am UTC Likes: 1
---
According nvidia json file:
Quote{
"file_format_version" : "1.0.0",
"ICD": {
"library_path": "__NV_VK_ICD__",
"api_version" : "1.1.92"
}
}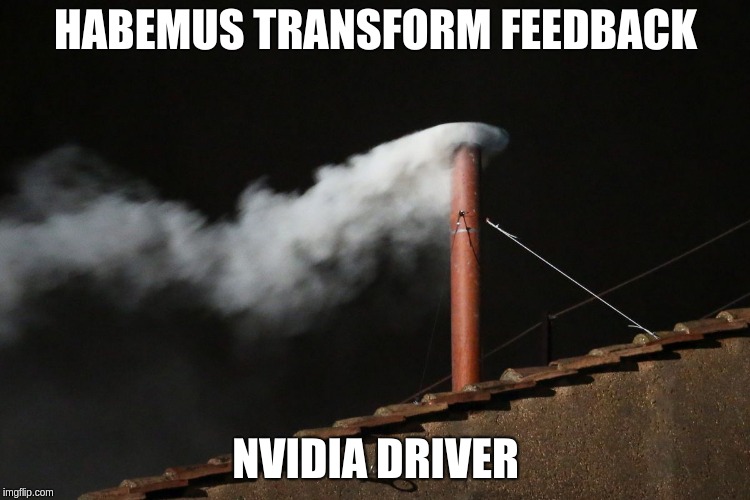 Update:
Cuphead crash
GetThreadContext failed

---