As
covered previously
here on GOL, Valve added a refund system to Steam earlier this month.
This has been a very prominent point of contention for a long time, which has caused problems for developers (who had no way to remove a game from a Steam user's account if they did want to offer a refund) and users (who would often be told that Steam doesn't give refunds when legitimate issues warranted some kind of compensation) alike.
At the time of introduction, the Steam
refund policy
is very broad. Users are entitled to an unconditional refund within 14 days providing they have not played more than 2 hours' worth. The policy states that Valve will be keeping an eye out for abusers and may revoke their right to a Steam refund (users with VAC bans also lose the right to a refund for that game).
Whilst the refund system is definitely a smooth, accessible experience, it is a negative proposition (one I hope that most readers will be fortunate enough to avoid), and for this reason I thought I'd go through the motions and give an idea of what's involved. Note that some of the screenshots shown were taken after I'd been refunded and re-purchased the game, accounting for the discrepancy in hours played, achievements and dates.
Since I didn't want to inconvenience any developers through this, I chose a game I was interested in and could justify re-purchasing after getting a refund. In this case, that game was a four pack of
BlazeRush
, an isometric combat racer from Targem Games (now known as Star Gem Inc, the company behind Star Conflict - see here for a
Star Conflict related interview
featured previously on GOL). I'd not played BlazeRush before and hadn't previously had contact with any of the developers that I'm aware of.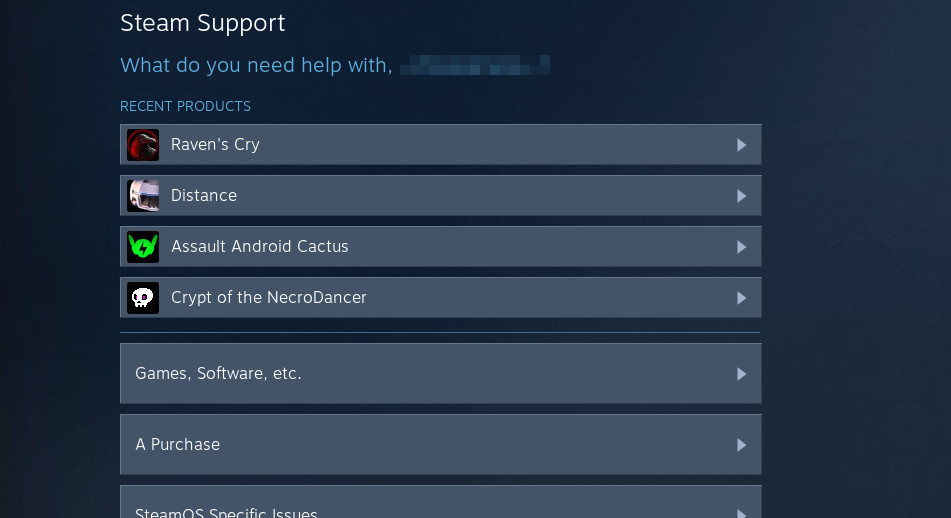 I played the game long enough for a Steam trading card to drop (12 minutes), wrote
a review
and then headed over to the new Steam support site (which seems to be replacing portions of the existing Steam support site at support.steampowered.com). This new support site presents several options for getting assistance in a more streamlined manner than the old support site, and allows you to access the issue ticketing system, search the Steam knowledge base and look for game specific help.

At the top of the support page is a list of games you have recently played, which you can click on to see options for addressing problems. The options shown will depend on several factors. It seems like "It's not what I expected" and "Gameplay or technical issue" will always display. Other options seem context dependent, for example, when a game doesn't support all of Steam's platforms, a "It doesn't work on my operating system" option appears, or when the price of a game has changed, a "It's now available cheaper" option will be displayed (it's worth noting that the refund policy explicitly states that refunding a game to take advantage of a price drop is not considered to be abuse).
Clicking "Gameplay or technical issue" will open a support portal page for that title (a game not in this list can be found by clicking the "Games, Software, etc." option and searching from there). This page shows your purchase date, number of hours played, support contact details for developers (including contact email addresses), system requirements, features, and a link to the community discussion forums and community created guides. Hiding off to the right on this page is a "Request a refund" button.
If a "Payment issue" option appears, you will be presented with options that lead to Steam knowledge base articles covering double charges, to the Steam ticket lodging, and onward to the refund processing form.
So far as I've been able to tell, the following options will give an opportunity to go to the refund processing form from any position within the menu system:
* "I purchased this by accident"
* "It's not what I expected"
* "It's now available cheaper"
* "It doesn't work on my operating system"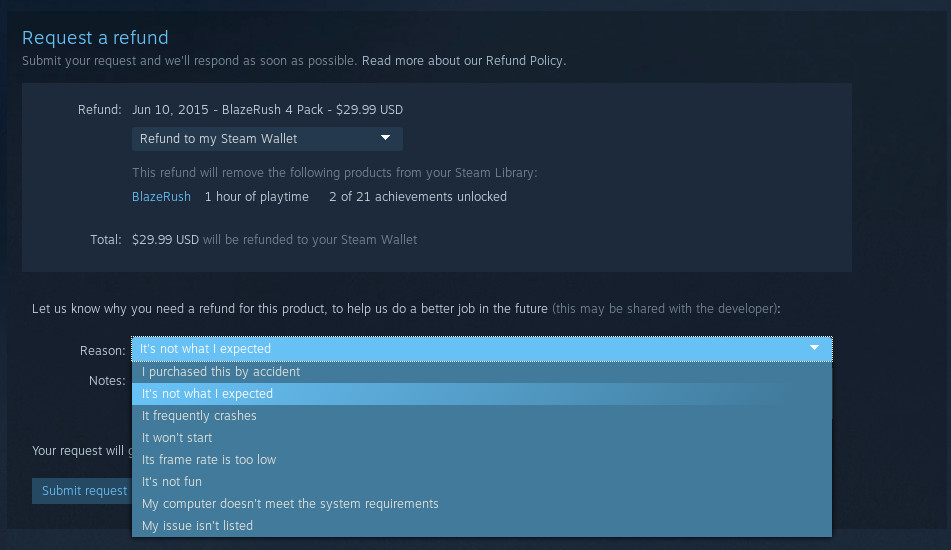 The refund form itself gives you options to refund the amount to your Steam wallet or other payment method if applicable and to select a reason for your refund request. Purchases which have been partially paid for via Steam wallet funds can only be refunded to your Steam wallet.
In addition to selecting one of these options, you may also include some notes. These end up being visible to developers who choose to look at them.
If the game you're attempting to refund was received as a gift, the refund form is replaced with a "Allow the original purchaser of this gift to request a refund" checkbox. Upon checking this, a notice appears saying that you can let the original gift purchaser know that they can now request a refund.

After clicking the "Submit request" button, you will receive an email notification indicating that the refund request has been received.
The refund turnaround time seems to vary. This refund took one week and 14 hours to be approved, and then the amount remained pending in my Steam wallet for two more days. I've spoken to other Steam users who have had refunds processed within 48 hours. I stated in my notes that I was requesting a refund so that I could write about the process. It's possible that my request was flagged for extra attention for this (it's also possible my refund counts as abuse and may limit my ability to request refunds in the future).

When the refund is approved, you'll receive a confirmation email. My email stated that funds would be received within 7 days. The game left my Steam library (although the files weren't removed from my computer), and the gift copies left my Steam inventory.
All up, the process is fairly straightforward and doesn't take a lot of time. I was able to retain my Steam trading card and the review remained active, which raises some interesting discussion points. Personally, I'm comfortable with this - if somebody is to refund a game with legitimate concerns, then their review may contain worthwhile information (though, as with all reviews, it's best to take the opinions opinions with a grain of salt until you know where the author's tastes and perspectives lie in comparison to your own). That said, Steam reviews could definitely benefit from having more clear and prominent indicators of whether an author actually owns the game at hand or not. With regards to trading cards, developers get a cut of marketplace transactions, so it's a way for them to potentially see some small revenue from refunded games.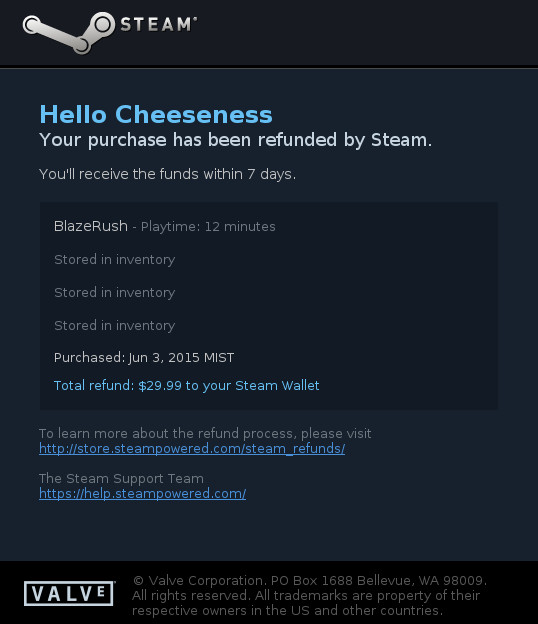 The refund system seems to have been broadly well received, though some developers have been raising concerns with regards to the specifics of the policy. In particular, some developers of short games with playtimes less than the guaranteed two hour refund window are worried that the refund policy allows their games to be experienced in full and then refunded. Others seem concerned with the possible impact on Early Access games (which often aren't representative of the final game experience and purchases early in development may not be eligible for refunds by the time that final experience is discernable), DRM free titles (which could be copied and then refunded) and more general disagreements on whether or not merely disliking a game should be enough to warrant a refund or whether people who purchased full price should be entitled to refund after a price drop and re-purchase (both of which are specifically noted as being acceptable by Valve). Developers who might like to offer refunds that Valve would deny also don't currently have any options that would result in the game being removed from the player's library.
The lack of lead time on the announcement of the refund policy has to have made things awkward for any developers who had just launched sales and were expecting past full price purchases to be reliable revenue. If something is objectively wrong with the implementation of the refund system, it's that.
Many developers have also been sharing initial stats and attempting to interpret an impact from them, but with less than two weeks to observe the outcome (combined with other factors like the Steam sale and with the likelihood of people experimenting with the refund system), there just isn't enough solid data to be drawing conclusions about what effect refunds may be having on consumer behaviour. This stuff may be evidence, but it's anecdotal and not strong enough to be making decisions based on. Valve has also
since exposed
some initial data to developers to help with interpreting the impact of refunds and apparently have plans to expand this over time to give more insight.
To highlight how data might be misinterpreted, Caspain of long-time Linux supporting developer Puppy Games shared some initial sales data which showed a massive downturn in sales following the refund announcement. In spite of the initial obvious conclusion (which many news sites seem to have fixated on), Cas'
own analysis
reveals that a major contributing factor to the drop in sales is from coupons being retired around the same time (apparently a majority of their sales came from 90% off coupons, meaning that the number of full paying purchases doesn't seem to be as effected).
Another thing that has become evident is that some refund requests for games with more than 2 hours' worth of playtime and/or outside of the two week period.
Octodad
developer Kevin Geisler
has reported
that 80% of their refunds so far have been from periods between 2 and 5 months ago, and others for purchases that may have been up to 6 months old. With prominent numbers of refunds being offered outside of the two week window, budgeting and making decisions based on sales becomes increasingly difficult.
Valve themselves are assuring developers that they are being diligent with regards to identifying refund abuse and are paying particular attention to DRM free titles to identify whether they becomes specific targets for refund behaviour. They also apparently, for now at least, have people reviewing every refund request, though they are also asking developers who see what they feel is abuse to report it.
With the Steam sale clouding things at the moment by changing normal purchasing habits, it's going to be some time before the true outcomes of the refund policy are observable.
I'd speculate that Valve will tune the system to allow it to cater better to different styles of games rather than have a one-size-fits-all policy. I suspect it may also have an impact on the kinds of discounts that developers are comfortable offering now that discounted sales (which will inherently attract people who care less about a game than someone willing to pay full price) don't offer the same kind of guaranteed revenue, which is something that could have significant impact on current dominant purchasing behaviours which seem to be very bundle and discount focused.
For now, at least, Valve have made a significant step forward in balancing a system that was previously stacked against customers. If it's being monitored and moderated as Valve claim, then the dangers of abuse seem low, and though the number of refunds are likely to be abnormally high at first (likely thanks to both the feature being new and the Steam Summer Sale), I'm hopeful that when the dust settles and the kinks are ironed out, this will ultimately lead to more positive player communities and creator/customer relationships.
Some you may have missed, popular articles from the last month: