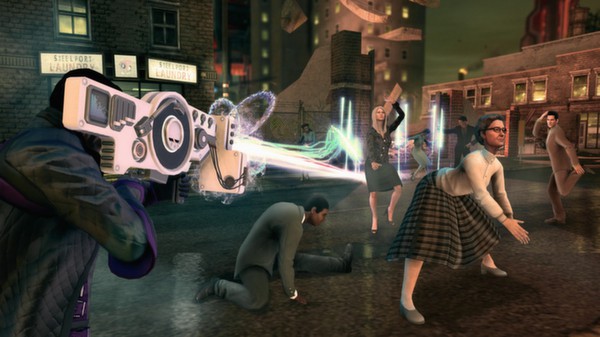 Oh baby!
Saints Row IV
is now available on SteamOS and Linux, and I can't wait to give this insane game a go. It's part of a very small selection of open world games available on Linux, so I hope it does well.
We will have thoughts up on it later, as we had no advanced warning or access.
Report
It's another port from Virtual Programming using their eON technology. I know that's still a taboo for some people, so that's worth mentioning right away. For me, I don't care who or what ports it any more, as long as it's playable and doesn't crash.
In the ~1 hour I've put into it so far, I haven't had a single crash, so that's really great news.
It seems to work fine with the Steam Controller, but the default mapping for the right pad is horrible. I can't stand the right pad acting as a joystick, it doesn't feel natural at all. I switched it to act as a mouse, and it still seems to work fine so far! Some games don't like using the right thumbpad as mouse, but SRIV seems fine with it.
Nvidia 980ti at 2560x1440 on Ultra
40-60FPS, It seems mostly smooth, I've seen maybe 2-3 minor stutters in my testing of it. It hovered mostly around 50 and just under with these settings after playing the entire prologue.
Nvidia 980ti at 1920x1080 on Ultra
I've seen it go up to 80FPS, but it's still hovering between 50-60 when the action is going on. Driving around the main city is giving me between 40-60 FPS.
Nvidia 980ti at 1920x1080 on High
I've now seen it max out around 130FPS, but it does again dip to 40-60FPS during action.
Nvidia 980ti at 1920x1080 on Medium
Seems to hold a much more respectable performance setting when at Medium. I'm seeing at least 60FPS now, but that's quite concerning given how powerful my GPU is.
After testing it on all settings, there is momentary stutter no matter what settings you have. Not sure of the cause, but it doesn't get in the way too much anyway.
It feels like it has a pretty small FOV, so it feels a lot like Mordor where you can't really see all that much.
I haven't been able to play a lot of it for obvious reasons, but I think the most time I have spent on a single part of it was creating my damn character. I love being able to adjust build, colour, sex appeal, eye-shadow...wait what? Yeah, my character looks a bit...funky. You can also adjust the pitch of their voice, hilarious.
Final notes/thoughts
: I think their minimum listed specifications are far too low. The port needs work to iron out the random stutter, and you will probably need a pretty good GPU to go Medium or above on the settings even at 1080p.
I am quite disappointed with the performance. I mean it's perfectly playable for me, but I have a monster of a computer right now. It wouldn't be as bad if the random stutter was fixed, then in all honesty if you turned off the FPS counter you probably wouldn't be able to tell much.
As for the game itself, it does seem like a game that I will put some time into and enjoy it, so overall I am
personally
happy with it. I love these types of games, and I have a great PC so it's okay for me, but I do worry about performance for those on a weaker GPU.
The main thing is as always: Are you having fun? I am.
It also went on a big sale right after I purchased it *sigh*.
If you can do so, list your PC specs in the comments along with how it runs for you. I would like to see the bigger picture and know your thoughts.
About the game
(Official)
The US President must save the Earth from alien overlord Zinyak using an arsenal of superpowers and strange weapons in the wildest open world game ever.
The epic conclusion to the game that changed all the rules! The Saints have gone from the crackhouse to the White House—but the Earth has been invaded and it's up to you to free the world from Overlord Zinyak and his alien empire. With homies new and old by your side, and an arsenal of superpowers and strange weapons, you must save the world in the wildest open world game ever!
Some you may have missed, popular articles from the last month: