Precipice had a good idea when it released, a strategy game where you didn't face your enemy directly in war across the world and instead engage in a cat and mouse game of subterfuge. It's not a war game it tells you, both sides can completely annihilate each other if needed.
Sadly, at release, I didn't enjoy it. I thought the AI was poor, the UI had lots of issues and they suffered major multiplayer problems too. I wanted to like it though, as it took the strategy genre into a different direction. Not only that, LRDGames also developed Deep Sixed which I thought was actually great. Out of seemingly nowhere, LRDGames have returned to Precipice with a big 2.0 update to overhaul various parts of it.
This huge 2.0 update has a better tutorial, an overhaul code-base to improve networking, improvements to the AI, better camera zooming and an "exhaustive list of bugfixes". They're not stopping there either, as they said this is just a first step towards more updates coming.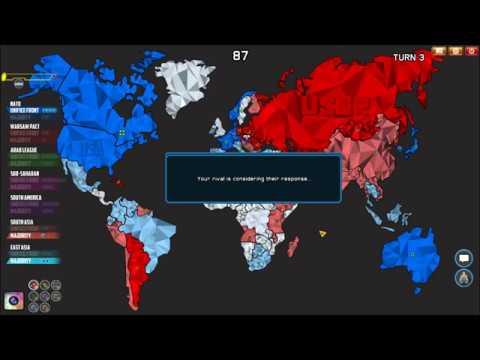 Testing out this latest build, it does seem to be quite improved. The AI seems far less intent on mutually assured destruction and more about spreading across the globe to actually win, just like it should be. Precipice now feels like a proper strategy game and I've enjoyed my time with it. Not just this patch that addresses it though, LRDGames patched up numerous AI issues after the game released and after my original play through so this 2.0 is building on top of all the tweaks they already did.
What it features:
Face a highly-responsive, unpredictable AI that will attempt to understand your strategy and counter it at every turn.
Hotseat play and (currently experimental) multiplayer play available.
World leaders from 72 countries realized as animals native to the region, all pawns in the dangerous game of nuclear chicken.
Manage resources from territories under your control to resolve immediate crises or win over future allies.
Recreate history, or forge your own path. Put a bear on the moon. The possibilities are endless.
Simple, intuitive gameplay that is also difficult to master.
You can find Precipice on Steam. If you want a strategy game of a different sort and one full of secrecy, Precipice now seems like quite an interesting choice.
Some you may have missed, popular articles from the last month: