Back when the space race was at its peak, the USA and Russia were trying to be first but what about if there was another behind the scenes trying to get the crown?
That's the idea in Moonshot - The Great Espionage. You work for a fictional country Ustria, as it becomes a three-way battle for space supremacy. You're part of the Ustrian Secret Service and get front-row seats in this stealth puzzle-platformer as you infiltrate the competition and try to access secret plans to help push Ustria forwards.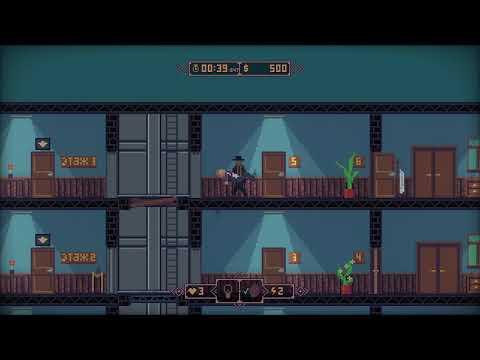 Features:
Story Driven Background - Discover the story of an agent who can change the history of the Moon Race forever. It's up to you which nation wins the race.
20 Challenging Levels - Lots of varied levels ensure that you won't get bored. Visit historical as well as freely fictional places to guide the fate of your nation.
Lots of Player Upgrades - Of course, if you're already breaking in somewhere, you might as well enrich yourself personally. Use the money to unlock new abilities or boosts that will help you master the game even better.
Explore in your OWN way - Most levels are designed so that there is no single correct path. Many possibilities lead to the goal. Create your own way.
Lots of Minigames - To keep it interesting, many mini-games are included, so you don't have to do the same mini-game for the 100th time.
Be Part of the Space Race! - Every one of us wanted to be an astronaut at some point. This is finally your chance to get a little closer to that.
It's a relatively simple game when it comes to stealth but still quite good. The levels aren't overly challenging, it's mostly about getting your timing right on taking down guards and avoiding cameras, which can get a little easier when you complete a few missions and pick up some upgrades like allowing you to walk while pressed up against a wall to avoid things or make lock-picking a bit easier. Annoyingly, you need to manual save at the HQ, so if you finish a mission and quit it will be lost - it would have been better to save on quit but it's a small gripe against an otherwise nice little game.
Didn't blow me away but it's good enough to recommend for some casual stealth fun.
You can buy Moonshot on Steam.
Some you may have missed, popular articles from the last month: