Proton Next has been announced by Valve developer Pierre-Loup Griffais on Twitter, as an easier way to check out and test the upcoming stable releases of new Proton versions for Linux desktop and Steam Deck.
It is mostly the same as the Release Candidate for Proton 7.0-5 that was put up in October. However, it's now its own entry in Steam as Proton Next. This makes it far easier to test, since you can set it to games individually, instead of opting into a Beta with the current main version of Proton.
This new Proton Next will only become available when there is a new version of Proton ready for testing, and once stable it will be retired. So games you've set to it, would likely just get bumped to the main version of Proton since it would replace it.
Here's what's now available in Proton Next as version 7.0-5:
The following games are now playable:

Rift
Unravel 2
Airborne Kingdom
Nancy Drew: Legend of the Crystal Skull
Re-Volt
Aspire: Ina's Tale
Battle Realms: Zen Edition
Deathsmiles II
Primal Carnage: Extinction
Pico Park Classic Edition
Six Ages: Ride Like the Wind
Darkstar One
Indiana Jones and the Emperor Tomb
Bulletstorm: Full Clip Edition

Fix Batman: Arkham City GOTY launching in the background on Steam Deck when set to fullscreen.
Fix Marvel's Spider-Man Remastered displaying dialog about outdated drivers on AMD systems.
Fix Final Fantasy IV (3D Remake) having no audio.
Fix Return to Monkey Island not reacting to mouse clicks after a recent game update.
Fix upsidedown videos in VRChat and many other games.
Fix Call of Duty Black Ops II Zombies and Multiplayer hanging on exit.
Fix Bail or Jail crashing when opening the Terms of Serivce.
Improve GTA V situation with not loading textures.
Fix Red Dead Redemption 2 crashing after a recent game update.
Fix Final Fantasy XIV Online launcher functionality after game update.
Fix cutscene stutter in Disgaea 5.
Fix Thrustmaster HOTAS having non-functional dial in Elite Dangerous.
Fix Planet Zoo randomly crashing.
Fix SCP: Secret Labratory not being playable after a recent game update (again).
Fix Tekken 7 crashing at launch.
Fix Armello hanging on exit.
Fix Sword Art Online: Hollow Realization freezing after the tutorial.
Fix Space Engineers intro video not playing correctly.
Fix Dragon's Dogma: Dark Arisen videos not playing correctly.
Implement network video support for VRChat.
Update dxvk to v1.10.3-28-ge3daa699.
To opt into it, go into the Properties of a game on Steam and go into the Compatibility menu. Tick the box on the right and select Proton Next from the dropdown:
You can do the same on Linux desktop and Steam Deck.
There's a few version of the official Proton now so here's a brief explanation:
Proton Experimental - Gets regular updates, with features and fixes not ready for everyone and can include some breaking changes that need new driver versions.
Proton Next - The upcoming new stable version of Proton that needs testing.
Proton Hotfix - A few extra fixes for specific games.
Proton 7.0-x - The current stable series of Proton used for most Windows games on Linux / Steam Deck.
There's also the Proton 6.3 series, Proton 5.0 series, Proton 4.2 and so on - these are all older stable versions left up in case specific games need them.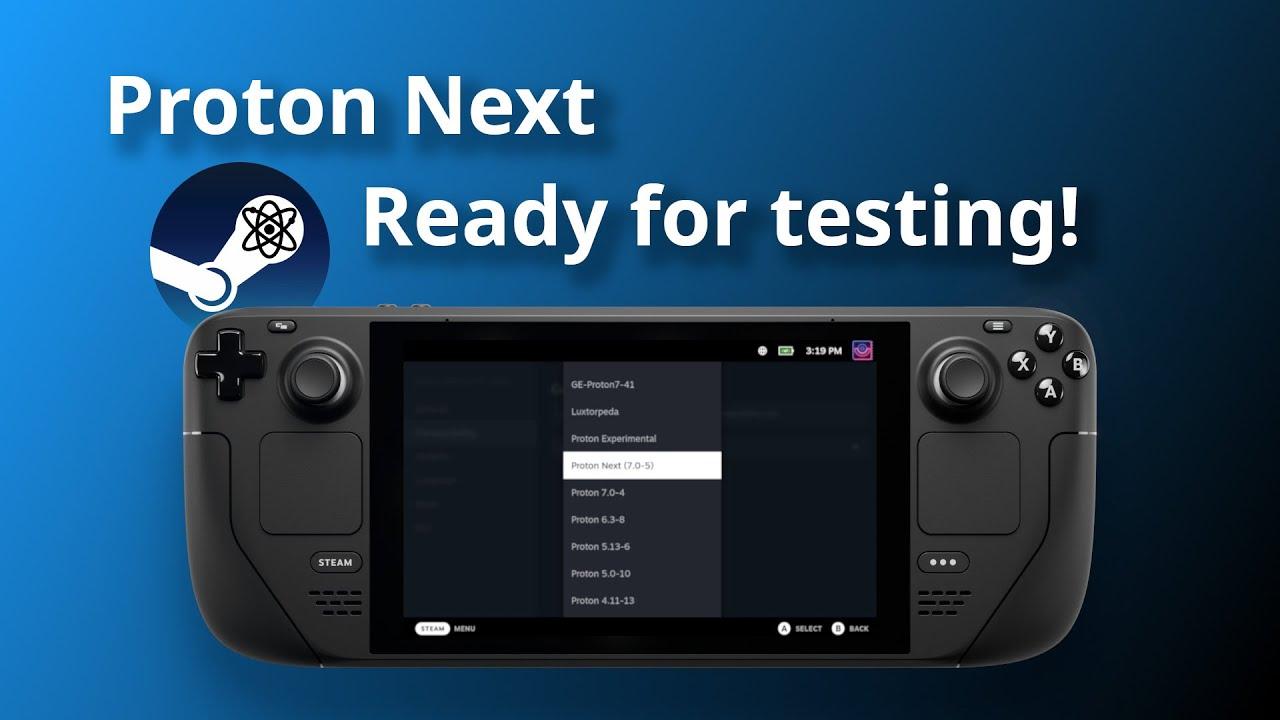 Some you may have missed, popular articles from the last month: