It's been close to a year since the Steam Deck launched, so here's where things currently stand and my thoughts on it.
I've had access multiple weeks before the official release, as I was one of the lucky people Valve sent a review unit to, so I've seen first-hand how many of the rough edges have been smoothed out over the last year and I have to say, I've only continued to be more and more impressed with how Valve has handled their latest hardware entry. Last year I even wrote about how I felt Valve hit a home run with the Steam Deck.
For those who prefer to listen in, here's a little video I did to round-up some thoughts and give an overview that I put up on the GamingOnLinux YouTube Channel just recently: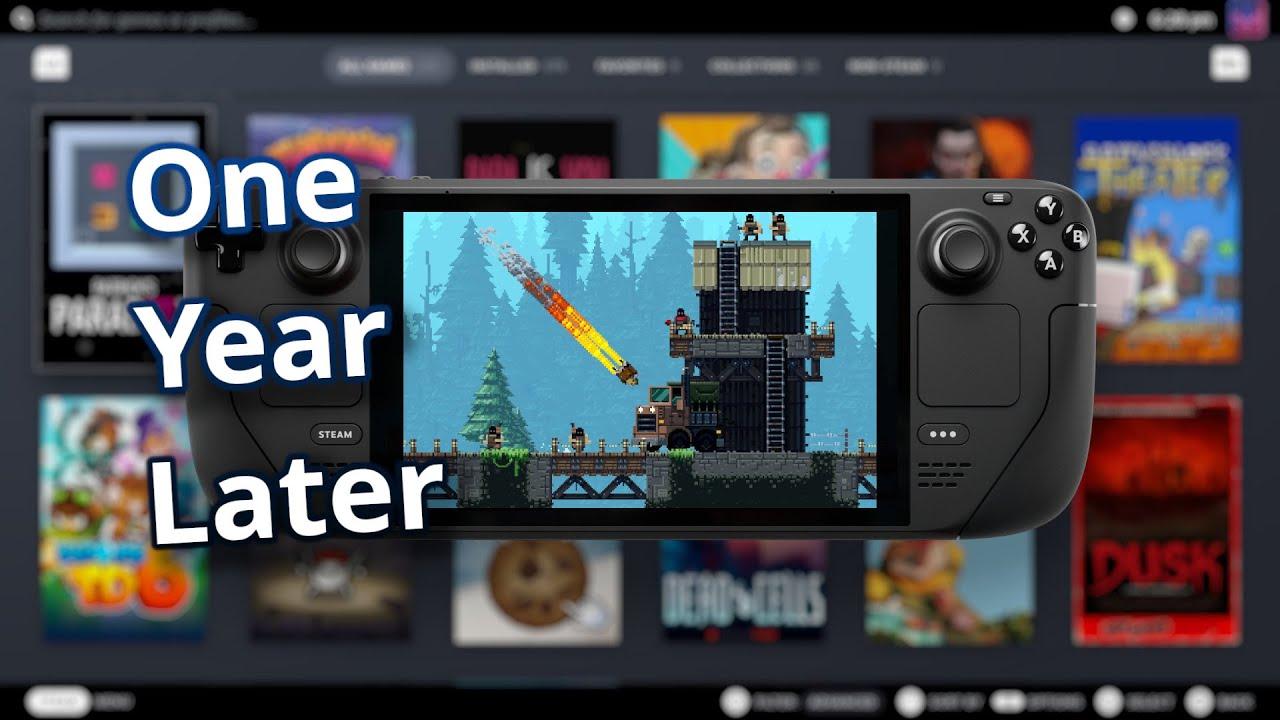 Games in the video: Broforce, followed by Grim Dawn.
I've actually had three Steam Decks now. The first one being the original review unit I had to send back that had a dying fan, which I also accidentally snapped the SD Card inside when going to check, a reminder to always remove it if you're going to do some tinkering. Seriously, don't forget about it. If you're going to take the back off, remove the SD Card first. So there was the replacement for that, and then I purchased one personally when my time in the original reservation queue came up. Safe to say, I'm invested both personally and professionally. I play something on mine nearly every day, with a mixture of docked and handheld depending on how I'm feeling.
The Steam Deck is by no means perfect, with many issues still remaining, but then that's true of any hardware ever made by anyone. I could write a long list of problems I have with my iPhone, my Nintendo Switch and all the other devices I own. I'm sure I'm not alone in this, unless you're some kind of zealot, you will find problems in everything.
While it has issues, it remains my absolute favourite way to play games because of the convenience it provides to help unshackle me from my desk as well as the surprising power it has in what you can play on it.
Valve's support of it has helped pull over many sceptics too. I remember reading The Verge and their headline was "it's not ready" and yet a year later, the same writer has now said it's ready and it's won them over to be their favourite gadget of 2022. That wouldn't have been possible without the constant upgrades from Valve, of which they've put out over 100 updates looking back at all the release notes. There's been some really big updates too like the recent SteamOS 3.4. However, Valve has slowed down on stable Steam Deck updates, as they've moved over to a monthly release schedule now for stable updates.
That's not even counting updates to Proton, their compatibility layer to run Windows games on Steam Deck that's used on Linux desktop too. Proton had tons of updates over the last year as well, as Valve keep chasing down issues in games and getting them fixed with various open source developers under contract to work on Proton, the graphics drivers and more. When you compare the compatibility on Steam Deck between now and when it launched, it's like a night and day difference, the improvements are simply astonishing. I'm sure desktop Linux gamers will understand this point too, the amount of games we have access to across the whole of Linux now is just awesome.
When it comes to Valve's updates it's not just the usual notes you might see from other hardware vendors, and their typical patch notes stating things like "improved stability". Valve always like to tell you exactly what they've done and they've repeatedly improved the interface on the Steam Deck too, like how they added proper multi-tasking and ensured recently switching between different apps and closing them all worked nicely.
With the Deck Verified system, Valve has seen plenty of things to be happy about there. Deck Verified is their official compatibility rating split between Verified, Playable for titles that have some issues and Unsupported with over 7,300 titles rated at least Playable (7,000 was hit towards the end of 2022). You can continue to try and play anything of course, this is only what Valve has officially tested.
Some of the biggest and most played games around can be played on Steam Deck like: Elden Ring, Spider-Man Remastered, Cyberpunk 2077, Warframe, No Man's Sky, Apex Legends, Valheim and the list just keeps going on.
Deck Verified is far from perfect though, you can't really go anywhere without someone complaining about a rating on some game not being right. From Verified games that don't actually work, to unsupported games that actually work perfectly. It's an ongoing area of improvement that I hope the second year Valve really nails down, although the ratings are largely correct when you look at the bigger picture. It's just a few random titles that slip through the net.
It can get quite annoying though, to have a Verified game that clearly shouldn't be Verified. A recent example I can pull up is God of War, which has a confirmed issue and has been a problem for months, where the RAM use will shoot up to about 14.2GB and then the game will slow to zero FPS and eventually reboot the Steam Deck. While asking for perfection on any platform is ridiculous and impossible, it does show that Valve need to be a more reactive to change ratings, regardless of games being AAA or indie. It would also be nice for Valve to be more open on how they are reviewing titles to improve trust in it.
The Steam Deck has sat in the top 5 of the top sellers list (SteamDB) for something around 40 weeks, and the majority of that time has been at number 1 or number 2 when a few super hits came along to knock it down like Elden Ring or Modern Warfare 2 but it's quite rare to see it knocked down to the number 2 spot even a year later. The Steam Deck has some very clear staying power. It has only just launched in a few select regions of Asia too, so it should continue to sell quite well for some time.
So while the Steam Deck is going great, it still has some mountains to climb as well. A sore point continues to be anti-cheat, a constant problem with some of the biggest games not working like Destiny 2, PUBG, Dead by Daylight, Rust, Modern Warfare 2, Lost Ark, FIFA 23 and so on. There's not exactly a huge amount Valve can do about this though, as they worked with Epic Games on Easy Anti-Cheat support and the same for BattlEye, we just need more people using the Steam Deck for developers to care to make sure it's supported. That of course is an ongoing problem, but one that might eventually solve itself if the Steam Deck continues to be a success. Massive publishers will only chase the big monies. Then again, Ubisoft surprised us recently by fixing The Division 2, which I am still surprised by.
It's repeatedly a marvel that you can play so many games on a portable like this, or hooked up to a TV or a monitor with either the official Valve dock or one of the great many USB-C docks available elsewhere. Previously PlayStation or Microsoft exclusive titles running on it is just amazing.
We've repeatedly seen publishers talk about their own excitement on it too, even Microsoft have repeatedly made announcements to showcase their published games compatibility. Microsoft also even went as far as to create their own guide for Xbox Cloud Gaming on Steam Deck. See my full guide on Xbox Cloud in this linked article, you don't need Edge. The surprises through the last year just kept on coming.
The community around the Steam Deck building up has been fun to watch too. People learning how Linux works, because it's powered by SteamOS and not Windows. We've seen the Heroic Games Launcher and others repeatedly improve to help with getting other stores working on Steam Deck like GOG and Epic Games. Then there's the Decky Loader plugin system I've covered a few times, that can really help add in some essential extras Valve has yet to add into the system or has no plans to add, the possibilities with the Steam Deck just feel endless because of Valve's support of it being such an open platform and I think this is what will keep it being so popular because so many people are really appreciating that there's no walled garden locking you in.
It's not just the software community though, the hardware community is incredible too. So many people still coming up with new and clever ways to attach things to the Steam Deck, like my favourite being the Deckmate attachment system that lets you slot anything onto the back of the Steam Deck. We've had a few gaffs like dbrand with their problematic magnets (that some haven't learned from), but it's all still fun to see companies try things for it.
Plenty more companies have jumped in too like JSAUX with various docks like one with an M.2 SSD slot, there's ivoler too and the list of companies doing Steam Deck docks goes on and on. Many of them beating Valve to the punch on the Official Docking Station. JSAUX are even doing transparent Steam Deck backplates now too (and JSAUX are trying to improve).
Faced with an increasing amount of competition now from GPD, AYANEO, OneXPlayer and more, who are putting out more and more devices with newer chips in them, but often much higher prices, it will be fun to see how it all continues to build up. Valve opened the flood gates (flood valve?!) for handheld PC gaming and we still haven't even seen the public release of SteamOS 3 yet, for more vendors to use it and for potentially people to make their own steam machines with it.
Even with the competition noted above, Valve will still clearly come out on top. It's not enough to keep producing these new shiny handhelds with more powerful internals, if the price is a lot higher and with a lack of support as each company swiftly moves onto their next upgraded model. Something that I hope, perhaps, a SteamOS 3 launch might help with, because support could improve there across many devices over time.
We do know a Steam Deck 2 is at least planned too, so clearly this is not going to be a one time thing for Valve, something people were a bit worried about prior to release. Given the success, it would be weird if they didn't continue it.
My Steam Deck wishlist mostly still applies too, like the shader cache problem — when I went to load up God of War last night, it needed to deal with the shaders for a good 30 minutes before the game loaded.
That's pretty much the state of things Steam Deck as they are now nearly a year on. There's a lot to look forward to from games coming out to continued Steam Deck upgrades, I'll be here covering all of it.
Some you may have missed, popular articles from the last month: