Paradox Interactive announced today that the mini-expansion Cities: Skylines - Hotels & Retreats is due for release on May 23rd. On top of the mini-expansion they've also revealed three content creator packs.
"Revealing the last Cities: Skylines expansion and content packs is a bittersweet moment. Cities: Skylines has always been about empowering players to build the cities of their dreams, and the expansion and Content Creator Packs will provide the final tools and options to do just that," said Mariina Hallikainen, CEO of Colossal Order. "Thank you to our dedicated community of players for their support and feedback throughout the years. As we watch the sun set on Cities: Skylines together and move to the next chapter of the franchise, we look forward to seeing and learning from the amazing creations players design, this last time and beyond."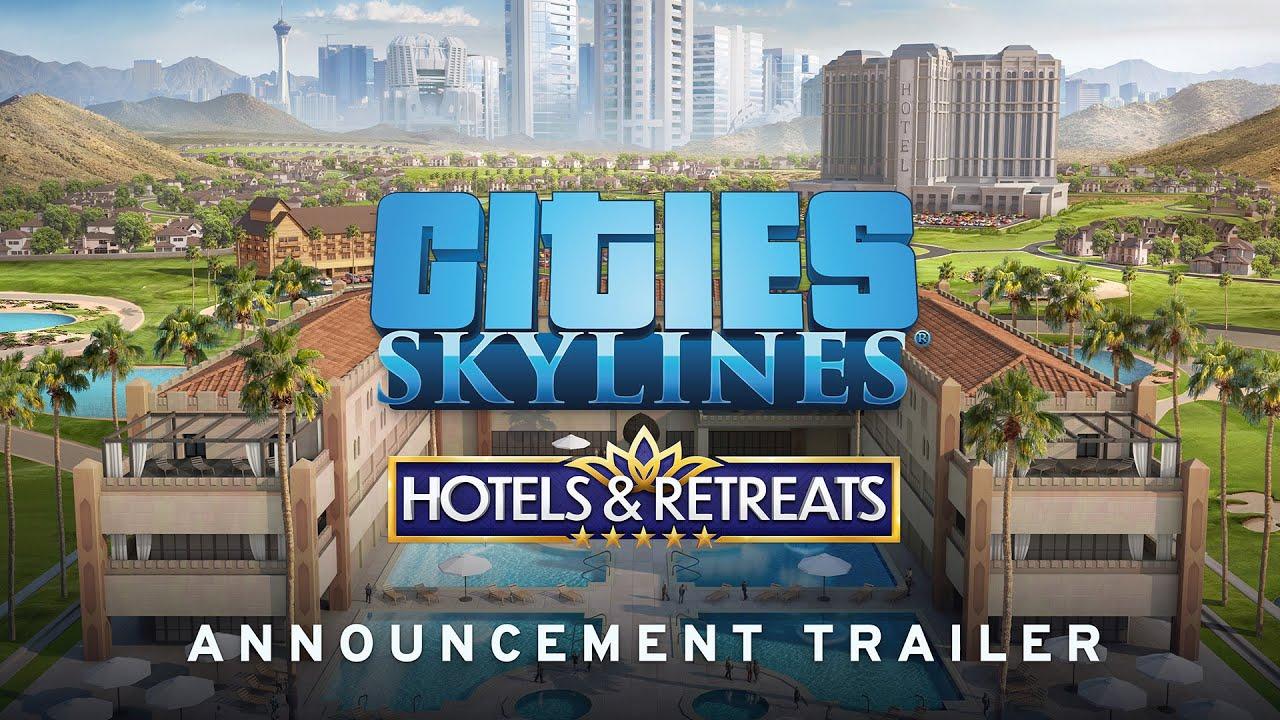 Cities: Skylines - Hotels & Retreats Key Features:
Hotel Buildings: Hostels, cabins, hotels, luxurious resorts… you name it! Add a series of hotel buildings to your city on a range of budgets.
Hotel Management: Start with one-star hotels and unlock new options as your business revenue and popularity booms.
Tourism Buildings: New structures will support your hotels: parks, restaurants, playgrounds, and cafès.
Location: Matching hotels with good locations will be paramount, as differing locations will attract different tourist groups. We added 5 new maps for your hotels (3 European-inspired maps, 1 tropical map, and 1 temperate map).
Players can also look forward to the following Content Creator Packs:
Industrial Evolution: Walk the path of history with "Industrial Evolution", from Community Creator Samantha "Avanya" Woods. This Content Creator Pack includes a new set of growable buildings that span different eras of industrial building styles, from red brick walls to modern, sleek industrial complexes.
Industrial Evolution includes a total of 70 new buildings inspired by both historic and contemporary industrial buildings.
Railroads of Japan: Fun discoveries await with "Railroads of Japan" from Content Creator Ryuichi Kaminogi, adding authentic Japanese railroad scenery to Cities: Skylines with stations, trains, buses, and more!
Watch your citizens travel using the metro, bus, and railroad. Decorate your commutes with networks, props, and police stations.
Brooklyn & Queens: This pack from Content Creator Prosper, is a set of medium-rise high-density residential buildings and props inspired by the neighborhoods of Brooklyn and Queens for decorating your city's facade and rooftops.
Brooklyn & Queens includes 60+ growable buildings and props, such as rental signs, window air conditioners, exhaust fans, stairways, and more!
While this is all the final content, the game will still get general support until the end of the year. So if any big bugs need squashing then we might see some smaller updates come in. Mainly because their team are now working on the sequel with Cities: Skylines 2.
You can buy Cities Skylines on Humble Store and Steam.
Some you may have missed, popular articles from the last month: