I think my love for Vampire Survivor like games has ended, and a new relationship has been made with Heretic's Fork because it's simply brilliant. Note: personal purchase.
Merging together a deck-builder with a tower defense game isn't that unusual, but what it does with it is fantastic. Your job as Hell's Manager is to punish sinners. You do so through their weird computer system, the Heretic's Fork, which has you go through a tower defense game where you place down towers and buildings that spawn units, while continually upgrading them as it constantly ramps up the difficulty. You only get the middle of the map, with enemies constantly swarming in around you and it's chaos.

Click pictured to enlarge them.
It's sort-of turn based because as your towers and creatures take down enemies, the bar on the right fills up to then start a new "turn". This is where you will pick your cards to place down towers, units, upgrades, combine cards to upgrade them, banish useless cards so they don't come back during a run and more. However, as you're doing all this, time is only slowed down — so you can't take your sweet time, you need to get going as it's all still going on in the background just a lot slower.
Thankfully there is a pause button if you need a breather, and you can also speed it up if you find the initial speed a little too slow, although I would like to see another additional speed to breeze through the start.
Outside of the tower defense, there's plenty of meta features going on with the computer system. You have card upgrades, character unlocks, a hellish version of clippy constantly telling you things and more. It's delightfully devilish in giving you that burning feeling of needing not just one more run, but ten more runs. It will absolutely suck you in.
You'll want to unlock that second character as soon as you can too, having more tower slots unlocked from the start is incredibly useful to get further into a run to earn more money to then use to buy more things in the meta computer desktop section. Oh, and the second character can lock a card each turn if you have the energy for it too - very useful.
I'm no stranger to tower defense games, with my previous favourite being Bloons TD 6 but this is like if Bloons had a serious nightmare that made it wake up sweating and screaming. It's just as deliciously addictive, if not more. It can take a little while to properly get into it, especially as the game sprinkles in the extra meta features as you play through and learning about the different upgrades and combinations takes a while. But as you play more, you get a lot more out of it, as you start to see the different stages and different types of enemies as you come up with ways to take them down.
Once you start getting quite a few runs in, and build up some monies, the game will continue to expand. There's a shop where you can buy more cards and trust me, you'll want to as some of them are quite powerful and you'll also start gaining new types of towers here too — but you won't know what they are until you buy them.
This feels like the first time discovering Loop Hero all over again, another game where plenty of it puts you in the backseat as you watch it all unfold. This is why I love indie developers, they make some of the coolest most unique experiences around that won't make your wallet bleed. Oh, and the music absolutely slaps too.
During a run you're not only dealing with your cards though. At the end of a section, you also get to pick a special upgrade like a big boost to HP regeneration, another tower slot, a big boost to tower attack power and much more. Additionally, some cards will give you active abilities like adding to your HP, placing down an area to curse enemies and more and these abilities can be set to auto-fire when ready if you wish. There's just so many little bits that add up to a really entertaining time.
Heretic's Fork also has leaderboards to let you see how you stack up against your friends. So GamingOnLinux contributor Scaine doesn't know it yet, but we're now officially locked in a battle for who can punish the most sinners. Even if it takes me all night, I will take the crown.
On Linux desktop it works without any issues with Proton Experimental. Perfect performance, and no problems through any part as far as I can tell. For Steam Deck, it doesn't have controller support, but that's actually not a problem at all since the controls are just simply moving a mouse around a little bit so it also works pretty much to perfection on Steam Deck too. Some of the text on Steam Deck is a little small but not a big problem here.
I find the more I play, the more it tickles my brain in a similar way the Vampire Survivors once did. I need to play more, I need to find some ridiculous tower combinations and upgrade them to become as powerful as the devil himself.
There's not many times in the history of this website where I will tell you so crystal clearly to just go and buy the damn game but here we are: go and buy Heretic's Fork. It's awesome. My new favourite game to kill time with and ignore emails over.
You can buy it on Steam. For under £10 this is an absolute gem.
Here's a video of it on Steam Deck: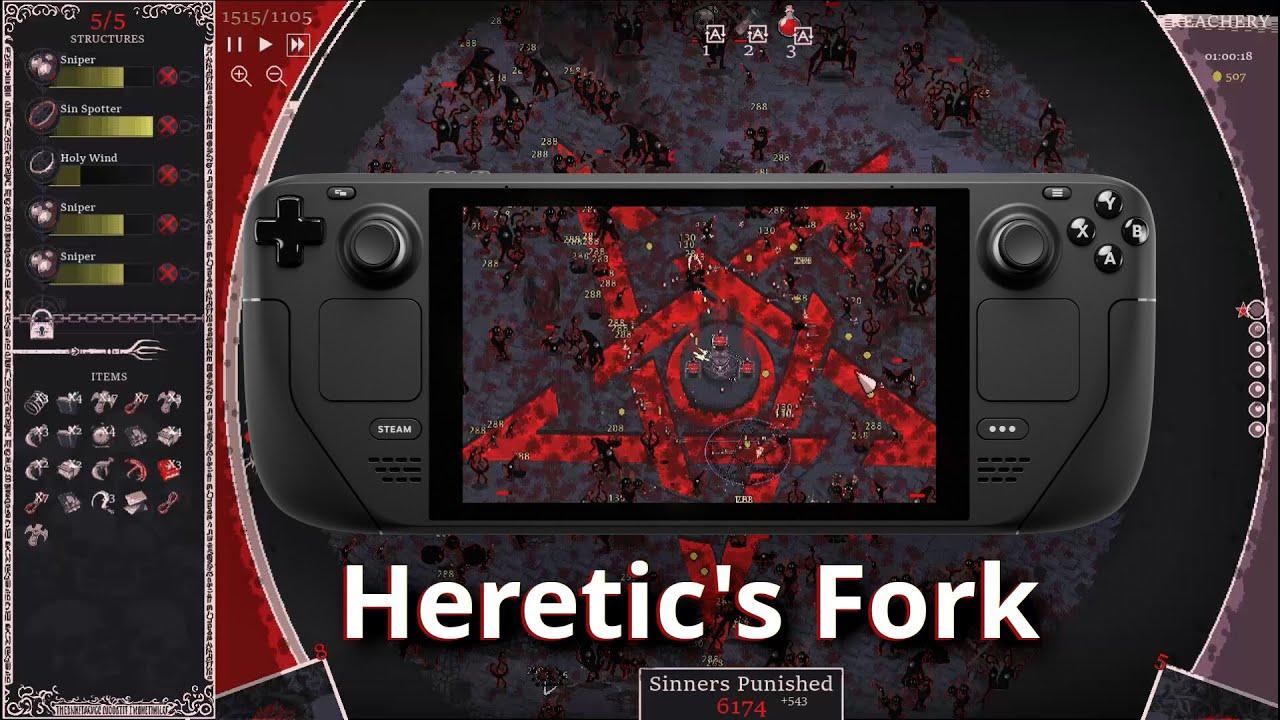 Some you may have missed, popular articles from the last month: