Featuring a sweet fairy-powered protagonist wielding a sword so big they can hardly move, Mable & The Wood certainly presents a healthy amount of charm. Developed by Triplevision Games, a solo outfit from the UK, with publishing from Graffiti Games.
"Mable is a passion project for me and for so long I worked on it by myself," said Andrew Stewart, Founder of Triplevision Games. "Thanks to Graffiti, I was able to have additional support to release the game sooner and on multiple platforms. Players on Steam can finally get their hands on the brilliant title today, and fear not Switch and Xbox One players, that version will be releasing very soon."
What makes it truly interesting is how you get around. Unlike most action-platformer metroidvania-whatevers, you're not dashing around swinging your sword like it's a stick. Your sword is so big and you're so little, you're forced to drag it behind you. There's no chance of you swinging it at your enemies, so instead you smash it into the ground and use your fairy power to boost yourself from it. When you're ready, call it back and it will slice its way through your foes.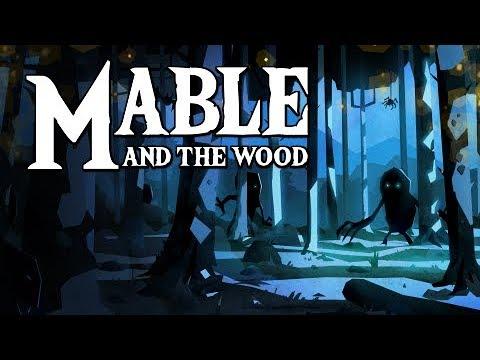 Feature Highlight:
Your choices matter - The cult wants you to kill everything, but it's up to you whether or not you listen to them or find your own path and unlock the multiple endings
A rich story with a diverse cast of characters who have their own take on this whole 'end of the world' thing
Combat is movement and movement is combat - Mable can't lift her magical sword, so she has to use it in unique ways to move through the world
A large and varied fantasy world, brought to life with state-of-the-art pixel technology and a beautiful original soundtrack
Multiple endings, different routes to take through the world and secrets to discover
While some parts of Mable & The Wood can be a little challenging, it's never punishing. Thankfully most of it is about a little trial and error while you work out enemy patterns, especially for boss fights. The Queen Spider initially kicked my butt, until I cooled off a little and waited for them to make the first moves each time I wanted to attack. It felt quite weird actually, to be waiting on enemies making their move due to the way you fight but I enjoyed the change.
After you beat the spider and get their power, I must say of all the abilities you get the spider power is by far my favourite. You can launch it so fast, enemies just don't stand a chance. Not only can you launch it super fast, you're also pretty much spider-girl with it and that amused me more than I would care to admit swinging myself around and climbing up my little line of webbing. A little unbalanced perhaps due to the speed but fun.
There's something else I want to mention here about Mable & The Wood. The developer, Triplevision Games, spent quite a lot of time with me sorting out gamepad issues on Linux that's earned my utmost respect for their effort. However, it's not quite there yet (one issue is game-breaking as you can't transform). Thankfully, the game feels great with a mouse, better in fact, so for me it wasn't a big deal overall.
It's charming, fun and unique. Exactly what I like to see from indie developers.
You can find Mable & The Wood on Humble Store, GOG, Steam and itch.io.
Some you may have missed, popular articles from the last month: