Although I'm not into game development, after finding about this popular 2D pixel animation program while researching something else, I decided to cover it here on GOL in the hopes that someone finds it useful or time saving. Aseprite is a tool developed by small Argentine developer Igara Studio, that has been around in some form for almost two decades, having its version 1.0 released on Jun 6, 2014. Right now on Steam it has 2897 positive reviews by Steam users, out of 2923 total reviews, reaching as a consequence an 'Overwhelmingly Positive' status.
This is the official trailer, which features a particularly catchy music: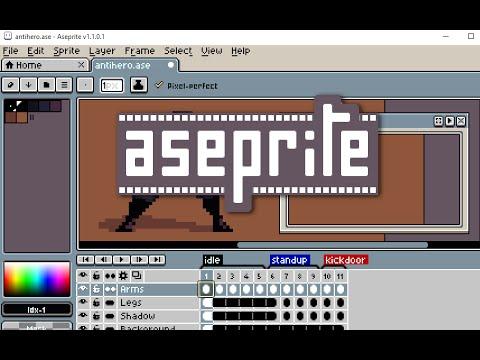 These are its main features, which were extracted from the official site:
Animation & Layers: Create, copy, move, drag & drop layers; create, copy, move, link, drag & drop frames or cels; include several animations in the same file tagging sections; loop a section in forward, reverse, ping-pong modes, change preview speed; see other frames as reference to animate; choose different onion skin modes.

Color & Painting: Copy & paste, drag & drop, resize palette; palette entries with alpha value; select color harmonies; create light and shadows with the shading ink; create perfect strokes for pixel-art; avoid extreme pixel distortions when rotating tiny sprites; create patterns repeating the image in a 3x3 grid; create custom brushes for dithering; composite layers to create color effects.

Import & Export Files: Open or save a sequence of images; create animations and save them as .gif files; export your work to sprite sheets in .png and .json files; recovery [sic] your sprites in case of crash; integrate Aseprite in your assets pipeline with the command-line interface (CLI); store several animations in one texture atlas.
Besides, you will find on the official site well detailed documentation, video tutorials and an always handy Cheat Sheet. There is also a community forum and a Discord channel. The source code is also open on GitHub, although it's not open source as it's under their own EULA but it does allow you to compile it yourself free.
You can also check the trial to see if it's a program that may suit your professional needs. If that were the case, you have several options to buy it: itch.io (DRM-free + Steam key), Humble Store (DRM-free + Steam key) and Steam (DRM-free). Just as a curiosity, it seems it was possible to get an itch.io key if you bought the program from Steam, but apparently the developers later stepped back after some people took advantage of that option.
Some you may have missed, popular articles from the last month: