Although there isn't much more context, given the title's incredibly short length, the plot of Discover my Body takes place twenty years in the future, in a dystopian society where a strange medical procedure was developed to enhance human consciousness, which is being used by people to escape their miseries and existential despair. You play as a medical student who will be examining this process on the character that you'll be interacting with, and for that purpose, you'll be assigned a scanner to look for and inspect specific instances of the procedure's evolution on this patient's body.
I must confess that I "hated" this guy for all his deviancy. It's one of those characters that you would like to stab repeatedly, only to find out that it's futile, because he would be enjoying the torment. And while you might think that I disliked the game because of this fact... on the contrary! It's the living proof that the developer got it right. Apparently reminiscent of David Cronemberg's horror filmography, Discover my Body is a title that with incredibly minimal elements manages to feel nihilistic and repulsive, and while you never get to see it, you won't help but imagine how horrific and miserable that futuristic world must be, with any remnant of human dignity and decency absolutely obliterated.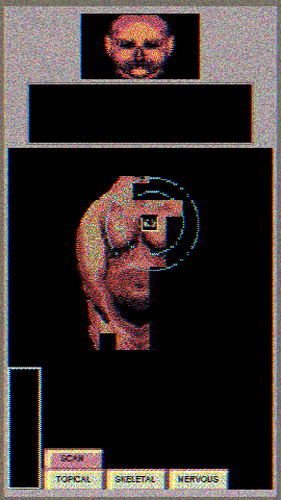 There are two issues to mention, though: the first one is the small window where the game is executed. Basically, you can't go fullscreen, so if you aren't using a dark background then your immersion may be considerably compromised. And secondly, most likely you'll inevitably think at the end: "Is that all? I wanted to see more!". This is due to the minimalistic gameplay and the fact that, objectively speaking, the procedure that is depicted is shorter than expected, so the ending feels very abrupt. At least that's how I felt, and while I can't say that I was amazed by this minigame nor can I assure you with full certainty that you'll like it, I do think its premise has a lot of potential, therefore if the developer manages to keep the vision and perspective for future releases, we might be up for a very interesting and original saga. Even more, considering the tone established, there could be room to feature philosophical, bioethical and even political considerations without making them feel forced or pretentious.
You might be thinking why I'm allowing myself to speculate so much, and that is because after the positive reception the title had among the users who tried it, there is already a sequel on the works. Also, the developer can be seen being very responsive to people's comments and feedback, so if you want to request him to keep Linux support or suggest features that you'll like to see, along with Twitter he has a CuriousCat account where you can contact him.
One final but important note regarding the support on our platform, which was posted on the store page:
!!Attention Linux Users!!

Discover My Body requires the following dependencies:

libcurl4

libopenal1
Download Discover my Body from itch.io, for free.
Some you may have missed, popular articles from the last month: