Today the Terraria x Don't Starve Together crossover event is live, with both games seeing an update with elements of the other appear. Sounds like a lot of fun and a surprisingly good fit between them.
Why though? During the 10th anniversary of Terraria, the developer was asked "If you could implement another crossover into Terraria, what franchise would you choose?" and they replied "If I had to pick just one I would love to do something with Don't Starve Together". Shortly after, chats began and this is the result from both development teams.
Check out the trailer: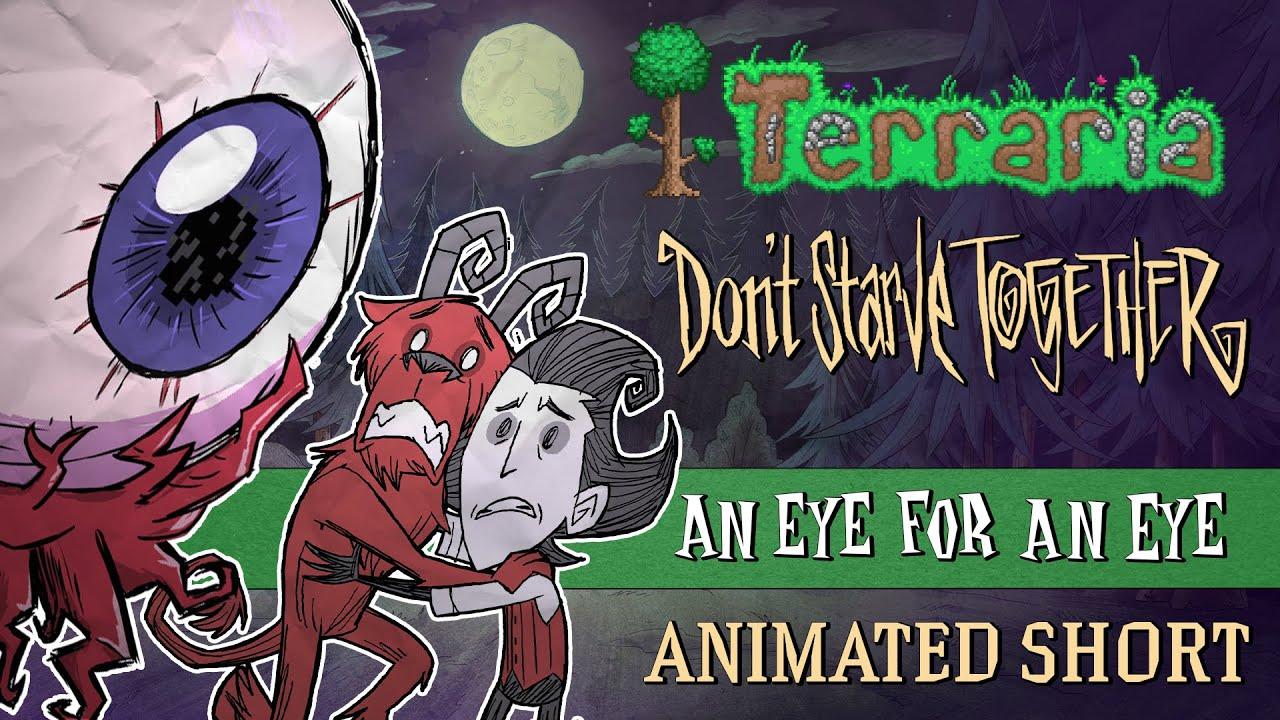 New in Don't Starve Together:
Added the Terrarium, which can be found hidden somewhere in the world.
Added the Eye of Terror, which can be defeated to obtain Milky Whites and the Eye Mask.
Added the Twins of Terror, which can be defeated to obtain the Shield of Terror.
Added new boss statues.
Added the Suspicious Peeper and the Friendly Peeper.
Added two new Crock Pot recipes, Frozen Banana Daiquiri and Bunny Stew.
Added Terraria-themed World Settings and World Generation presets for the Forest and the Caves.
Added Terraria-themed skins.
New in Terraria:
Added a Don't Starve themed seed

- Play with Don't Starve-inspired shaders and lighting
- Complete darkness is now dangerous to your health
- Players will need to eat or face hunger and eventual starvation
- A few minor Don't Starve inspired worldgen features
- Has substantially improved drop rates and availablility of Don't Starve related items

Added the Deerclops, a mid-late pre-Hardmode boss hailing from the world of Don't Starve
A variation on the Deerclops' boss theme, provided by Klei Entertainment!
A few rare background clouds featuring characters from Don't Starve can now appear
Added several new Don't Starve related emotes
Main menu now has some links to some assorted Terraria-related websites
Worlds using special seeds now have unique icons in the World Select menu to better tell them apart
Added a config option for an older version of Smart Cursor Hold, labeled in the config file as "SmartCursorHoldCanReleaseMidUse". Changing this setting to true will make it so that Smart Cursor: Hold will IMMEDIATELY deactivate when releasing the hold button, even if the player is mining.

New Items

Several new pets from the Don't Starve universe
A collection of Don't Starve weapons and equipment, adapted to the world of Terraria!
Wilson and Willow Vanity Outfits
Several vanity hats and accessories
Two food items, the Froggle Bunwich and Monster Lasagna
The full array of standard boss related items from Deerclops
4 Don't Starve themed paintings
Where to buy a copy of either:
Some you may have missed, popular articles from the last month: