If you've ever fantasized about killing uncountable amounts of giant mushrooms invading your homeland, Mushroom Crusher Extreme is a game with arcade elements that lets you do just that. The game got day-1 Linux support and I took a look to see what it was like.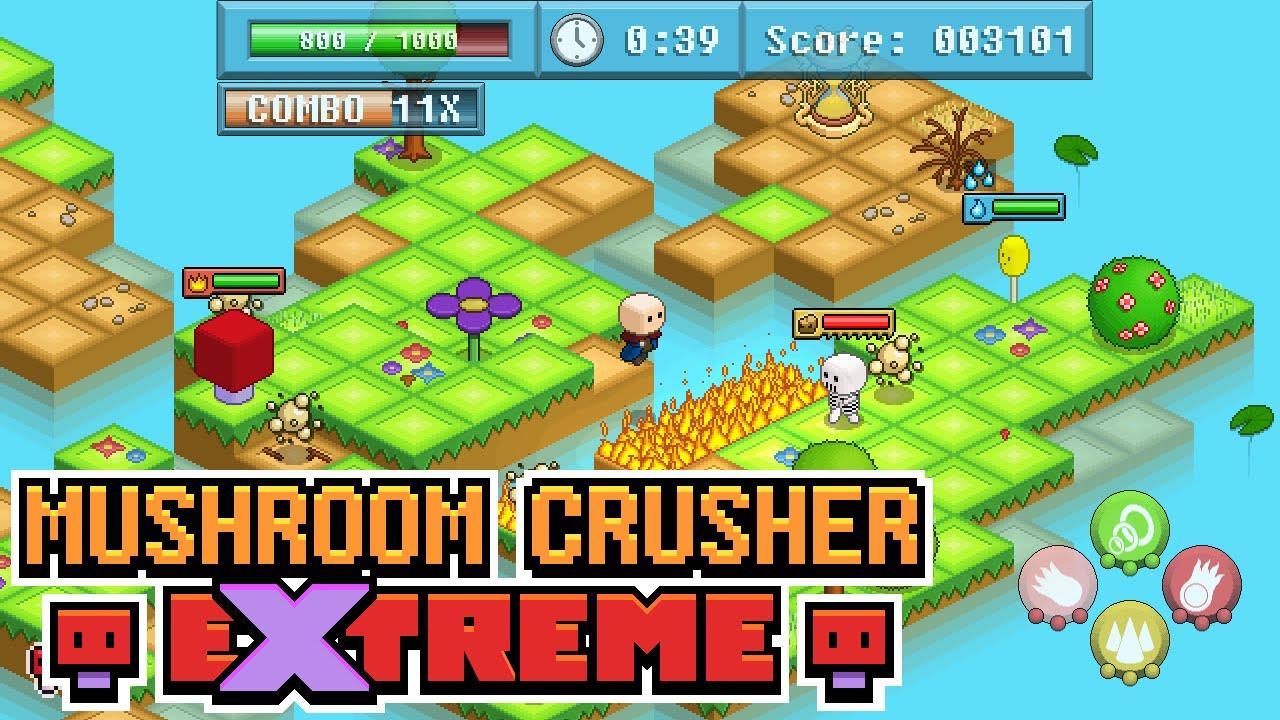 Note: a key was provided by the developer for review purposes.
Mushroom Crusher Extreme is a game with a simple objective: destroy mushrooms while not dying. There is a flimsy premise about you being a wizard and fungoid enemies invading the archipelago where you live but, like many other elements in the game, the story is completely basic. This is a game that's unapologetic about wanting players to focus on the actual gameplay above all else. That sort of honesty is fine and helps in understanding what sort of experience it wants to be.
Players control a wizard who moves along an isometric world along a grid. Controls are simple – four directional buttons plus four buttons that can be mapped to various powers. Things like jumping between gaps or up and down terrain elevation is handled automatically. It takes some getting used to, but it's a fairly easy to comprehend control scheme. Unfortunately, turning or moving too much can feel a little clunky at times and input does not feel as smooth as it should in situations where you need to change headings rapidly. A few times in my hours with the game it felt like I died because I couldn't control my character exactly as I wanted in high pressure situations. It wasn't a massive problem but it was annoying enough that it made me take a break from playing the game after a while.
Attacks and powerups are all unlockable by fulfilling certain in-game tasks and before every level you can choose to change your loadout. Besides the obvious difference in how long their cooldown is or the range and attack pattern, each attack also has an elemental affinity. Attacking enemies with the opposite affinity causes extra damage and killing them with these attacks extends the stage timer by a few seconds. Certain elements also interact with things on the stage, like breaking open rocks or pushing crates into different positions. It generally pays to have a varied loadout, as it makes dealing with the different enemy types easier.
As with many arcade-inspired games, the ultimate objective is to get the highest score possible through combos and quick completion. There is a fair amount of replayability in the game as it encourages you to go back to previous stages and try to beat your previous results as well as get more spores (in-game credits) so that you can buy more abilities and their upgrades. There's less than a dozen levels, however, and none really stands out too much in feel from the others. The terrain may change slightly and some may be larger areas than others but the biggest difference is in between how many and what kinds of enemies spawn. I found myself only playing for relatively small chunks of time as I wasn't too keen on replaying the same thing over and over too much at once.
There's nothing overly wrong with the game but there's just not enough originality and polish to the formula to make the experience compelling. Essentially grinding for unlocks and higher scores feels a little pointless rather than the exciting reward it should be. I enjoyed seeing all the different enemy types and I think they're handled better than the level design or the attack varieties. Some of the status effects that the enemies inflict on you are interesting breaks from the standard attack; slowly making the screen darker if you don't kill them quickly or slowing down movement make prioritizing certain enemies a must.
The game is in early access and that may perhaps excuse some of its shortcomings. The game is technically stable and was a bug-free experience that worked with all of the gamepads I tried. According to the developers, the game is about 70% complete with things like cooperative and online play being the major things missing. So I doubt there will be much else in the way of other content anytime soon. Ultimately, the biggest problem with the game is that it feels too same-y. The stages, abilities and some enemies just don't feel unique enough both draw me in and keep me engaged for longer periods of time. I struggled to make it past 4 hours of gameplay time and saw nearly all of that the game has to offer in that time. This isn't to say that it's a bad game or not necessarily worth playing, just that it's one that I think has a hard time distinguishing itself and making a lasting impression.
You can get Mushroom Crusher Extreme on
Steam
.
Some you may have missed, popular articles from the last month: