It appears some people in the community just want to see me fail, but others just outright don't know what they are talking about. I want to put some claims about us ripping off others work to rest.
The fact is, we and other sites do have some crossover in content. This is impossible not to have, since we are interested in some of the same stuff and we are subscribed to the same mailing lists, following the same RSS feeds, same Twitter feeds and so on.
Recently there have been some
baseless claims
that I have been ripping off
Phoronix
. Due to posting about Mesa, but to make this very clear that is
not true
. I am subscribed to the exact same
public mailing lists
and I included a shot of it sat in my inbox to help: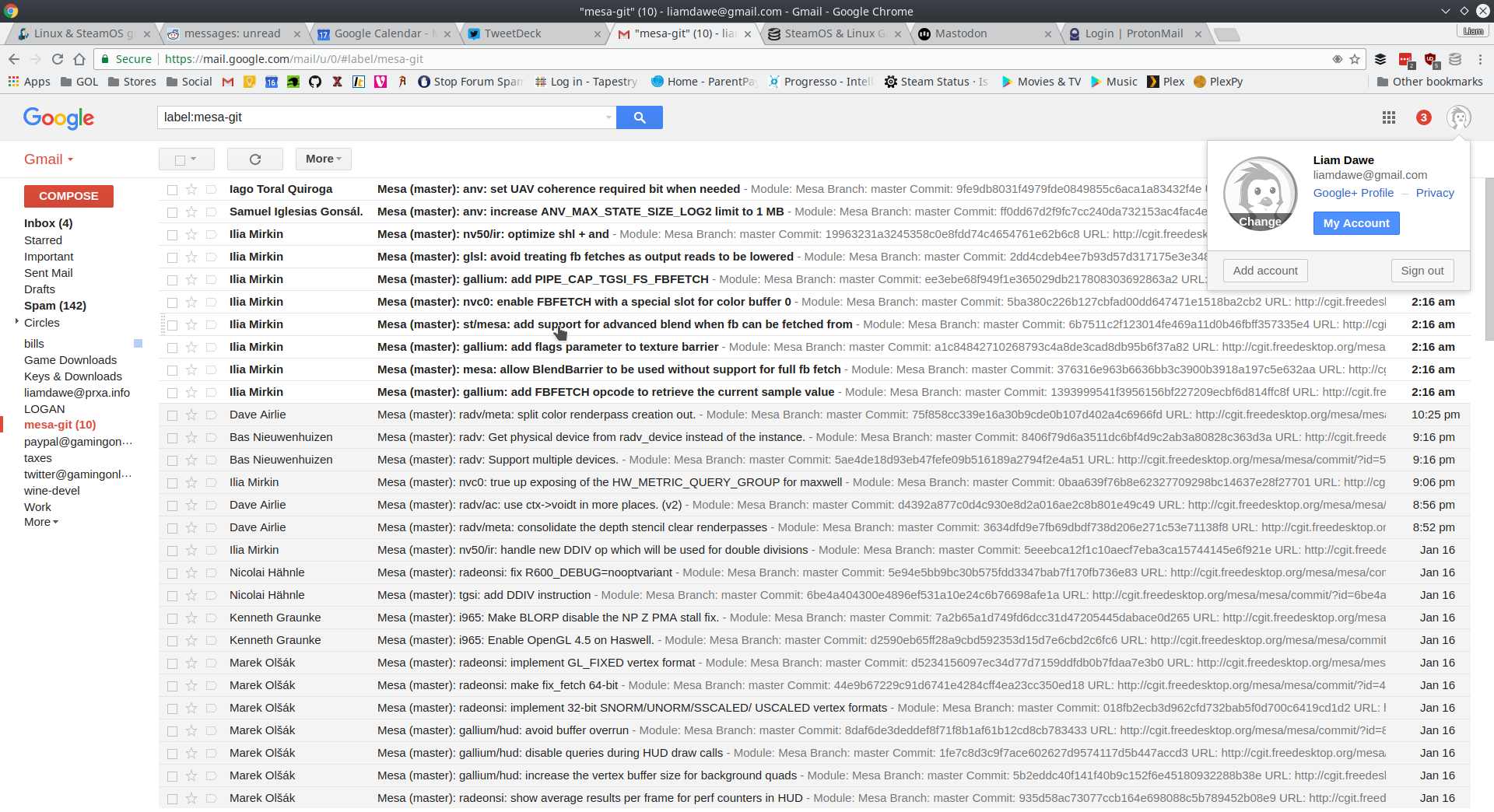 That's only my personal email box, I also have our official gamingonlinux email inboxes with their own subscribed lists.
That led to
further claims
like this:
QuoteEveryone knows that Liam rips off every possible source but they give him a pass because he spends time for the linux gaming cause.
To make it really clear. Here's three articles right away showing how little I care about linking to Phoronix
1
-
2
-
3
. Notice the very clear links to Phoronix. You will see in 99% of articles I clearly link to places that I either got the information from, or who inspired me to write about the subject.
As some more examples, the article I wrote about
ditching SteamOS in favour of a normal distribution
. You will see the very clear link in it to
BoilingSteam
as they inspired the article.
I could pull out a near endless list of our articles where we source people far and wide. Okay, so not nearly endless, but you get the idea.
Any regular reader of GOL will know we credit our sources in a very clear way. I am not afraid of linking to a source of information. Why would I be? I don't depend on revenue from every single page visit as we don't have adverts. I don't need to worry about sending you elsewhere with source links.
Then it leads me to this:
QuoteIf I was you I would NEVER waste your time on GamingOnLinux.com - Liam doesn't value "freedom of speech" and has no problem banning and censoring content which he deems contraversial or which personally pisses him off or rubs him wrong.

Trust me, you're far better off on a forum with no dictator like /r/linux_gaming or the Google+ group IMO.
Yes, we do ban people and remove content when it breaks our few short rules, or when you outright attack other people or me directly. GOL is not reddit, our website is not a safe haven for personal attacks to be made. Freedom of speech does not apply on a privately run website that prides itself on having a respectful community. Break our rules and we will deal with it, it's a simple thing to understand.
It's also funny, because a moderator of /r/linux_gaming
replied
to that post telling them "To disabuse you of that perception: Keep behaving like a twat and I'll ban you.". The moderators on /r/linux_gaming do a pretty good job!
No one is perfect and I sure as hell am not, but I am trying to do interesting stuff and dealing with people trying to discredit me is becoming more of a hassle. I will
not
give up, so don't worry about that. I just want to make sure that when people read stuff like that, not to believe it.
I also had to come to terms with the fact that other people will likely have the same sources as me, so to people like
Phoronix
who I have at times poked with "you didn't source us!" or some junk, I apologise.
Also, I recently became an
Antergos
convert, you should all try it. It's really great and surprisingly way more stable than Ubuntu has ever been for me.
Now, can we move on, stop claiming silly things and let me do the job my Patreon supporters pay me to do? Thank you <3