Update: This data has not yet actually been verified by Netmarketshare. When I first took the shot, it wasn't noted, but it's been pointed out in our comments they do now have a link at the top to say so. I fully expect this to be revised down to the current level.
Take this with a rather large bag of suspicion! Netmarketshare is reporting that Linux had 6.91% market share, which is higher than Mac for the first time.
Not only that, but it seems even FreeBSD actually registered on it this time too.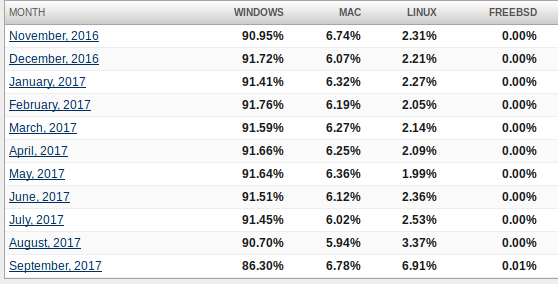 Honestly, it seems far too good to be true. Hold the partying and champagne popping for now. Other sites like StatCounter separate Chrome OS (which uses the Linux kernel), but I believe Netmarketshare does not. StatCounter also shows Linux overall at far less than what Netmarketshare shows.
With that said, both websites have reported Linux growth over the past year. It may not be as large as we want it to be, but it seems multiple sites statistics do report Linux market share is growing and that's the important thing here.
What do you think? A nonsense blip, or Linux really making gains?
Some you may have missed, popular articles from the last month: