I found this game by pure chance, and something about it clicked with me. Considering it's free and only 30 MB, I decided to give it a try, and it turned out to be a truly pleasant surprise.
The premise is very simple: find and eliminate with your enemies the Red team. To do so, you have an arsenal of weapons and elements to choose before the match starts. This includes pistols, a sniper rifle, grenades and a bazooka. In case you didn't like the selection, you can change them for others before respawning. Also, you have at your disposal vehicles and a helicopter.
Once a team gets a difference of 200 kills it will be declared the winner; also, you'll get victory if you dominate all the key locations of the map by putting a flag on them. Though it has to be mentioned that before starting every match a few variables can be altered: you can choose the number of characters, the delay time before you respawn, and the score you need to reach to win.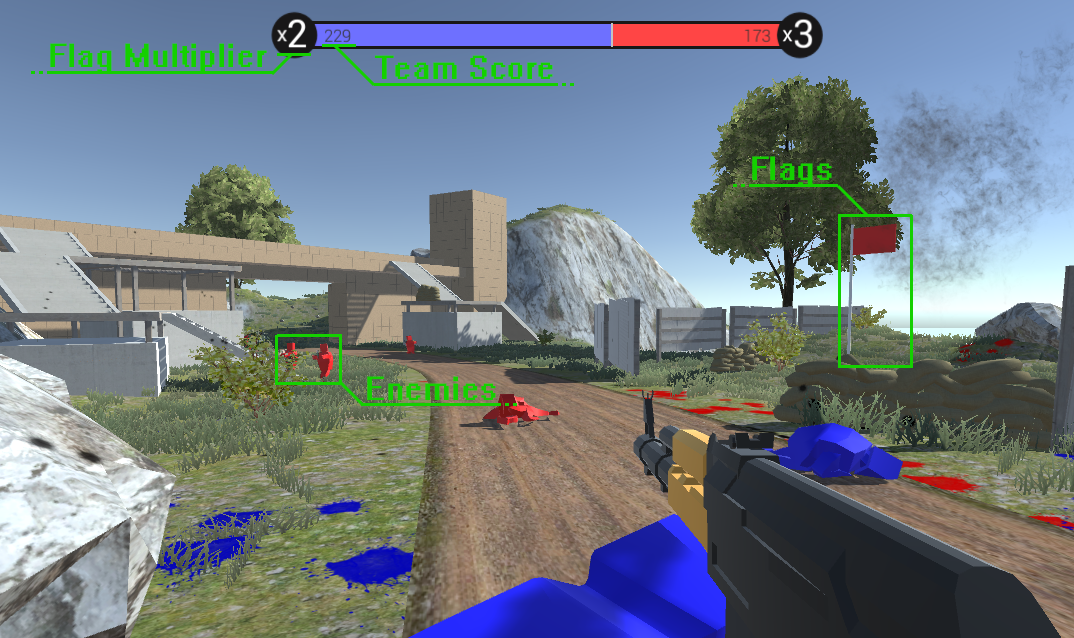 Something obvious that gives the game its identity are its characters, since they're simple humanoid figures of bright colours. This also influences the game mechanics, making it impossible to try cover attacks, because the contrast with the realistic terrain is evident and you will be spotted immediately.
The idea is to follow a tactical approach, because of the low speed of your character (even when sprinting) and the fact that only a couple of shots will kill you. Plus, in some cases, you may be stunned for several seconds; this is critical for you because you'll be totally defenseless, and for your enemies because they may assume that you died.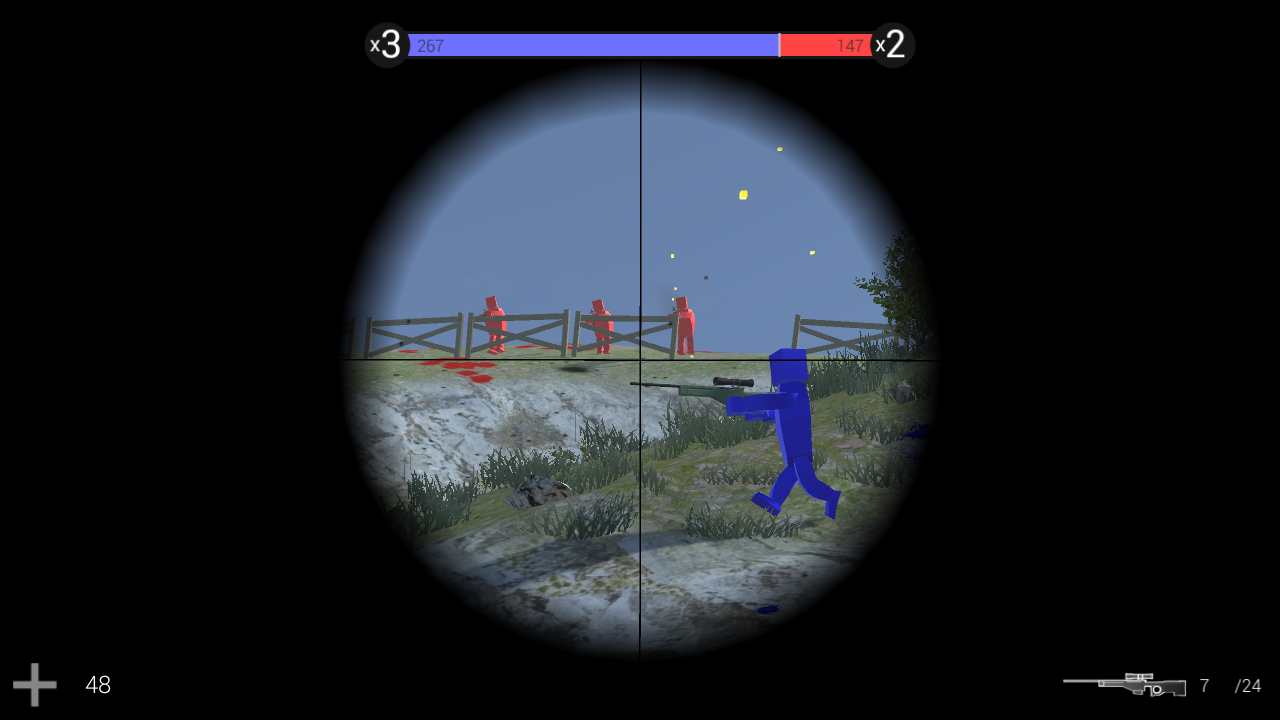 Regarding the AI, although individually the enemies don't represent a high threat, considering they move in groups, without a doubt you'll want to be very cautious to attack them. The same can be said of your allies, since they behave in a pretty credible way and will never give you problems; if you decide to ignore them (what I always did), they will act independently and won't wait for your orders.
In general, apart from a few cases of strange behaviour, and the fact that all the characters are very slow to react to certain situations, this aspect of the game is already pretty decent, and part of the sense of immersion has a lot to do with it. In some cases, I decided to stop playing only to see how the bots fought each other, and sometimes it really felt as if you were in the middle of a movie. Plus, given that they can use the vehicles at this point of the development, the funniest situations occur in these cases, like when the helicopters are shot down, or people get hit by a jeep (the driving skills aren't precisely good on these people).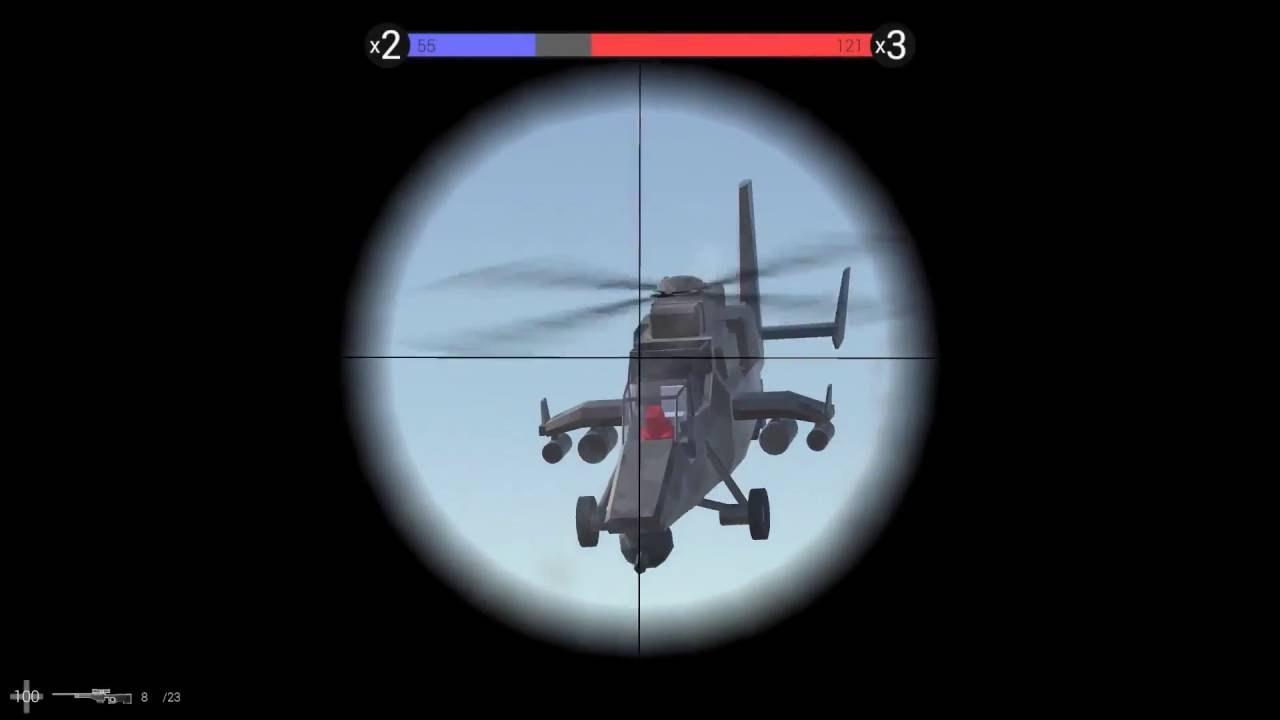 Issues
Despite its unfinished state, the game runs flawlessly even in my 5 year old PC, it never crashed and I didn't find any game-breaking bugs. It only showed some stuttering when I increased the number of characters above 100.
One important issue is that the game only has 32 bit libraries. I originally wasn't able to run it, so I created a GitHub report
here
, where you can also read how I solved the problem. Another option would be, of course, to wait until it gets fixed (I sent a message to the developer) but keep in mind it honestly wasn't something difficult to overcome.
So far, the main problems are: the lack of content and the underdeveloped layout. Regarding the former, for example, there is currently only one single map and a lot of common game modes are unavailable. As for the latter, this is the most serious issue, because basically after you start the game there is a small menu where you customize the game variables, another one to adjust things like mouse sensitivity, and that's all; there are no sections, no tutorials, and the customization options are very limited. Plus, some aspects are very unintuitive: for instance, you start a game by pressing the button of the map name, but it's far from being clear at plain sight, and the controls are mentioned only in the game description. That's why I ignored my squad and didn't even bother to give orders to them, because I didn't feel like to quit the game to see which was the key to do that. Even worse, there is a chance that more game mechanics are already implemented, but you'll overlook them because of this inconvenience.
On the graphical side, there are some small elements that need more work, like the explosions, or things that appear or disappear in a blink of an eye; other minor glitches include, for example, situations where your gun disappears into trees if you get too close to them.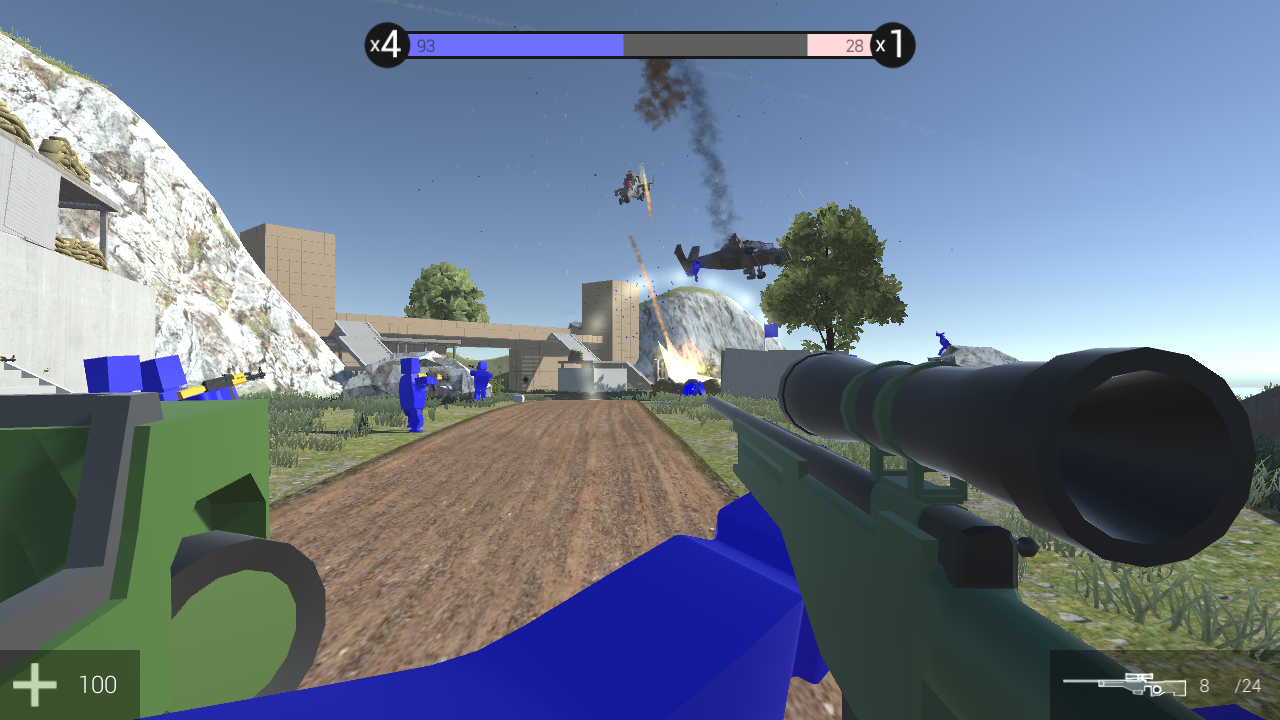 These are, so far, the aspects that need to be solved. As you can see, luckily none of these problems are inherent to the core of the game, and will surely be fixed in incoming updates.
Some suggestions can be made as well: for instance, this isn't exactly a negative aspect, but being someone who grew up playing FPS in the 90's, I would like an alternate mode where everybody can run faster (I never particularly liked the snail pace of modern FPSs, since I think they are usually made that way to artificially increase the length of the Story modes).
Also, I didn't see any indication that the game will support Multiplayer of any kind, so it's better to mention it to avoid potential disappointments. That is a very desirable feature too, naturally.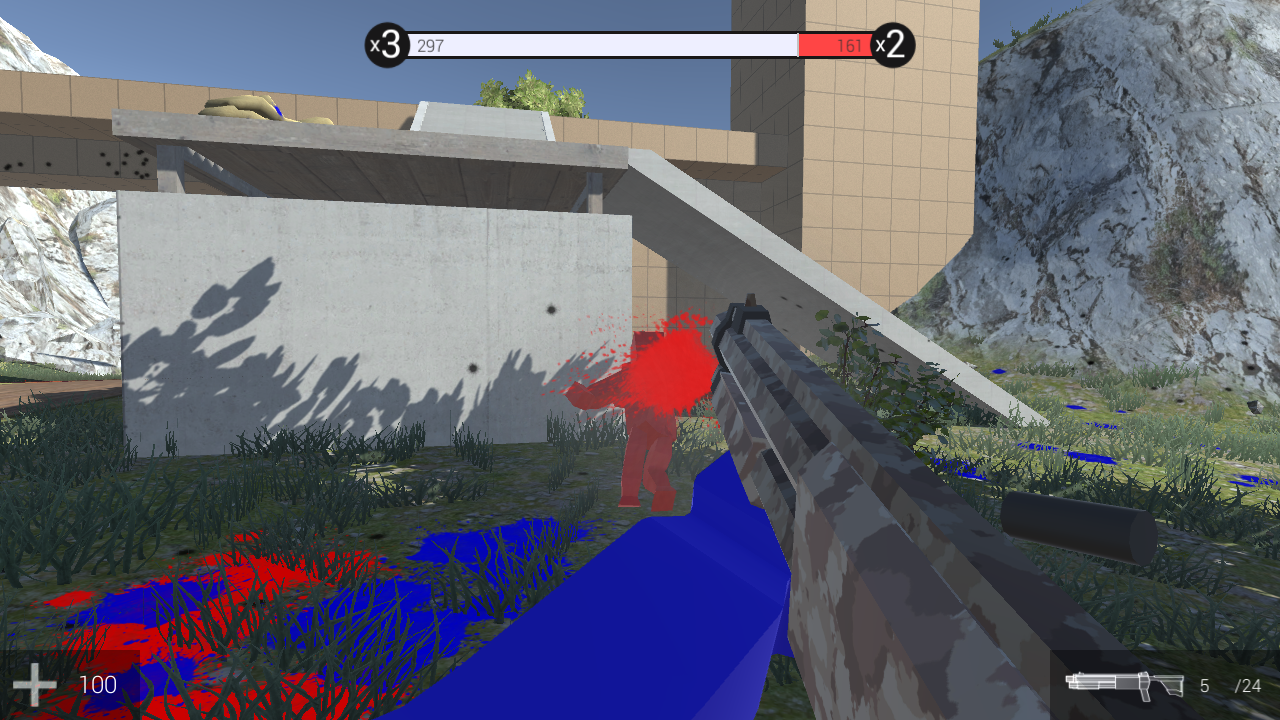 In conclusion, this is a game you definitely need to give an opportunity, since it has a lot of potential. Be careful, though, because my original idea was to play it for only a couple of minutes, and when I looked at the clock, a couple of hours flew away without noticing. As always, feel free to share your impressions on the comments, and remember you can post suggestions in the store pages of the game, to help make it even better.
Download links
- GameJolt
page
- itch.io
page
About the game (Official)
Walk upon the Ravenfield with your BLUE allies! Take down those pesky REDs using helicopters, cars, guns, and active ragdoll physics.
Ravenfield is a singleplayer battlefield style game. It started out as an experiment with ragdolls and AI, and will remain a slightly experimental, for-fun game project.
QuoteBETA 2 changelog
-Assault mode for those who really crave a fight
-Reverse mode for those who want to play as red (pretend that you actually change color)
-Better gameplay feedback (hitmarkers, resupply, damage indicators etc)
-Options menu including mouse config and enemy difficulty
-Helicopter flight model tweaks, including different control modes
-Binocular can be used to give move-to-cover orders to squads
-Minimap (Press M)
-Audio pass and sound mixing (Work in progress)
-A bunch of bugfixes
Some you may have missed, popular articles from the last month: